After raining most of the day of the outdoor performance, the skies cleared for two MBU students to take their seats on the lawn to see Chris Brown. However, they found they had a harder time focusing on what was happening on the stage than the cameras filming the event.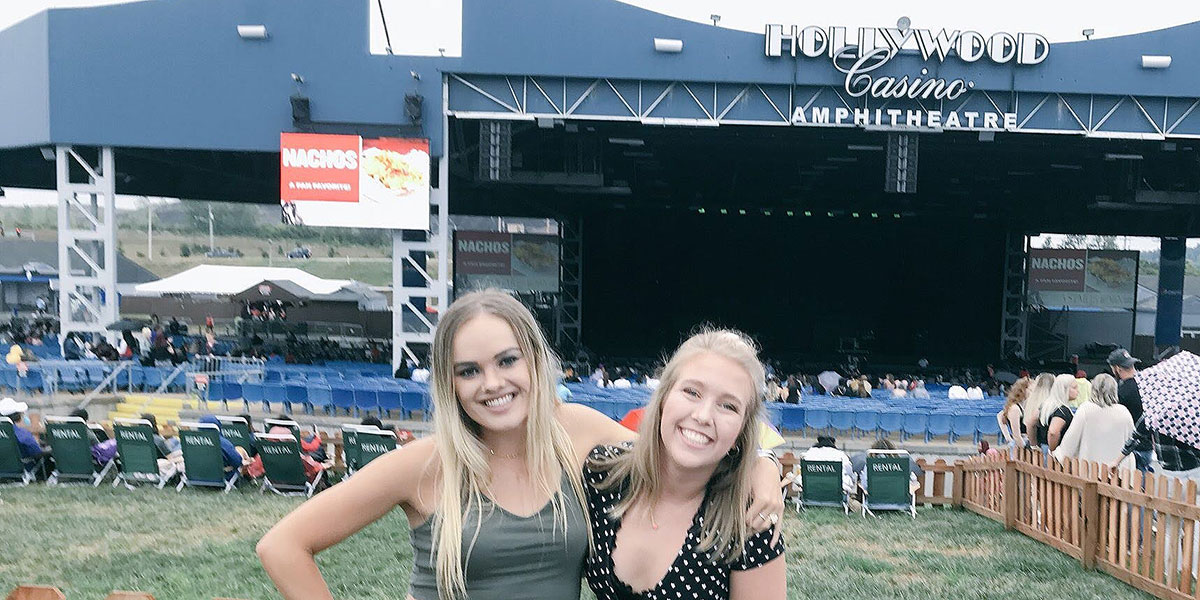 Photo by Madelyn Shotton
Two MBU communications students, left to right, Madelyn Shotton and Haley Sandvoss, smile with excitement as they pose in front of the stage for a Chris Brown concert at the Hollywood Casino Amphitheatre in July 2018.
__________________________________________________
Way back in the summer, when I saw an advertisement on Facebook about Chris Brown coming to the Hollywood Casino Amphitheatre in late July, I knew I had to go.
I asked one of my best friends and roommate, Haley Sandvoss, if she'd like to go, and after she agreed, I immediately bought the tickets.
I had not been to this outdoor theater in over 10 years. What had appeared to be a ginormous stage and event space years ago now appeared much smaller to me.
We bought our T-shirts for a pretty penny and began to choose our best seat on the lawn.
Haley brought a waterproof blanket which was helpful because it had been raining all day. In fact, it was pouring earlier, and I kept checking my email to see if they would cancel.
I never realized how long you stand and wait for the concert to begin until that night. We were there for almost three hours before we even saw Brown.
After the opening acts, the lawn was filling up, it was getting louder and louder, and everyone was clearly ready to see Chris Brown, or "Breezy" as he is often nicknamed.
Now that I am more involved with both the theatre and the broadcast programs here at MBU, I was able to appreciate all the work that was put in behind the scenes of the concert.
The set and lighting were absolutely gorgeous, they matched every song and wardrobe piece perfectly, and they were always on cue to change at the appropriate time.
I kept thinking to myself, "It would be so cool to work for something like this one day."
Aside from the music, Haley and I were constantly saying, "Ooh look at that camera angle, I think the camera is located over there, see that guy up in the rafters? He's probably getting that shot."
She added later: "Whenever I go to a show, seeing the camera work to me is always a distraction, a good distraction though. It's so interesting and during the concert the angles and specific shots for Brown were fantastic, the graphics were great, and all around that made the concert and the experience one to remember."
At times, I found myself focusing more on the cameras and set rather than watching the show.
The music was outstanding. I was surprised at how well he sounded live because I know a lot of artists don't always sound good in a live setting.
To be a dancer in this show would be a dream. They all looked flawless, had perfect outfits and were outstanding dancers. You could tell they rehearsed for months before the tour date.
St. Louis native, Delaney Glazer, is one of Brown's backup dancers. Brown gave her a special shoutout at the end of the concert, which I thought was extremely cool. As a dancer, I can't imagine being in her shoes because she is truly living the dream.
The set was made up of multiple crooked video screens. They would change right on cue, matched the performers' outfits, and went along perfectly with the tempo of the music.
The videography was so crisp, the shots were very quick, and different angles showed a bright, colorful picture of every element on stage.
Right after I purchased the tickets, I downloaded his most recent album, "Heartbreak on a Full Moon," from Apple Music to make sure I would recognize all of his songs. I'm pretty picky when it comes to music, so normally I only download certain songs rather than the entire album.
In relation to being in St. Louis, Brown wore a St. Louis Cardinals jersey for a few of his acts, which I thought was a nice touch.
The opening acts of the concert were Jacquees and H.E.R., and they both were appreciative that they were able to open for Chris Brown.
The only downside of the night is that the concert did start over an hour late, and the audience was never told why.
The tickets weren't very expensive but they were worth the money either way. I would go to another one of his concerts in a heartbeat.
Haley and I were able to leave the Amphitheatre in a reasonable amount of time. We even bought another T-shirt from a guy in the parking lot.
We enjoyed the show due to the fantastic event space and environment, the music itself, and because we were able to see some of the camera work.
I have always loved Chris Brown's music, even from when he began his career. I love the tempo, mood and beat that it created. I'll continue to be a fan and will forever favor his music.