MBU Theatre presents "Little Shop of Horrors," the dark yet comedic story of a carnivorous, talking plant that promises fame and fortune to its unlucky victims in exchange for blood. The show opens this weekend in the Chapel.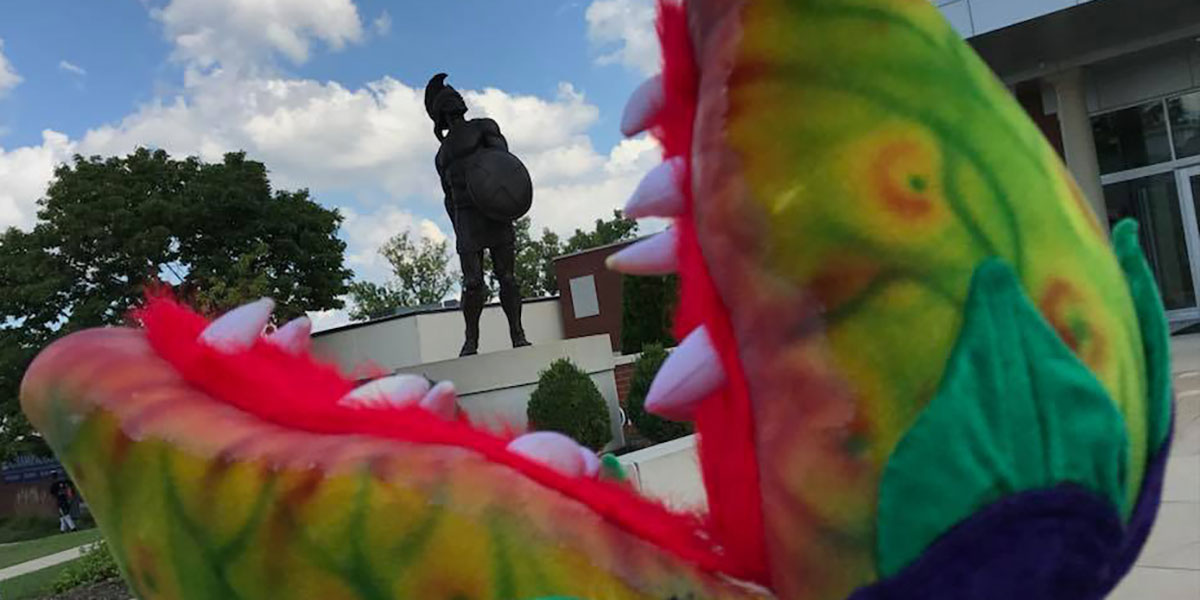 Photos by Tyler Gruen
MBU Theatre students clown around with one of the puppets that will be used in this weekend's play, "Little Shop of Horrors," having a little fun with the Spartan statue during rehearsals.
__________________________________________________
Missouri Baptist University's Theatre Department opens their second show of the season, "Little Shop of Horrors," this weekend in the Pillsbury Chapel of the Dale Williams Fine Arts Center on the MBU campus.
A retelling of the "Doctor Faustus" legend, "Little Shop of Horrors" is a dark comedy romp through 1960s urban Skid Row.
Meek floral assistant, Seymour Krelborn, stumbles across a new breed of plant he names Audrey II, after his coworker crush. The R&B-singing carnivore promises fame and fortune to the down-and-out Seymour as long as he keeps feeding it blood.
The production runs from Thursday, Sept. 27, through Saturday, Sept. 29, at 7:30 p.m. each night, with a matinee on Sunday, Sept. 30, at 2 p.m.
Tickets are available for purchase now at the MBU Box Office website. General admission is $15, but MBU students can purchase tickets for $2.50 with a valid ID.
Jamin Walker, a senior majoring in commercial voice, will be taking the stage as Audrey II this weekend.
"'Little Shop of Horrors' is such a fun and powerful show. There's comedy and there's fun numbers. But there's also darkness, and love, and action, and regret," said Walker. "I think it all ties together to create both a fun and hilarious experience, but it also leaves you with a message that makes you think."
It may come as a surprise to some that they will not be able to see Walker as Audrey II on stage: "Almost everything I do in this show is off-stage," said Walker. "So I've had to work really hard at communicating intentions, emotions and expression through only my voice."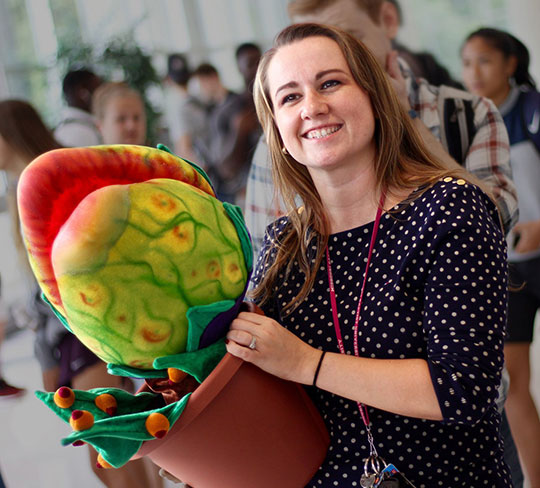 MBU Theatre Director Kasey Cox shows off one of the plant puppets being used in the play.
Walker encourages even the skeptic to see this show. "If you hear the concept and think it's a little goofy, know that it is. But it's supposed to be. It's parodying classic B horror movies. But there's so much heart, such good music, and an incredible story. You won't regret coming to see it."
Theatre Director Kasey Cox agrees there is something special about this show.
"This show surprises me every single time we run it during rehearsals. The cast is consistently finding ways to refine and to make the story and the comedy cleaner and clearer," Cox said. "It is one of the most hilarious shows I have ever directed."
Cox is confident this show will be a hit: "MBU Theatre is in great hands with this group of students."