Interpersonal Violence Awareness Week begins events this week at locations across the Missouri Baptist University campus, bringing needed recognition to issues of abuse within college relationships. For example, nearly 80 percent of rape victims know their offender, and nearly 25 percent of adult females in relationships have experienced violence from their partners.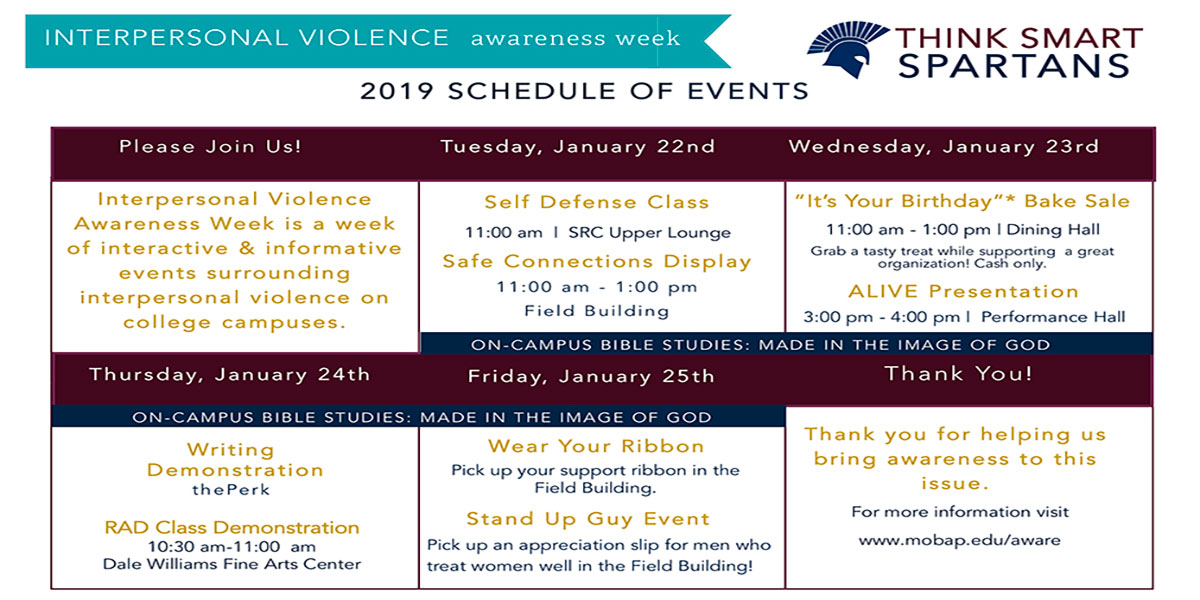 Graphics and photo provided by MBU
__________________________________________________
MBU's annual Interpersonal Violence Awareness Week begins Tuesday, Jan. 22, across campus, focusing on the sensitive subjects students may face today such as domestic violence, sexual assault, stalkers and abuse through technology.
MBU has been hosting this week of awareness since 2015 and has since expanded its effort toward alleviating interpersonal violence.
This week consists of daily events on campus all aimed at protecting and informing male and female students of the dangers on and off campus.
The schedule of events is posted throughout the school and also in this story's graphic. Students are invited to participate in any of the activities, and all are welcome to join.
On Tuesday, Jan. 22, at 11 a.m., MBU is holding a self-defense class in the SRC. At the same time, there is a safe connections display in the Field Building.
"It's Your Birthday" is hosting a cash only bake sale in the Dining Hall on Wednesday, Jan. 23, 11 a.m. to 1 p.m.
Then ALIVE — Alternative to Living In Violent Environments — will offer a presentation in the Performance Hall from 3-4 p.m.

RAD will be hosting a demonstration 10:30-11 a.m. Thursday, Jan. 24, in the Dale Williams Fine Arts Center. The Perk will also be holding a writing demonstration.
On Friday, Jan. 25, MBU asks that you pick up a ribbon in the Field Building to show support of Interpersonal Violence Awareness Week. Also in the Field Building you can pick up an appreciation slip for men who treat women well.