While coronavirus disrupted the latter half of the spring semester and all summer terms for the MBU community, the pandemic altered the plans of MBU seniors at a time when they would normally be transitioning from college life into the working world. As they face unanticipated goodbyes, a delayed graduation and an uncertain job market, MBU seniors are remaining optimistic in the face of their challenges.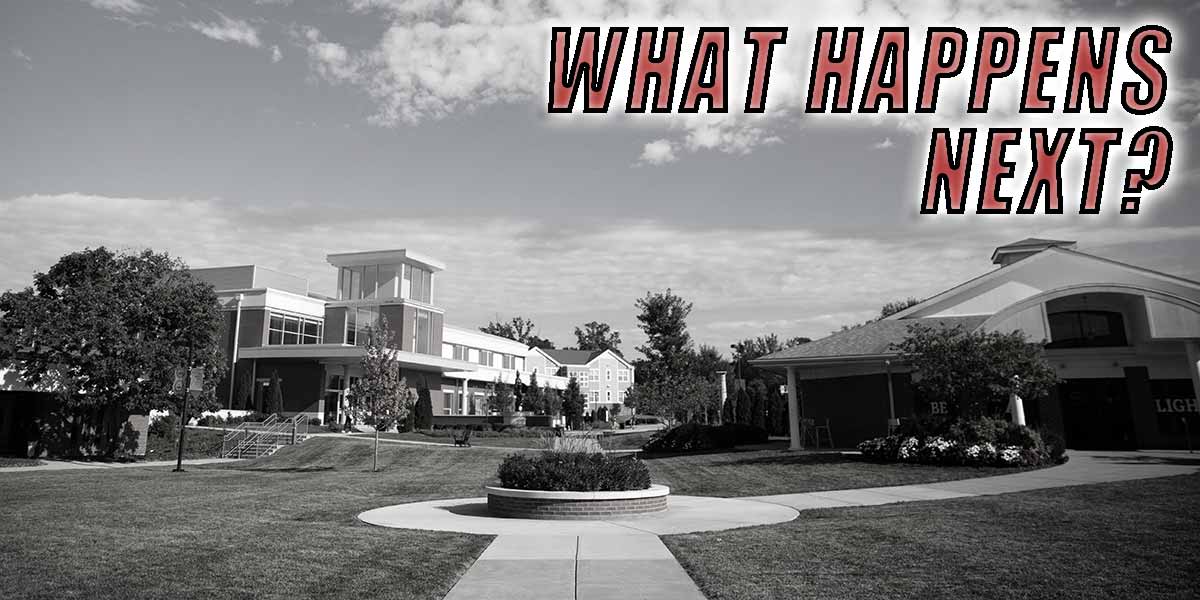 This story is part of an ongoing series of stories and analyses produced by MBU Timeline staff members, focusing on several aspects of what the COVID-19 pandemic will have changed long after it has passed. Our writers try to answer a question you may have asked yourself: what happens next?     Photo courtesy of MBU University Communications — Graphic by Dylan White
__________________________________________________
By ERIN DUNNEGAN
With classrooms silent and hallways emptied, students left the campus of Missouri Baptist University for Spring Break on Friday, March 6, 2020, with thoughts of fun and relaxation.
As the number of COVID-19 cases began to rise in the St. Louis area, MBU President Keith Ross made the decision to close the campus, continuing the 2020 spring semester in virtual and online formats with the health and safety of students and faculty in mind. 
This difficult decision affected many in the MBU community in more ways than just their education, with many sporting and fine arts events being canceled and graduation being postponed until Nov. 13, 2020.
Audrey Frost, a senior communications studies major at MBU, is a member of the women's lacrosse team and though her season was cut short, she still chooses to look at the positive side and fondly reminisces about her time on campus.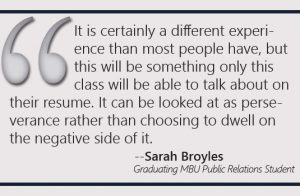 "As a senior, it's surreal because our last go at the games we grew up loving are cut short due to something out of our control," Frost said. "Senior year is that time of celebration and light and although our season wasn't what we expected, I'll definitely never forget my time here." 
Rachel Fallon, a marketing major at MBU, is using the extra time to put more effort into her final assignments to finish strong. 
"Even though I would've liked to walk across the stage with friends and attend BBQs on the Quad as a senior knowing that it would be my last, I've, on the other hand, enjoyed having the extra time to complete assignments and finish strong," said Fallon. 
Sarah Broyles, a public relations major, is also a senior at MBU who is choosing to keep a positive mindset through this time of uncertainty, reflecting on the attitude of her fellow classmates. 
"I think it is affecting the typical college experience, but we are also able to adjust through this. I have seen the people around me see the situation, adjust to it and succeed," Broyles said. "It's sad that we lost our last month on campus and graduation being postponed wasn't fun either. If anything, I think we are going to remember this as a time of major change and adjustment, but that's what it would have been anyway."
Michael Hajny, a senior accounting major at MBU, had an easier time adjusting with most of his classes already being online, but still had challenges of his own.
"The only difference was commuting from Illinois to Missouri for my internship. That was the big factor, but I made it work," Hajny said. 
Though it is uncertain what the future will look like with an economy and job market dealing with the after-effects of COVID-19, these MBU seniors are excited to move on to the next chapters in their lives.
"I think it will be easier for me to adjust to life outside of college due to the lifestyle changes COVID-19 has caused in America. I'm not entering into a game that is already going, but now I'll be entering into a game along with everybody else," said Fallon, who plans on establishing background plans for opening her own small business. "There will be new opportunities eventually as the economy restarts because some businesses will go out of business due to 'survival of the fittest'."
Hajny, who plans on continuing his career in public accounting, added: "I believe everyone struggles with life after graduation. We've all been going to school since we were in kindergarten, and then we finished and we're left with all this time on our hands. The only thing the situation has changed really is when any of us will be able to transition to a job."
Broyles, who plans on using her public relations skills to go into business with her mother after graduation, said, "I would say that it (COVID-19) was another lesson to add. We had to roll with it. Everyone else outside of schools had to do that too. It is certainly a different experience than most people have, but this will be something only this class will be able to talk about on their resume. It can be looked at as perseverance rather than choosing to dwell on the negative side of it."
Frost, who plans to step into lacrosse coaching after graduation, added: "Students in one way or another have been preparing for the real world since freshman year. I like to think I'm good at adjusting, so being a freshman in the workplace for me is exciting."
Though it would be easy to dwell on the negative aspects of the current situation, it is refreshing to see these MBU students choosing to shine on.