Combining passions for rap music and the Lord, Nate Feuerstein's "Perception" reaches those who desire intentional lyrics and great sound.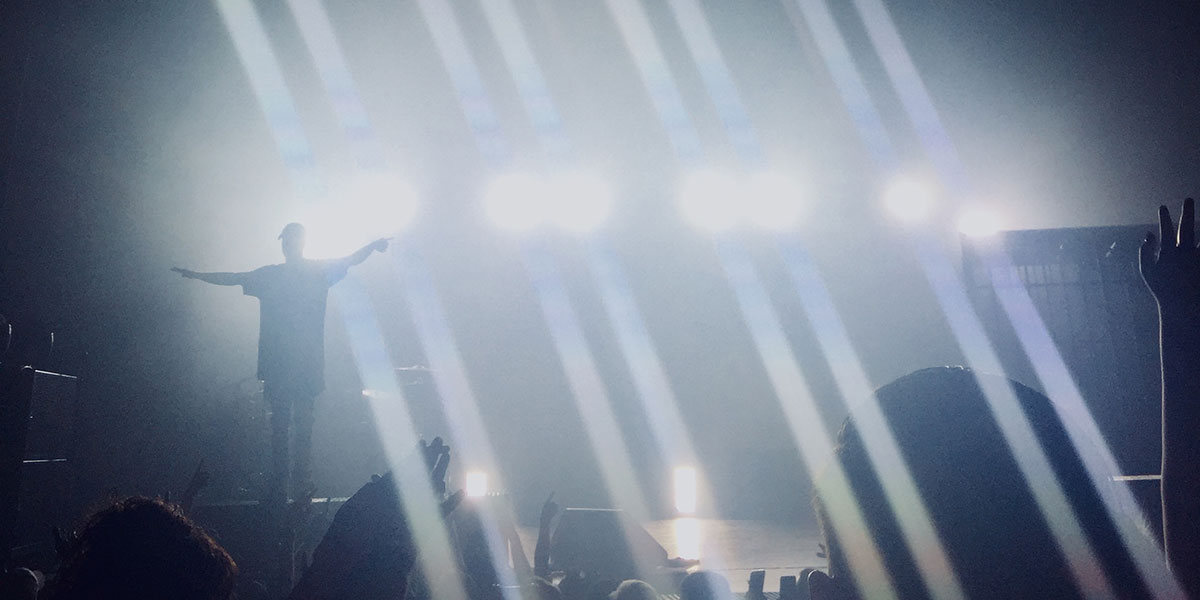 Photo by Stacy Rohan
On Feb. 27, Nate Feuerstein, famously known as NF, visits St. Louis during his "Perception" tour. As the tour wraps up, NF works diligently on his fourth album; a release date has not yet been announced. 
__________________________________________________
Hip-Hop is currently considered the most popular music genre in America, surpassing rock earlier this year for the first time in history. While a wide variety of styles and artists fall under this category, it can be difficult to find a solid, catchy rap song that doesn't consist of constant vulgar language, but isn't cheesy either.
There's absolutely a time to jam to Lecrae, but Christian rap may not always appeal to the masses who are looking for that hardcore vibe.
Nate Feuerstein changes the game. He is in fact a Christian rapper, but he doesn't fit the the overly-optimistic, corny preconception that's often associated with the genre.
Instead, he refutes the stereotypes and creates a high-intensity, brilliant sound.
"Perception," NF's most recent album, was released in October 2017 and reached No. 1 album on the Billboard 200 chart.
The album's cover shows NF locked in a prison cell, symbolic for the struggle of escaping our mental prisons.
What sets NF apart from other rappers is the consistent flow of vulnerability in his lyrics. He's courageous in the way he writes and performs with such openness, sharing his own experiences with fear and pain.
In a world that tends to shy away from such personal topics, NF embraces the opportunity to speak out and connect with those who feel similarly.
Anyone who frequently listens to the radio has heard "Let You Down," just one of NF's many masterpieces. The song relates back to Nate's broken relationship with his parents and reveals the root of his trouble with trust and self-doubt.
As a child, NF watched his parents divorce, and brokenness flourished from there. He was physically abused, lost his mother to a drug overdose and ultimately found himself questioning God's existence.
NF endured a painful childhood, but his hope was renewed during his senior year of high school after seeking support in his church community and finding hope in the midst of his trials.
Despite the frequent rotation of "Let You Down" on the radio, this song is far from being the only, or even the best, of NF's songs.
Featured as No. 11 on the album is one of my personal favorites, "Remember This," which NF introduces as things to remember after he's gone. The relatability of his lyrics, both in this song and the rest, makes for a hard-hitting, inspirational piece of art.
In "Remember This," NF urges his fans to remember key lessons to life: to go after the things we want in life, to surround ourselves with people who challenge us, to know that life is meant for more than money and social acceptance.
In case the realness of NF isn't captivating enough, his music has the angry, passionate sound that rap-listeners are often searching for.
From a young age, NF found inspiration in American rapper Eminem. The two rappers are often compared as their sounds share a powerful vibe and their lyrics speak truth.
Presenting a mix of tempos and stories, "Perception" is a great listen for a high-intensity workout, a car ride home after a rough day or, if you're as invested as I am, basically any time of day.
As written in "Green Lights," No. 4 on "Perception," NF has released three records in three years; he doesn't like to waste time. He pours everything he has into his music-making, and while he wraps up his tour and works on a fourth album, he's released two songs this year: "No Name" and "Why."
Waiting patiently for the release of NF's next masterpiece of an album, I anticipate a new set of honest, intentional tracks that will offend some, and connect to the hearts of many. That is, as he says, NF Real Music.