Senior music ministry major and accomplished pianist Sam Heyl finds his purpose through music despite life's challenges.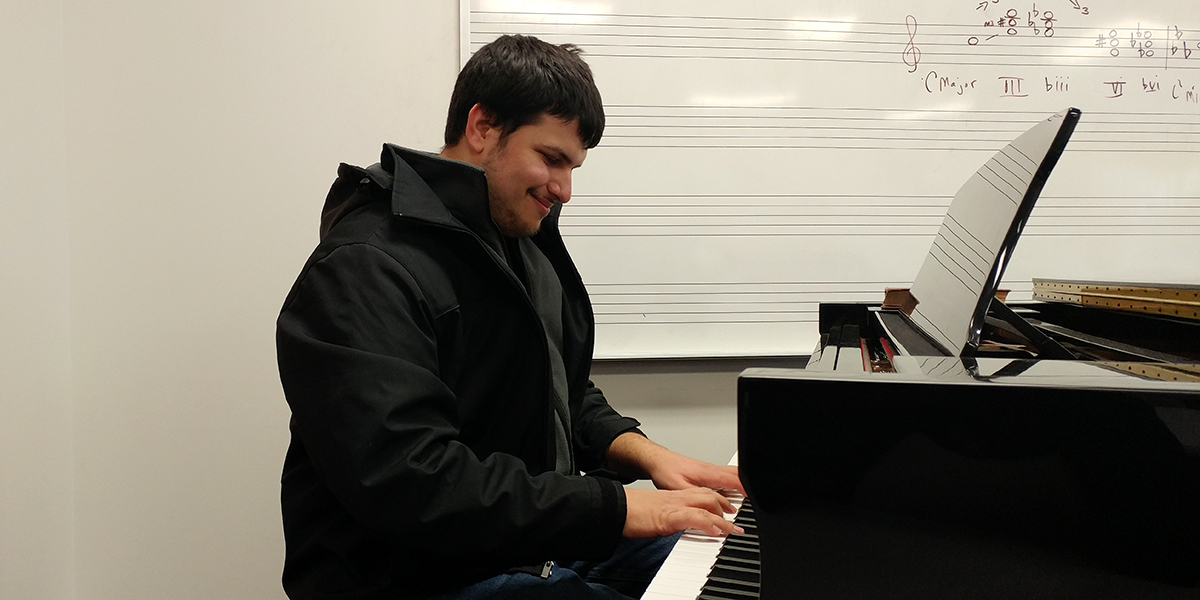 Photo by Glory Castello
__________________________________________________
By GLORY CASTELLO 

"[Salieri] couldn't understand why God had chosen that creature, that disgusting person to be his instrument. … God might be working in the same way with me."
Meet Sam Heyl, a senior music ministry major at MBU, who likens the purpose of his own life to that which was placed on the infamous German composer, Amadeus Mozart, three centuries ago.
"There's a saying that God can use the lowly. He can use the person you didn't ever think could be liked," said Heyl.
Mozart was different from others, and from that emerged isolation — an isolation that Heyl relates to.
Ironically, those who know Heyl are left with only positive comments to make in his favor.
During his four years at MBU, Heyl has established himself among his peers and instructors as having one-of-a-kind enthusiasm and perseverance for the things he cherishes most: music, people and God.
"Sam came in with great enthusiasm, and he's maintained that all the way through. If there's one thing about Sam, he's always excited about getting to play, getting to sing, always looking forward to the next thing," said Dr. Larry Smith, Fine Arts Division chair.
Dr. Cathy Benton, who was Heyl's piano teacher for years prior to his time at MBU, recognizes how Heyl's endurance and positive character have led to his improvement as a musician.
"What I like about Sam is that he's serious about it. He talks about music, he understands music, he listens to music, and plus he has this infectious spirit that everybody loves," Benton said. "He never meets a stranger."
Heyl's impressive enthusiasm for music has propelled him into success, as his most recent debuts have evidenced. On Oct. 28, 2016, he took to the stage with a prestigious piano solo, Mozart's Concerto no. 23, in MBU Strings' first-ever Solo Concert.
"I had to audition for the concert," said Heyl. "I had to tell them what piece I was going to do, write out how many years I'd been playing, what movement I was planning on doing, and then come up there and play with an accompanist who wasn't provided. They assigned us to have one on the day of the audition."
For Heyl, formalities were pointless. He understood the weight of such an opportunity and he fully embraced its excitement.
"The audition took place on Aug. 7. … I was working on the 23rd concerto at the time and when I heard about that opportunity I was ecstatic."
After earning a spot in the concert, Heyl made sure to invite everyone he could think of.
"I know that I may seem too ecstatic about that opportunity, that debut, or whatever you call it. You know, it's too fun. The more you keep on looking at that piece and knowing how it's structured, and knowing how there's some people in the orchestra that I knew and got to play with," Heyl said, "I'm very proud of that debut, and that's something I will always look back on."
Heyl has a certain rare confidence that busts through the walls of expectation.
Beyond Heyl's friendly, animated demeanor, however, is a story of overcoming adversity. Few people would guess that Heyl's enthusiasm actually attributes itself to the obstacles he has battled along the way.
"I have a thing called Asperger's. It's a learning disability. It's also a social disability, where I would have trouble communicating things with people, or trying to fit in with people, or trying to understand what people are going through," said Heyl.
Even in discussing his own disability, Heyl expressed a heart geared not toward his own well-being alone, but toward the well-being of others.
"The struggle is just trying to fit in the right way, and trying to know how to be a good role model and person around other people and knowing exactly what hurts them the most and what makes them laugh the most and what helps them the most."
Through it all, Heyl recognizes God's enabling power working in him, especially through the power of music.
"I feel like with all these opportunities that I've had musical-wise, plus things in my personal life, once I really know what something is in someone else's life, it becomes easier to communicate with them because you understand what they're going through," said Heyl. "And you've been involved in more opportunities and things that go on in a lot of people's lives so that you can communicate better."
This is why Sam Heyl celebrates his accomplishments, and why his story is worth telling.
Through his success, he overcomes adversity again and again.  For this reason, Heyl glorifies God.