Smallcakes Cupcakery is a fun cupcake shop perfect for anytime you're craving a treat on a whim.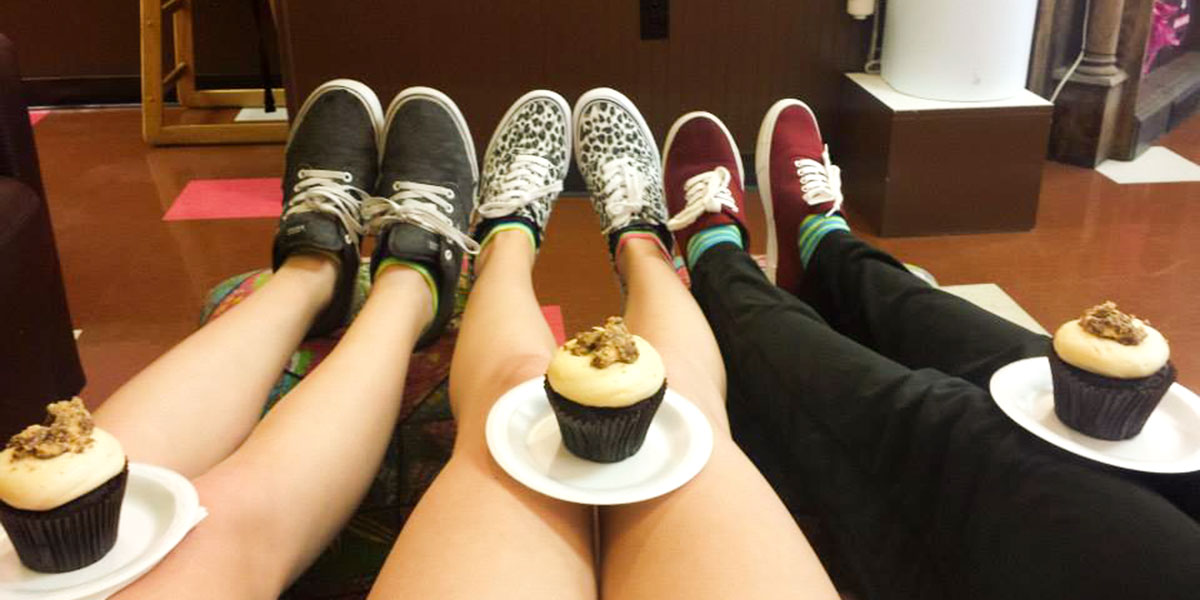 Photo by Chasney Seibert
_________________________________________________
 Smallcakes Cupcakery
Address: 343 S. Kirkwood Road, Kirkwood, 63122

Food: ★★★★
Atmosphere: ★★★
Price: $
Smallcakes Cupcakery in Kirkwood is one of my go-to places when I'm craving a sweet treat or for the perfect ending to a fun girls' day.
Their slogan, "Maybe a cupcake will help?" could not be more true.
A cupcake makes a fun day of shopping even better or instantly turns a bad day around.
A "cupcakery" is just what it sounds like, all they do at Smallcakes is cupcakes and other whimsical cupcake-themed items.
Smallcakes has traditional cupcakes, of which they offer several standard flavors, plus specialty flavors that are rotated daily.
The store also creates giant-sized cupcakes for parties and events and even has cupcake milkshakes (which I haven't tried yet but frankly sound amazing.)
I decided to stick with one of their standard cupcake flavors and got a peanut butter cup cupcake.
The peanut butter cup flavor is a chocolate cupcake with a mountainous swirl of cream cheese and peanut butter frosting plus pieces of peanut butter cup candies on top.
 If you love Reese's you will love this cupcake. In fact, this cupcake is probably even better.
It's a rich cupcake but not overly sweet. It had just the right amount of savory flavor with the peanut butter so it didn't taste like eating a candy bar.
However, if you're not much of a chocolate-peanut butter type, there are plenty of other flavors to choose from.
The wedding cake cupcake looked very pretty and very delicious. It is a white cake with almond buttercream topped with pretty edible pearls.
Other promising flavors to choose from included a fun hot fudge sundae topped with a cherry and chocolate sauce, a birthday cake flavor coated in tiny rainbow sprinkles, and the classic red velvet cake.
Another nice option that Smallcakes offers is gluten-free cupcakes. They will make whichever flavor you like with a gluten-free cake recipe.
The atmosphere inside Smallcakes is classic cute, decorated in bright pinks and greens with either tables or couches for seating.
It almost has a slight coffee shop feel but with a more cutesy vibe.
I would definitely recommend Smallcakes for a fun treat and a cute place to hang out.