John Smith fell through the ice of Lake St. Louis over five years ago and spent 15 minutes submerged under its frozen surface, leaving him dead for over an hour. However, the power of hundreds of prayers produced a miracle as Smith was revived without explanation and fully recovered from the incident. Two firefighters involved in the rescue operation, Christopher Fay and Joseph Morrow, were firsthand witnesses to the events depicted in the movie "Breakthrough," released in 2019.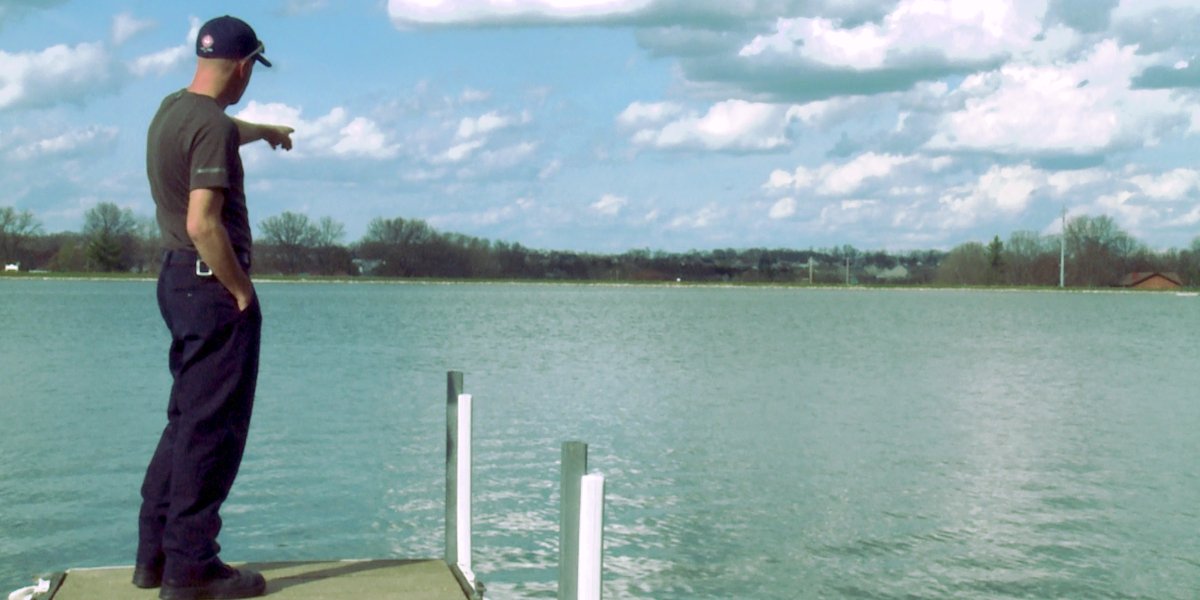 Photo by Ashley Fay
Christopher Fay, a firefighter from the Lake St. Louis Fire Department, points to the spot on the lake where John Smith was located when rescue crews retrieved him from beneath the icy surface. 
__________________________________________________
Story and Video by ASHLEY FAY
_____________________________________________________________________________
"Please God, send your Holy Spirit to save my son!" Joyce Smith screamed as she stood at the end of what looked to be her son's deathbed at St. Joseph West Hospital in Lake St. Louis, Missouri, after John Smith fell through the ice and was under the frigid water for 15 minutes.
The moment she prayed, every single apparatus on that boy turned on, and so the miracle from Heaven began.
On Jan. 19, 2015, 14-year-old John Smith, of St. Charles, Missouri, fell through the ice on Lake St. Louis and was submerged under water.
"I drowned for 15 minutes, and I was without a pulse for an additional 45, so in all, I was dead for over an hour," Smith said in an interview with STLToday, the website of The Post-Dispatch newspaper in St. Louis.
John Smith's story is remarkable and inspiring to not only his family, community, doctors and rescuers, but also to the nation as his miracle has been made into a movie, "Breakthrough," which grossed more than $50 million worldwide and is currently available on digital, DVD, Blu-ray and Ultra HD.
Two men who were part of John's rescue team that day, Christopher Fay and Joseph Morrow of the Lake St. Louis Fire Department, agreed to an interview prior to the movie's April 2019 release, offering the inside story of what happened in and out of the water that freezing winter day five years ago.
"The day the call came in I was actually the fire chief at the time. I was on light duty from an injury, and my daughter Ashley drove me to the scene," Fay said in an interview at the Lake St. Louis Fire Department.
The day of the incident, three juveniles walked onto the frozen lake. One made it off the ice without falling through, another was holding onto the edge of the ice and Smith had already gone under by the time the rescue crew arrived.
As a man yelled from the Lake St. Louis Clubhouse for the boys to get off the ice, John yelled back that he and his friends were simply "practicing for the Winter Olympics," he would later recall.
Moments later, John fell through the ice.
___________________________________________________________________________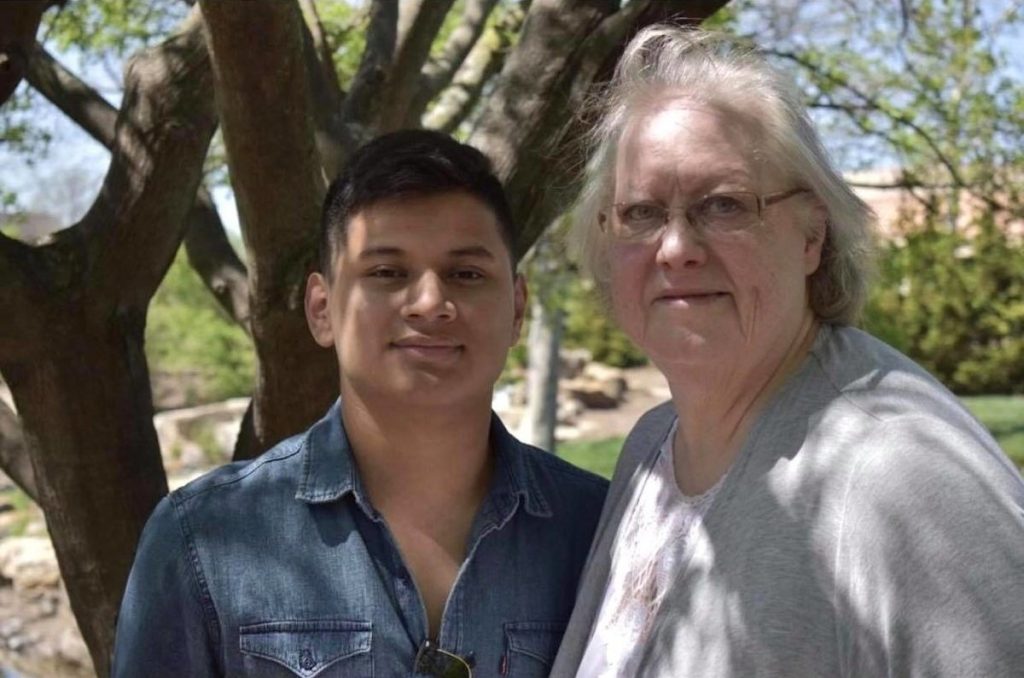 John Smith, now 19, with his grandmother.  Photo by Abby Medaris ___________________________________________________________________________
That morning started out like any other for the Lake St. Louis firefighters: very slow, and since it was Martin Luther King Jr. Day, they figured nothing too big would come in.
Then the call came in for a 14-year-old boy who had fallen through the ice. The firefighters looked at each other with great concern, knowing the brutal temperatures. As firefighters rushed to the scene, thoughts like, "How many patients are there? How many victims are in the water? How many victims are out of the water? How long have they been under water?" ran through Fay's head, he recalled.
Arriving at the scene, Morrow pulled up his suit and ran out onto the ice. "A little off protocol," he recalled, "but I was actually zipping up my suit as I was running out to the ice. I knew we had limited time."
Since there were limited resources and multiple juveniles in the water that day, Morrow had to make the quick decision to get in the water as well. The movie depicts his brave efforts that day by including a character with his namesake: Joseph Morrow.
Tommy Shine, a member of the Wentzville Fire Protection District, rescued Smith out of the water that day using a tool known as a pike pole.
Morrow said he remembers one thing specifically that day: "When Tommy Shine hooked him and started to pull up. I remember seeing his body, he had a white T-shirt on, and I remember grabbing for him, but he was deeper than I thought. I did two ghost grabs before I actually grabbed him. He looked closer than he was, and I just remember his white shirt was glowing in the water."
Lifesaving efforts began on the scene as rescuers did everything they could to stabilize the victim.
Immediately after Smith came out of the water, they protected his airway to ensure he did not sustain any injuries when they were bringing him in.
The boy, a freshman at Christian High School, was then transferred over to EMS where advanced life-saving efforts began.
The movie skews a few facts, and Morrow explained that the life-saving scene was a bit different from the actual rescue – in a good way.
In the movie, there's a scene where the firefighter loses hope while searching for Smith, but Morrow said they never lost hope.
"I knew we would eventually find him, but I didn't know that it was going to be in the time frame that we needed it to be," Morrow said. "I wasn't sure that the water was cold enough that day. Normally, if your heart stops, you don't come back."
Holding onto hope worked in everyone's favor that day, as Smith made a miraculous comeback after another 45 minutes of unconsciousness, adding up to a total of an hour without life. Talk about a breakthrough.
John Smith's mother, Joyce, was told by doctors that they had done everything they could and were on their last efforts to bring John back to life.
_____________________________________________________________________________
_____________________________________________________________________________
Joyce Smith ran into the room, placed her hands on her son's bare, cold feet and screamed a prayer loud enough that the whole floor of the hospital could hear, as described in the movie's trailer.
Her son laid there without a pulse, but she was going to claim life instead of death, and so she did.
The moment Joyce prayed for the Holy Spirit to intervene and save her son, the EKG machine started beeping and John revived.
"So far in my life, God had always been and done what He said He could do, and so I just started praying," Joyce Smith said in an interview with STLToday, leading up to the movie's release.
This heartfelt story gave the town goosebumps and spread across the nation as a sign of hope.
Unquestionably, something miraculous happened that day; due to a series of miracles, like a ripple in a lake, the miracles kept spreading.
By that evening, over 60 people from the church came to support John at the hospital and another 300 yelled prayers to the sky.
Prayer is the center of this story, simply stated.
"We were able to see God's hand that day as He stepped in when it seemed that there was nothing else that could be done," Morrow said. "In the long run, it's probably the best time that we need a movie like this when everyone is trying to pull God out of everything in the schools and all kinds of things, that this is a true miracle. To get people who believe and don't believe to see the story and give them a chance to see what their faith is."
The Lake St. Louis Fire Department keeps in contact with John Smith since this was not like most of their daily calls. They try to stay updated on his life and occasionally see him at award ceremonies.
___________________________________________________________________________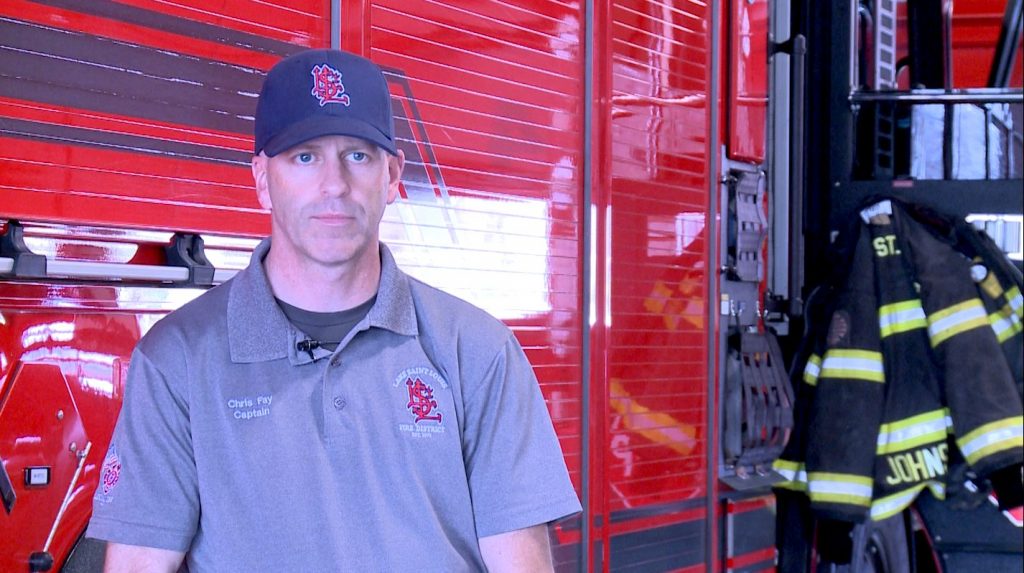 Christopher Fay, a firefighter for Lake St. Louis Fire Department, was a first responder involved in the rescue operation for Smith.  Photo by Ashley Fay
___________________________________________________________________________
Immediately after the incident, LSL Fire went to the hospital to visit John.
"After John had woken up and could talk, we brought him a milkshake because we knew he liked milkshakes," Fay said. "And we brought him a Nike gift card so he could go get a new pair of shoes that he lost in the lake that day."
The men were asked what they learned from the incident that day and Morrow responded, "Come in and do your job. It's their last chance. Give them every fighting chance they have. You can come in and have a really slow day or you can come in and have a miracle like this day. Train and be ready for anything."
Fay has a specific moment he will never forget.
"The moment that stood out to me is when they pulled John from the water. I've seen this several times in my career. The fact that he was very young hits home because I had teenage daughters and a son who was very young, and you think about those things when it's happening in front of you," Fay said. "To see John get pulled out of the water that day lifeless, and everybody working on him together, was something I will forever remember."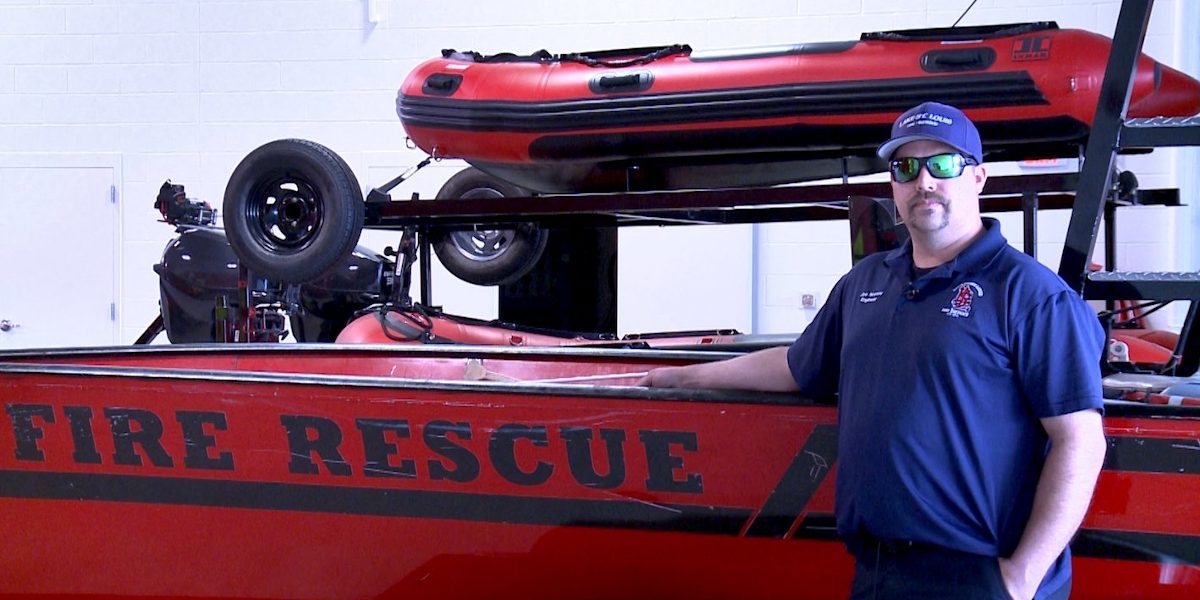 Photo by Ashley Fay
Joe Morrow, also a firefighter for Lake St. Louis Fire Department, stands in front of some boats and watercraft the department uses for rescue operations.