Modern day slavery is not just some far-away myth, it is real. In fact, some estimates have it listed as a $150 billion industry. MBU students are standing up against this heinous offense, bringing awareness to the issue and doing something about it.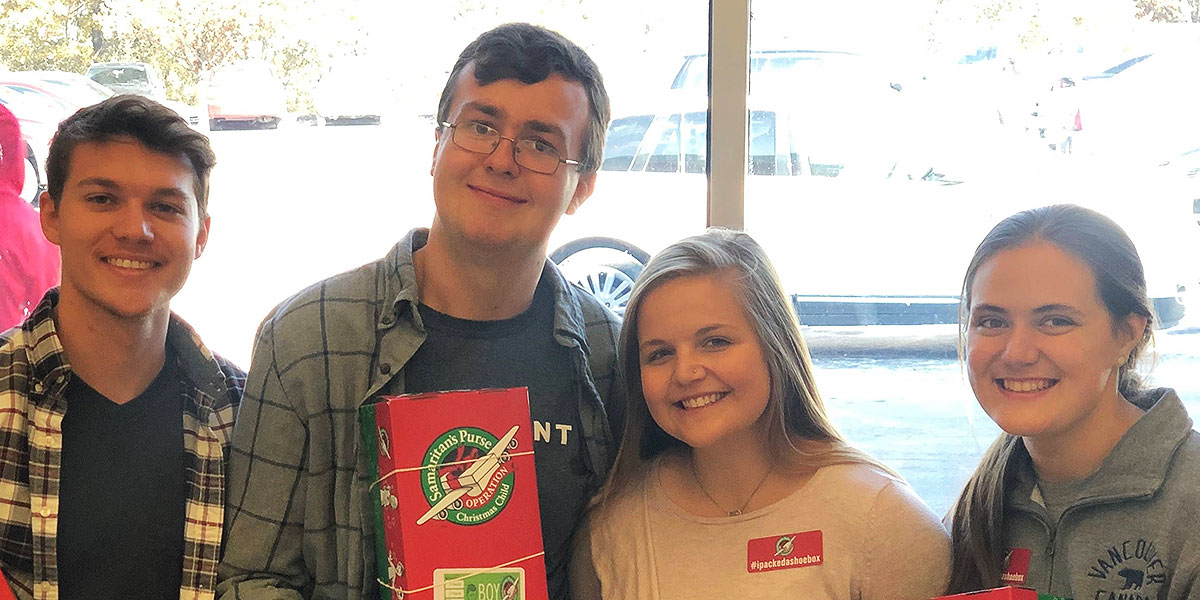 Photo courtesy of Christian Akridge
The leadership team for The International Justice Mission at Missouri Baptist University includes, left to right, Alexander Menz, vice president for campus outreach; Christian Akridge, vice president of communications; Grace Woodward, president, and Meredith Linn, vice president of prayer. To find IJM on Instagram, follow @ijm_at_mbu.
__________________________________________________
When you hear about modern day slavery, what is the first thought that comes to mind? One word that comes to mind might be heinous.   
One of the multitude of problems with modern day slavery is that it is difficult to find circumstances in which it's being carried out. It often takes place in homes or on private farms, according to BBC.com. 
Slavery is a multi-billion dollar industry, generating an estimated $150 billion annually, according to IJM.com. 
Modern slavery comes in many forms, including forced labor, debt bondage, human trafficking, child slavery, forced or early marriages, and, in some cases, victims are born into slavery. 
"When people think about the world's poorest people, they don't usually think about violence," Gary Haugen, who founded The International Justice Mission to combat slavery running rampant all over the world, said in an interview with The Rotarian. "They think of hunger, disease and a lack of education and job opportunities. But just as important is daily vulnerability to violence, and not necessarily the violence that makes headlines: war, genocide, mass atrocities."
People often have an image in their heads when they think about people living in poverty, said Haugen, CEO of IJM.
People often create that image based on what they see on a day-to-day basis, a person living without food, little to no clothing and having to survive the elements 24/7. 
While they may have an idea of what a person who lives in poverty goes through based on what they see, it's what they sometimes don't see that could be an even bigger dilemma.
For people without a home, they are also subject to violence on a daily basis and just general turmoil on the streets. 
Currently, there are chapters of IJM on college campuses across the globe in order to not only hear about how IJM is working to stop modern day slavery, but also to join the fight against it by holding special events that support IJM.
In September 2019, MBU joined the fight against slavery by starting a chapter of IJM.
"Our goal is to advocate, pray and raise funds to support IJM and their mission. We want to raise awareness of the people who are enslaved around the world," said Grace Woodward, MBU chapter president. "Right now MBU's chapter is made up of only a few people, but we are praying that more people join the movement."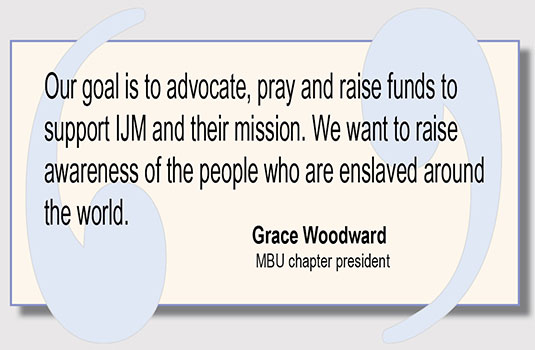 Those members consist of: President Grace Woodward, Vice President of Campus Outreach Alexander Menz, Vice President of Communications Christian Akridge and Vice President of Prayer Meredith Linn.
Despite the fact the club is only a few months old, IJM at MBU has already been involved in some events on campus, including Threads, which is a pop-up resale shop where proceeds benefit IJM.
Last semester board members took part in a Freedom Fast where they went a full 24-hour period without eating in order to stand with the victims of slavery who go multiple days without eating. 
IJM at MBU also worked on more events, including "Shine a Light on Slavery Day," which is an event started by Louie Giglio, founder of The Passion Movement and pastor of Passion City Church in Atlanta, in order to bring awareness to the many forms of modern day slavery.
IJM is also taking part in Service Day on Thursday, March 5, participating in Meals for a Million. To stay up to date on upcoming events hosted by IJM, follow @ijm_at_mbu.
With these volunteers and events, IJM at MBU strives to not just hear about instances of slavery, but to actually join in the fight to abolish it once and for all.