A snowy Sunday afternoon meant for fuzzy pajamas, hot chocolate and a Christmas movie quickly turned into one of the worst days of my life when my dad almost lost his life. During this experience, I saw God's goodness firsthand and was reminded of how He is always in control regardless of our circumstances.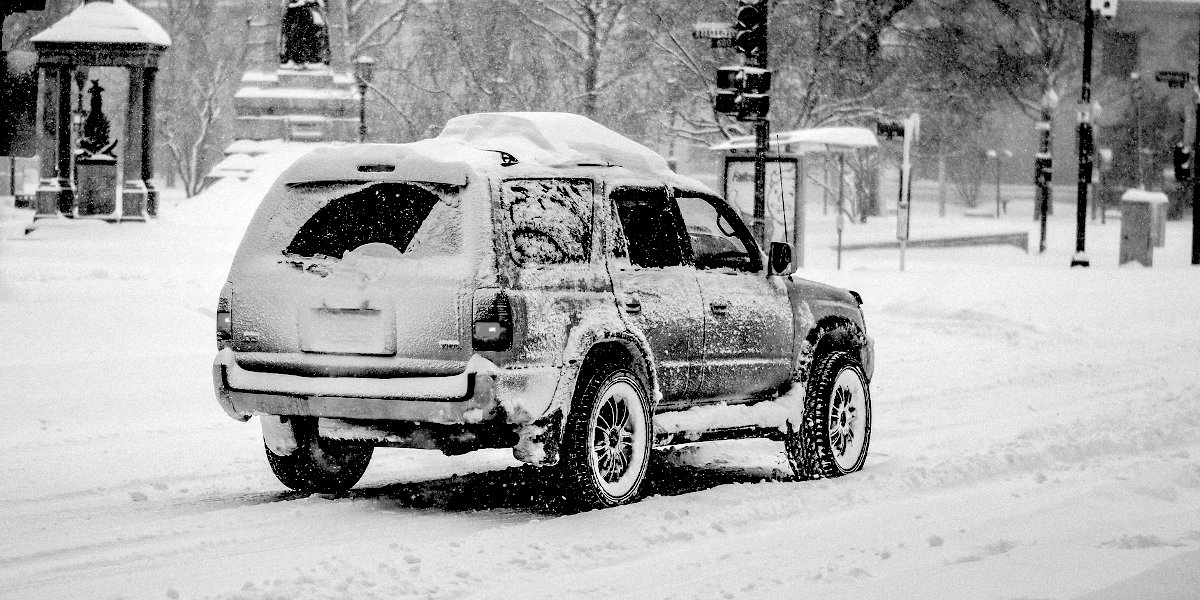 Photo courtesy of Pixabay
__________________________________________________
Dec. 15, 2019, is a day that has forever been etched into my memory and will probably never fade. 
We had just finished eating lunch out at Pasta House in Arnold, Missouri, one of our usual Sunday lunch spots, when we glanced outside and noticed the parking lot was rapidly becoming a blanket of white snow.
Without hesitation, my dad asked for our bill so we could go our separate ways. 
My mom, dad and sister piled into their car apart from my husband and I so we could all make it back to our own homes as quickly as possible to avoid any unnecessary time in the building snowstorm. 
As we arrived on the highway, we quickly began to realize we were too late. 
Our car was not equipped for this wintry climate, but we had a choice but to hope and pray we would make it home. 
Approaching the rolling hills leading to our house in Fenton about 10 minutes from the Pasta House, about half of the vehicles ahead of us had already slid off the road.
Messages on social media about accidents and road closures by our house quickly began to surface, leading us into a sudden panic fearing we wouldn't make it to our home that afternoon or even in the evening if the storm continued to progress. 
This is when I got the call from my mom, and this is when getting home was no longer a worry or even a thought in my mind.
At about 2 p.m. on that cold Sunday after church, my dad had walked out into the blizzard-like atmosphere to take the trash out to the garbage can sitting at the edge of the driveway. 
In just a few seconds of time, our whole family was sent into an unforgettable, paralyzing episode of fear. 
Just a couple of feet away from the road, my dad slipped.
My father is a 6-foot-3-inch 51-year-old man, so you can imagine what damage an intense fall on concrete can do to someone of his stature. 
As his foot began to lose grip on the icy concrete, the bag in his hand fell first and his leg landed directly onto it, shattering an empty glass bottle of salad dressing. 
His first instinct was to pick himself up, so that's what he did, except he slid again, causing him to fall back onto his shoulder, sending a shooting pain up his neck.
The second time he fought the treacherous surface beneath his feet, he looked down at his freshly ripped jeans to see them drenched in blood.
He was able to trek up the incline into the house, yelling, "Amy (his wife and my mother), help me! I fell and I'm bleeding badly!"
Not knowing the extent of his injuries, my mom came down the steps from changing out of her Sunday attire to a surprising sight as if my dad had been viciously attacked by someone or something just a few feet in front of their house.
She knew he was just taking the garbage out and thought what could have done that to him in just those few minutes.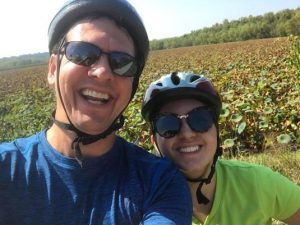 As my husband and I were doing everything in our power to arrive home safely, the snow had been pouring down so quickly that the blades on the windshield could hardly keep up with each flake instantly freezing as it grazed the glass.
Vehicles were sliding off the pavement right and left in the blink of an eye.
Pushing the gas pedal past 5 mph forced the wheels to slip uncontrollably, almost sliding us into the snow-covered grass. 
Suddenly, I received an incoming call from my mom.
I answered, thinking she was making sure we made it safely home, but my stomach could not possibly have twisted anymore than it did right then when I heard the distress in her voice. I couldn't have been more wrong about that call. 
Immediately, she began to describe what had happened as she was driving him out into the sheets of white falling from the sky, desperate for medical attention from the nearest hospital.
Slowly going into shock, my dad's only focus was to keep bath towels tightly wrapped around his open wound.
Without hesitation, we turned the car around to battle the snow rapidly packing onto the pavement to get my parents home to wait with my sister until we received a report from the hospital.
One and a half hours had gone by before my dad was admitted into a hospital room where the nurses would wrap the wound multiple times an hour.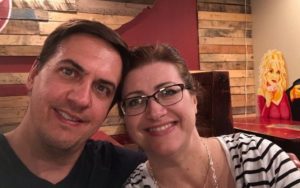 The glass from the bottle he fell on had cut through his jeans, across his knee, diving all the way to his bone and hitting an artery, which is what caused him to need multiple large bath towels to soak up the blood from the wound.
After 5 hours of bleeding, the nurse came in and announced the only way to stop the bleeding and save his life was to attempt emergency surgery.
My mom called me to tell me what was about to happen and to pray he would come out of that surgery alive.
All I kept imagining was how my father wouldn't be able to meet my future children or walk my sister down the aisle on her wedding day. 
My mind continued to drag me deeper and deeper into dark "what if" thoughts of what my new reality could be after this sudden surgery.
I knew I had to stop myself and focus on the one practice that could remove those thoughts, change the situation and protect my dad: prayer.
After hours of praying up to this point, I came to the realization that I needed to pray and worship my God harder than I ever had before with every ounce of energy I had left. 
My sister and I were on our knees worshipping to "Way Maker" by Leeland, crying so hard that I couldn't hold enough tissues to soak up the tears. 
The lyrics sent me into an undeniable faith I had never known as we cried out, "You are here, moving in our midst, I worship you, I worship you. You are here, working in this place, I worship you, I worship you. Way maker, miracle worker, promise keeper, light in the darkness my God, that is who you are."
The bridge's anthem gave me a new hope and reassurance that my dad would survive as we sang, "Even when I don't see it, you're working. Even when I don't feel it, you're working. You never stop, you never stop working." 
Minutes after crying out the words to this song at the top of my lungs, my mom called me saying the nurses didn't know what happened but the bleeding suddenly stopped and he no longer needed to be rushed into emergency surgery.
This was God. No doctor, nurse or any other person had done anything to stop the bleeding. At that moment, God performed a miracle so my dad could keep his life.
After the bleeding subsided, an X-ray showed that he had broken his shoulder, and though it was painful, it would heal and he would go home that night. 
My God has never been more real, loving, protective and powerful than in that moment. 
Because my God is good, I am able to see my dad almost every day and he is whole again. 
We go on long walks together weekly and laugh with our family about the time "dad took the trash out in the middle of a snowstorm."
Romans 8:26-28 says, "Meanwhile, the moment we get tired in the waiting, God's Spirit is right alongside helping us along. If we don't know how or what to pray, it doesn't matter. He does our praying in and for us, making prayer out of our wordless sighs, our aching groans. He knows us far better than we know ourselves, knows our pregnant condition, and keeps us present before God. That's why we can be so sure that every detail in our lives of love for God is worked into something good."
Even when we don't see it, God is working and He's always working for our good. 
After the snowstorm snuck up on us, the ice, the trash, the fall, the blood, the towels, the hazardous driving, the fear, the resolution, the prayer, the singing and the overall trauma of this day, my family was reminded that God was in control of that moment.