Game one of the St. Louis Cardinals 2011 World Series was incredibly cold. Despite the frigid temperature that culminated in the air, my family and I experienced a core memory that would last a lifetime.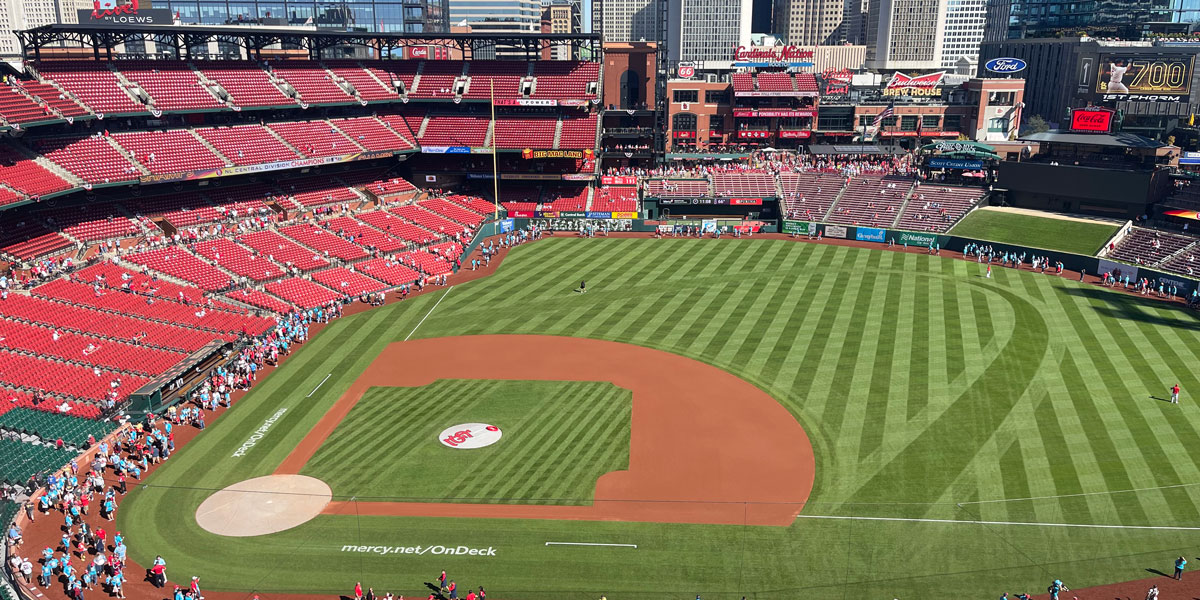 Bush Stadium, located in downtown St. Louis, is a staple for the city and baseball fans alike. Generation after generation there have been many historic moments in baseball at this stadium leaving fans filled with joy and admiration for baseball and their city. Pictured here is the field adorned in its iconic and pristinely cut arch during the St. Louis Cardinals' last seasonal home game on Oct. 2, 2022. During this game fans got to witness Albert Pujols hit his last home game home run making his career home run count 702. Photo by Jessica Kunkel
Wednesday, Oct. 19, 2011, is a day that my family and I will never forget because, for us, it was the coldest night in baseball.
On this day at 7:06 p.m., the St. Louis Cardinals and the Texas Rangers would go head-to-head in game one of the 2011 Major League Baseball World Series. 
However, this was no ordinary baseball game. As attendees headed to Busch Stadium to watch this much-anticipated game, the bitter and stifling cold swept through the air.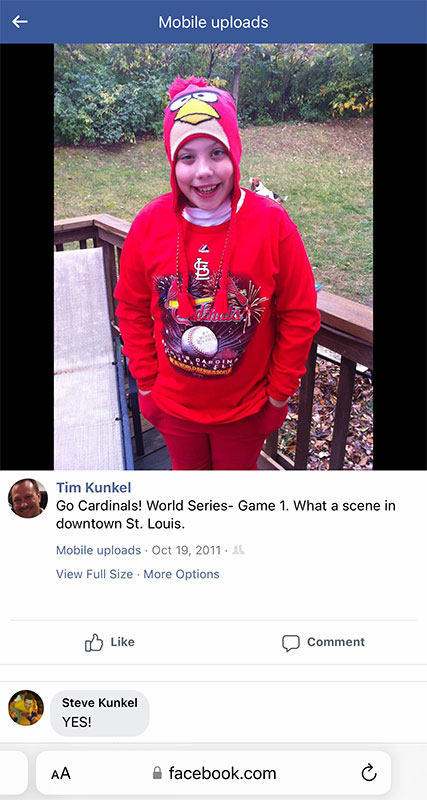 But my family was prepared.
My dad, step-mom, step-sister and I were dressed head-to-toe in winter clothes. With the number of layers we had on, there was no way the autumn chill of the evening could impede our focus on enjoying the baseball game. 
Wearing a red World Series Championship sweatshirt and a red "Angry Birds" snow hat with winter socks, I accompanied my family to the stadium. 
This was all so exciting for me. I remember I felt so cool that I got to go to a World Series game for the Cardinals at only 10-years-old.
Upon arriving at Busch Stadium my family was interviewed by someone who worked at the stadium about how we felt about being at the game even though it was immensely freezing that night. 
I think my step-mom answered with something about how we were so happy to be at the game and that we were all layered up with warm clothes. 
Even though I'm pretty sure I didn't say anything during the interview, I thought it was pretty neat that we got picked out to be interviewed, and I'm sure my "Angry Birds" snow cap ended up on TV at some point, which was probably silly.
As we took our seats in the stadium I just kept thinking how fun it was to be at a World Series game for the St. Louis Cardinals. I remember the seats we had were pretty good seats. They were located on the third base side, so we could see the players well and were able to clearly view each play.
The navy blue night sky was clear and crisp, and we watched the start of the game trying to block out the chilling weather. 
As the game continued, we needed some ballpark snacks, of course. My go-to baseball game snack is always Dippin' Dots, but that cold day stipulated that hot chocolate would be the better choice, and upon getting other food, my family definitely got our fair share of this piping hot beverage during the game.
There were plastic souvenir cups to buy for the hot chocolate, and my dad bought us all one. The cups were special because they had the 2011 World Series Fall Classic logo printed prominently on the front and back. 
The game played out, and the Cardinals took the lead in the bottom of the fourth inning, 2-0, but in the top of the fifth, the Rangers tied us up, 2-2. 
The Cardinals ended up clinching the win in the bottom of the sixth with one run, making the final score 3-2. 
The game lasted about three hours, so by the time we got home, it was probably around 11 p.m., and my dad had to take me to school the next morning.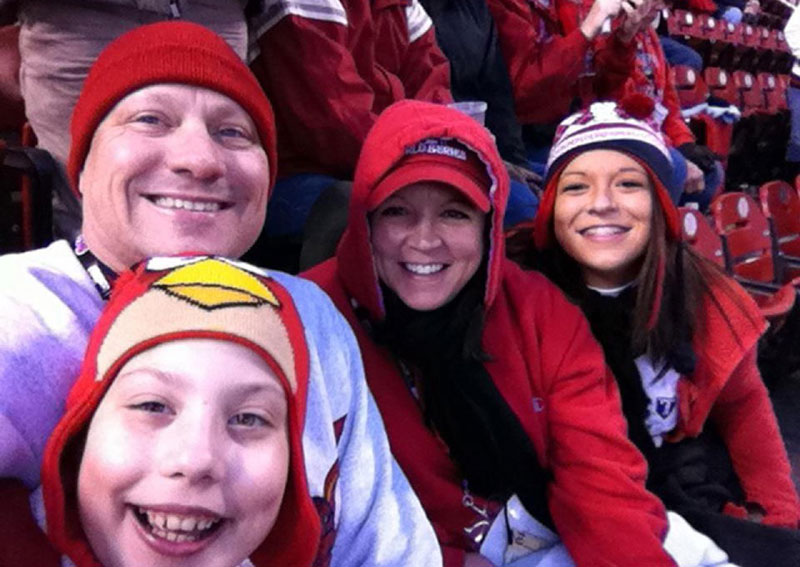 I remember being tired the next day at school, but I also remember feeling so cool and special because, even though it was so cold, I got to attend game one of a St. Louis Cardinals' World Series. And not only that but I witnessed a winning game.
When I asked my step-sister Nora over text what she remembered from that cold October night, she recalled, "I don't remember it much but I definitely remember how cold it was and how we had to wear long johns and like three layers on top of that. We sat pretty close up if I remember and it was game one. The atmosphere was crazy, especially because we won that game!"
The night was truly a once-a-lifetime experience I will remember forever. 
Attending this baseball game was such a unique experience for me and my family to witness – a game one St. Louis Cardinals World Series win – but what made the game memorable and something we will never forget was how unbearably cold it was that evening in Busch Stadium on Oct. 19, 2011.