Running For My Life
Although it can be painful and miserable at times, running helps me clear my mind, focus my life, and connect with friends on days when my life feels out of control. During my college running career, I have practiced in different places around MBU's main campus and made more memories than can be written.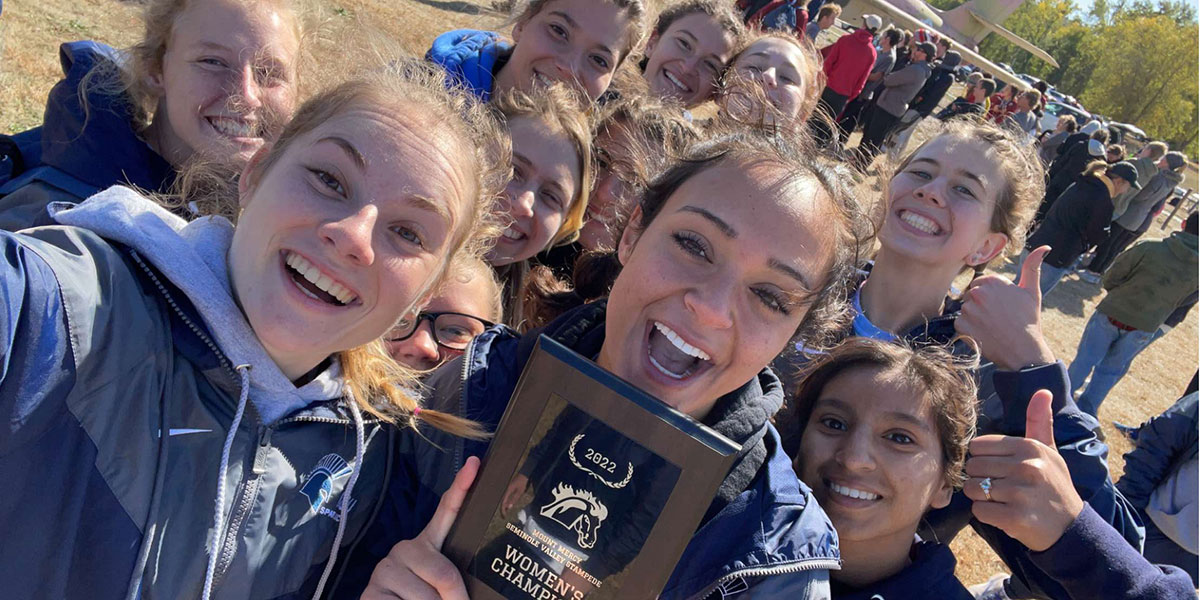 The Missouri Baptist University women's cross country team poses for a photo after a successful meet in Iowa, where they won the Mount Mercy Seminole Valley Stampede. They are, left to right: (front row) Mia Reed, Mattie Noyes, Adrienne Rockette and Nani Brewington; (middle row) Mikayla Ware, Maddie Sargent, Lillian Harris and Isabel Rinkenberger; (back row) Gracie Kopala, Vanessa Waidmann and Brooke Heberer. Photo by Mattie Noyes
__________________________________________________
My relationship with running is complicated.
For every run in freezing rain, there's a run in perfect 60-degree weather.
For every miserable hill workout, there's a day of 400 repeats when I feel like I'm flying. 
And for all the soreness and blisters and heavy breathing, there's a time when running feels like second nature, and I feel like I can run forever. 
For me, the good outweighs the bad. Whenever I take a break, I feel out of focus, like a critical part of my day is missing. 
I love talking with my teammates during practice and finding that person who runs the same pace and talks Nintendo Switch games and superhero movies. 
I love feeling the wind in my hair during fast workouts and hearing the steady breathing earned from the repetition of the same workout too many times to count.
I love that special kind of tired only felt after a hard-fought race, the kind where your legs can't hold the weight of your body and your lungs are fully expanding to get enough oxygen into your body.
I hate the sweat that forms when it's 90 degrees in October, and we're still running a threshold run at 3:30 in the afternoon. 
I hate the cold that seeps through shoes and socks and the minimum-three layers of shirt, shirt, sweatshirt we wear when the temperature's in the single digits. 
But running brings so much good into my life, has brought so much good, that I can tolerate the bad days.
I've met some of my best friends through the sport, and I've felt like the fastest person alive. 
So, even when college is over, when my priorities shift from homework to actual work, I'll keep running and remember this time in college when I got to run with some of my best friends.

I have run over 1,500 miles this year alone with my teammates on the MBU women's cross country and track team. The photo gallery below showcases some of my favorite places to run in Missouri with the girls who have become like family. All photos by Isabel Rinkenberger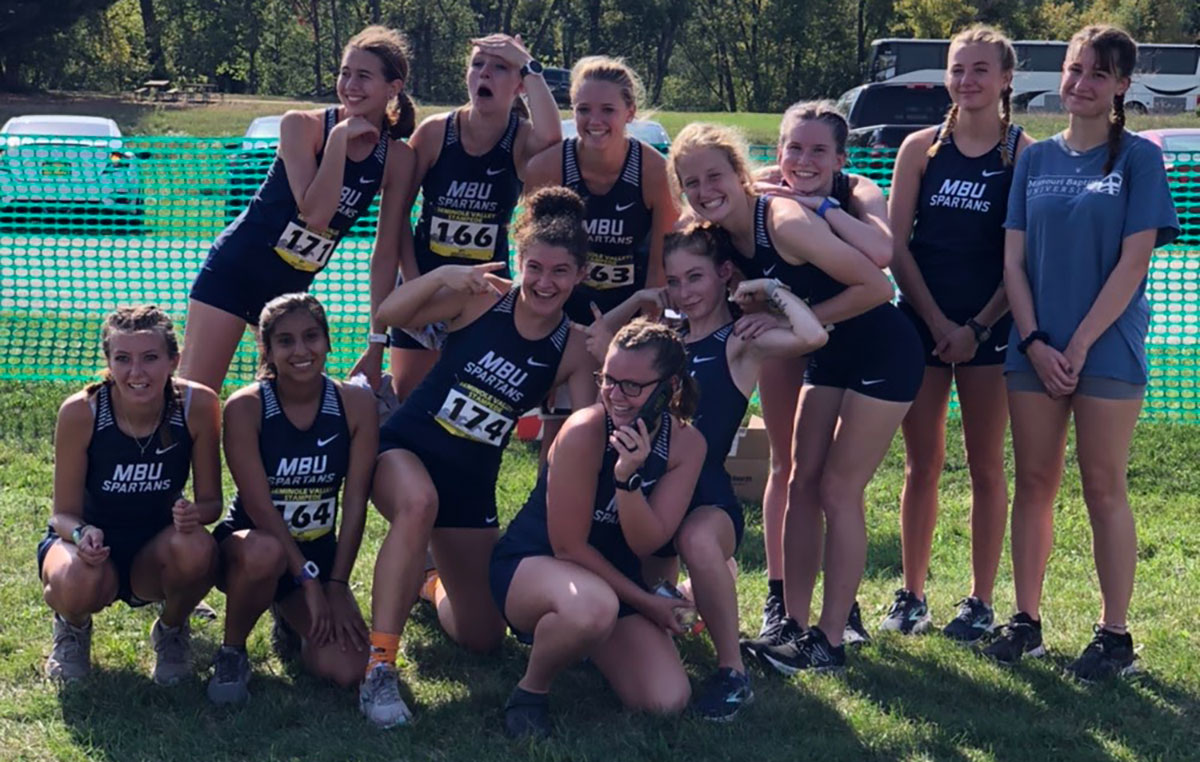 The 2021 MBU women's cross country team poses for a team photo after a race in Iowa. They are, left to right: (front row) Elizabeth Rogers, Nani Brewington, Vanessa Waidmann, Mikayla Ware and Ali Perry; (back row) Isabel Rinkenberger, Aly Jakcsy, Emily Bayer, Mia Reed, Alyssa McCormack, Lily Nix and Brooke Heberer. Photo courtesy of Isabel Rinkenberger
Tags: Adrienne Rockette, Ali Perry, Aly Jakcsy, Alyssa McCormack, Brooke Heberer, Conway Park, Creve Coeur Lake Memorial Park, Edgar M. Queeny Park, Elizabeth Rogers, Emily bayer, Gracie Kopala, Isabel Rinkenberger, Katy Trail, Lillian Harris, Lily Nix, Longview Farm Park, Maddie Sargent, Mattie Noyes, MBU Cross Country, MBU Timeline, MBU track, Mia Reed, Mikayla Ware, Missouri Baptist University, Nani Brewington, opinion, Premium Outlets, River's Edge Park, Running, Spartan Field, Vanessa Waidmann

Isabel Rinkenberger
Isabel Rinkenberger is the digital director (2022-2023) for MBU Timeline. She is majoring in journalism and hopes to work in some form of online content creation or management after graduation. Running both cross country and track for MBU, she also enjoys baking and designing websites in her limited free time.