Six international students who currently attend Missouri Baptist University were asked about where they live and analyzed the pros and cons of living on or off campus.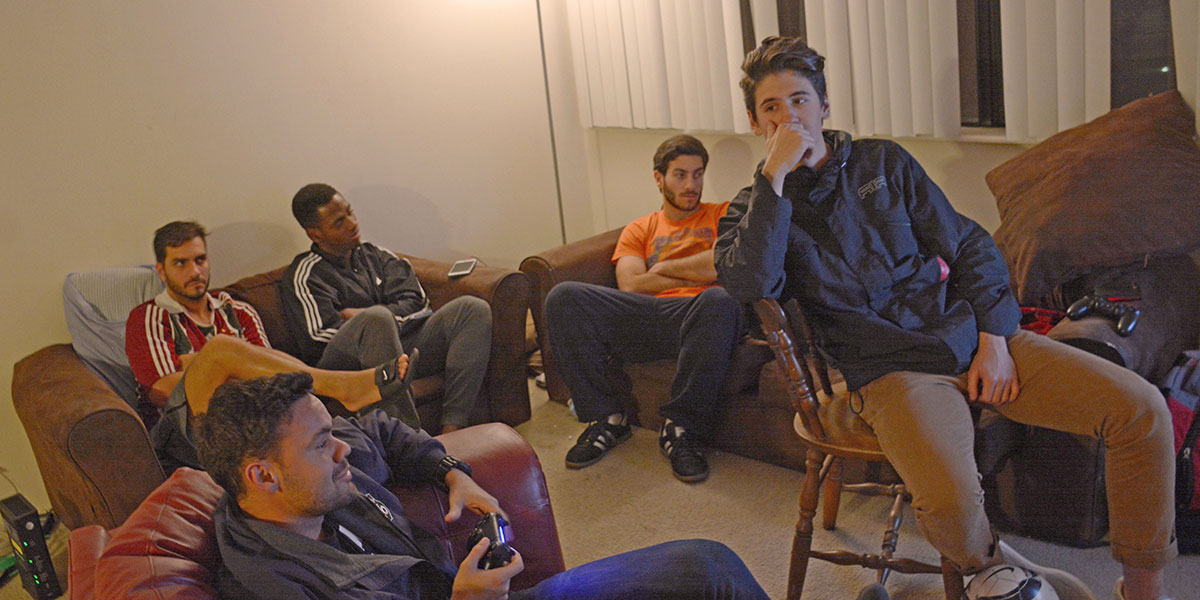 Photo by Eduardo Maia
__________________________________________________
Editor's Note: While most of our feature stories at MBU Timeline are written about others, in third person, this feature story includes its author, Brazilian international student Eduardo Maia, as a first-person narrative about international students living on and off campus at Missouri Baptist University.

Throughout our college careers we know we have to deal with issues like having a car, paying off our tuition, learning how to adapt to a new chapter of our lives.

With that being said, in this first-person narrative I've chosen to talk about housing, specifically housing for international students.

Where do you live? On campus or off campus? I decided to ask six college students from other countries to explain, in their own words, which would be the most affordable option when it comes to college living.

Before that, I would like to share my personal experience since I first arrived in the United States.

In 2014, I came to a school located in Kentucky, called University of the Cumberlands. Besides having difficulty with the English language — my English was terrible — I had to make serious decisions with a certain lack of knowledge.

For instance, being from Brazil, I had to decide to live on campus because I wasn't familiar with the area around my future campus.

Sadly, I realized in the first few months that I could have paid much less to live off  campus, in an apartment rented with some other teammates.

Without any doubts, I think it is much better and more affordable to live off campus.

Therefore, following that idea, for this story assignment I decided to ask some MBU international students who live on and off campus why they prefer living where they do right now.

What would be the reasons for them to choose their specific places to live?

I first spoke to the students who live off campus, some acceptable and reasonable explanations were discussed.

Luka Milcic, a senior from Belgrade-Serbia, claims the main reason for deciding to live off campus would be the cheaper balance by the end of each month.

"For me it's very simple, my semester payments living off campus are in total around $1,250, while when I used to live on campus, the amount per semester was $4,000," Milcic said.
Rafael Rangel, a senior from Rio de Janeiro, Brazil, claims privacy as another reason to live off campus.
"Having my own room with the roommates I've known for a long time is perfect, besides I can do whatever I want on a daily basis without being controlled by RAs day and night," Rangel said.
Rangel and Milcic agree the financial costs are lower when living off campus.
By the way, I used to pay $5,000 per semester just for my living expenses in Kentucky, a fact that I would certainly not be able to handle nowadays.
Milcic, who lived on the MBU campus in his first semester here, said he used to pay around $6,000 per semester for living expenses.
Thales Teixeira, a senior from Rio de Janeiro, Brazil, agrees on the issues of privacy and finances, and also points out another reason why he thinks living off campus is the best decision for him.
"Maturity. You have to make sure everything is done correctly living in your own apartment. You grow up as a person," Teixeira said. "Laundry, cooking, cleaning the house, sharing domestic tasks with the roommates. All these things make you evolve and mature."
While living off campus might be cheaper and more private for some international students, those who live on campus explain why their decision makes their lives easier.
Deyvid Khoury, a sophomore from Lebanon, said living on campus certainly has its benefits, specifically that everything is simpler and more practical.
"Usually I wake up later for my classes, I'm never late for them, and I don't need to cook, I just go to the caf and I grab whatever I want to eat whenever I want to," Khoury said.
A sophomore from Serbia, Tosic Marija, also defines the good and bad points of living on campus.
"Good things about living on campus are that it's very convenient. Everything is close and you can always go to your room in between classes," Marija said. "In addition, you don't have to think about traffic and wake up earlier than 15 minutes before class."
However, she also pointed out a few negatives.
"I would say that the only negative side is that this is a Baptist university, therefore, there are way more rules than average university, and not many students can obey those rules," she said. "In my opinion, I think that they go overboard, especially when it comes to room visits."
Based on the thoughts of these foreign students attending MBU, living off campus might save money and increase privacy, while living on campus provides more convenience and easier life.