In a day and age where Easter has lost its meaning in many secular circles, it is important to be reminded that we are celebrating the very foundation of everything we believe as Christ followers. Easter eggs, bunnies and candy are great, but the death and resurrection of our Lord and Savior, which allows sinners to enter into His presence, that is what we celebrate on Easter Sunday. Today's blog asks MBU Timeline writers a simple question: What does Easter mean to you?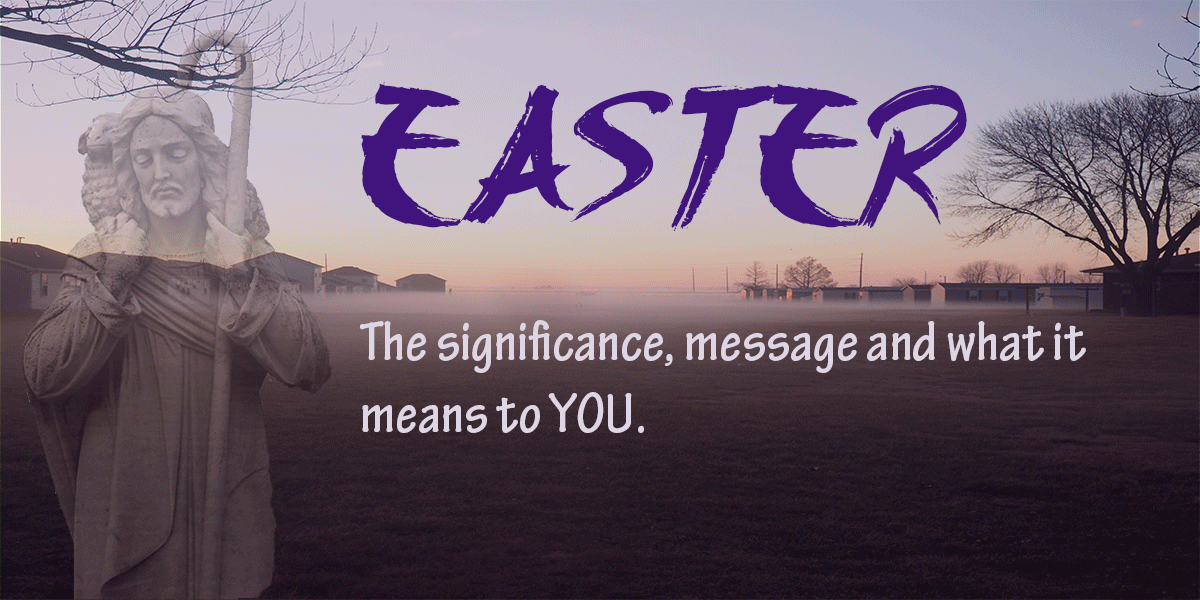 Photo by John Hough — Graphic illustration by Matt Williams
__________________________________________________
ASHLEY VAN CAMP
What Easter means to me is that it's a day to gather with my family and enjoy each other's company and time.
The younger kids get to run around scavenging for Easter eggs in the back yard and being youthful.
I think celebrating Easter has changed for me. I am no longer a child, so running around and trying to get the most Easter eggs is not an option anymore.
As a kid I was only worried about how much money and candy I would receive from the traverse obstacle course.
I now get to sit back and watch. But I have grown to be more appreciative of the day by being with my loved ones.
__________________________________________________
AMANDA MONKE
Despite the countless department stores invaded by bouncing bunnies and chirping chicks, Easter does not have to lose its original meaning.
This week, sitting surreptitiously on my family's kitchen table is an odd-looking, plastic purple egg carton.
In the carton, each of the 12 colored Easter eggs holds a small plastic object which tells a part of the Easter story, including a donkey, a palm leaf and a crown of thorns.
Through these eggs my family blends the secular and the sacred aspects of Easter by telling the story of Christ's death and resurrection through a spirited egg hunt.
Although holidays evolve and traditions change, in my home Easter remains a time of remembrance, celebration and connection with family.
__________________________________________________
KATIE SEFFENS
CEO (Christmas and Easter Only): This is the time of year when many people who would not typically go to church get to hear the gospel.
It is also the time of year I gain 5 pounds eating chocolate and cake.
__________________________________________________
CHAD OTEC
Easter is a very big deal to me and my family. We go to Mass together every year as a family, and our extended family always meets at Grandma's house on Easter Sunday.
We have an annual egg toss with real eggs, and the winners get to write their names on the egg-shaped trophy. The younger cousins in the family also participate in an egg hunt where the older cousins hide the eggs.
I think the meaning of Easter has most definitely changed throughout the years. I am not even sure if everyone knows why Easter is a celebrated holiday.
Many friends and teammates of mine get big presents on Easter, just like Christmas. I have never understood why people do that but I guess the tradition has changed.
In my opinion, Easter should be about spending time with family and eating candy, lots of candy.
__________________________________________________
CHRISTIAN ROBINSON
As I grew up, my parents always taught me the true reason behind Easter: the celebration of the resurrection of Christ.
While my sisters and I would always receive Easter baskets and participate in Easter egg hunts in our back yard, my parents always made sure to teach us the true importance of the holiday.
Now that I am older, the holiday means more to me as I have grown in my relationship with Christ and understand the true sacrifice that He made for me.
__________________________________________________
REBEKAH RUTLEDGE
Easter, to me, is an excellent reminder of Christ in a time where my head is so buried in the end-of-semester rush.
Easter allows me the time to take a moment and remember why I have all of the opportunities and blessings that I do.
Amid all of the stress and rushing around that I feel every year, Easter is a peaceful break.
__________________________________________________
JULIA PROVINCE
I feel the most important meaning of Easter is to celebrate the resurrection of Christ.
I don't necessarily think that including festivities like Easter egg hunts and chocolate bunnies has to take away from that meaning, but it can when the focus becomes those things.
As a kid I remember having the Easter story told to me by little items hidden inside the colorful plastic Easter eggs.
Each item represented a new part of the story, with the last egg empty to represent the empty tomb.
For me, the Easter bunnies, plastic eggs and Peeps candies didn't detract from the true meaning of Easter.
__________________________________________________
ESTHER GILLIAM
Easter has much meaning to different people, but to me it has a special meaning.
It is the time of the year I get to celebrate the time my Savior rose again and brought forgiveness to this world.
The sacrifice has more of a meaning than any Cadbury Eggs, which I recently learned are now made with cookie dough filling.
I get to share the time with my "1,000 family members" and all their little munchkins.
It is a time to look up new creative ideas of dying eggs on Pinterest, while trying to outdo my sisters in creativity.
This holiday provides me with the opportunity to convince my nieces and nephews I am the best aunt and that they should share the several pounds of candy they received in their baskets that morning.
It also brings the time of year when I get called the nickname "Easter" out of spite, since my name is in close spelling range of the upcoming holiday.
I am thankful for Easter overall because it gives me the reason for my true purpose, which is to be a disciple of Christ and go spread the gospel, while serving others as He once did.
__________________________________________________
HOLLY FLIEG
I look forward to Easter every year because I get to spend it with my family. We usually only get together for the holidays since we all live a few hours apart.
I enjoy seeing how my little cousins have grown and search for eggs just like I did when I was their age.
My favorite part about Easter specifically is going to church with the whole family because that does not happen often.
__________________________________________________
SIERRA THOMPSON
To me, Easter is normally about spending time with my family, going to church and eating lots and lots of candy.
However, I will find myself working all Easter Sunday this year.
Being raised in a Christian home has taught me the importance of the holiday. So in this sense, I do not think that the holiday has lost its meaning or changed.
Just like any other holiday, people have their own ideas or beliefs on how to celebrate the day.
Through the candy, plastic eggs and bunnies people can often overlook the Christian meaning of Easter.
Remembering the resurrection of Christ and spending time with loved ones has always been the underlying meaning for me.
__________________________________________________
JOHN HOUGH
From my experience, Easter Sunday is a day where my family goes to church and spends the rest of the day gathering with other family members.
We will continue the tradition this weekend with even more members coming to our house too.
As a Christian, I believe Easter is a time of celebration and recognition of Jesus' resurrection and forgiving our sins, which is everything.
From an earthly standpoint, it is a day to be appreciative of your family and friends and be thankful that they're there for you.
This is a really early Easter and in the past most of the men in my family watch the Cardinals game and bond over it, but we can't do that this year.
However, since it is early it allows family members from out of town to come visit, which is better.
To celebrate Easter by being reminded of Jesus' resurrection and spending time with family is priceless and a blessing.