If you're looking for the Queen of Halloween herself you can find her in Oakville, Missouri, and her house is one you can not miss. Be sure to take a visit this Halloween, it's a house tour you will never forget.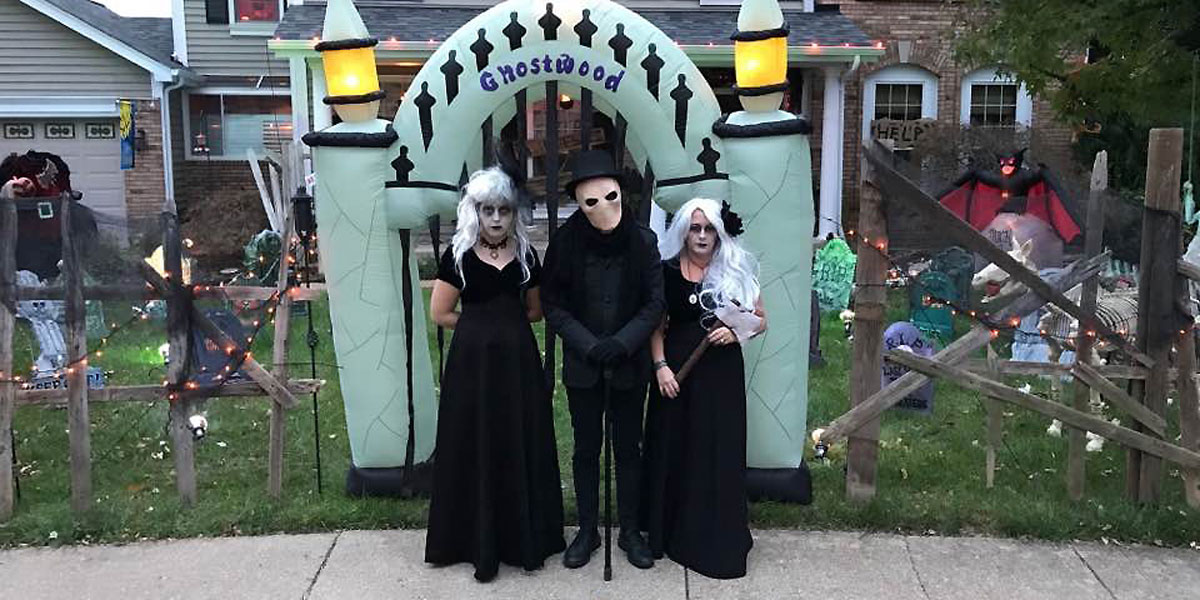 Photo courtesy of the Sandvoss Family
Sandvoss family members are all dressed up and ready for Halloween night. Haley, Connor and Julia Sandvoss set up the decor and are the go-to scarers on Halloween night. If you are interested in a good fright follow their Instagram page used to post updates of the haunted house. Send them a DM and they will let you know the time the haunted house opens as well as the exact location in Oakville.
__________________________________________________
Julia Sandvoss is a mother of three with a husband who supports every decision she makes, even when it means turning the main floor of her Oakville family home into a haunted house. A few years ago Sandvoss wanted to make her house something kids would enjoy seeing on Halloween night, hence the haunted house began.
She started the haunted house because she had such a passion for Walt Disney World's Haunted Mansion ride, from which she based her haunted house.
"We first started out with just a simple cemetery in the front yard and a few years ago started having the kids walk through the main level of our house, because I was decorating the inside and nobody would ever get the chance to come and see it," Sandvoss said.
For the Sandvoss family, Halloween night preparations begin a month in advance because what they do can not be thrown together at the last minute. 
Sandvoss does most of the decorating herself since she knows exactly where she wants everything to go. Her daughter, Haley, the writer of this story, along with her two sons, Connor and Parker, also help out whenever she needs it.
"If I didn't have helpers, then the house would not come together as quickly as it does. The boys do the main work outside with building a fence while me and my daughter Haley do all of the fun decorating inside," Sandvoss said.
This help from her children is also a great way to get the family involved and have everyone pitch in on something Sandvoss truly has a passion for.
"Every year I get the task of building a wooden fence around the front yard, which makes a rickety outline around the yard for the cemetery. Then once Halloween is over I tear the entire thing apart and store it underneath our deck until next year," Connor Sandvoss said. "The entire thing is a long process and it's a pain. Once the fence is built, it needs to be staked to the ground so it doesn't fall, then lights go on it, cobwebs and a few scary signs."
The house includes items from eyeballs to body parts and even bugs. In the Sandvoss house the goal is the creepier the better.
While nothing should be cute when you walk through the door, it's also not too scary, since there are little kids who walk through the house on Halloween night.
Some of the items in the house were actually made by Mrs. Sandvoss herself as she is an accomplished crafter.
In the dining room she made paper eyeballs, colorful fans and even cut out spiders, crows and bats that are all over the walls.
"I have a few things in my dining room that I made myself and they just add a really good touch to the room, plus it's really affordable decor since they are all made out of paper," Sandvoss said.
There are a few items in the house that are truly a bit scary. Inside and outside the house are animatronics that move and speak.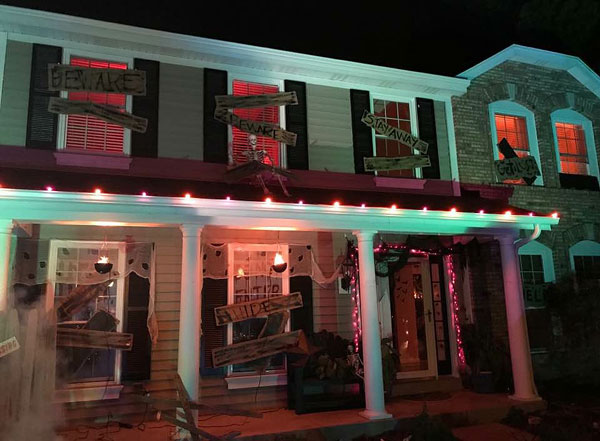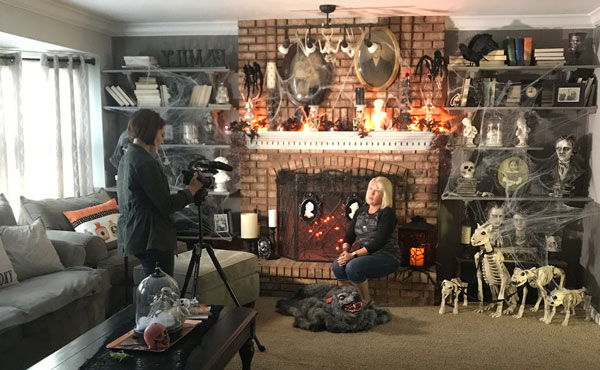 One of them is a rising creepy doll, who starts off really sweet and then rises up to about 6 feet, while talking about how she wants to "play with you."
Sandvoss also has outside in her front yard a swinging girl, who sits in her tree and rocks back and forth singing a creepy song while her head spins around.
Last year a big addition to the haunted house was a projector, which plays different clips onto a blank wall in her home. When the lights are all off in her house, what it projects looks insanely real. It projects picture frames onto the wall with a woman in the frames, which move, shake and spin around. It may sound strange but in the dark it looks creepily realistic.
Sandvoss gets plenty of volunteers on the night of Halloween to work the haunted house and give the kids and the adults a good fright.
Sandvoss' daughter Haley gets some of her friends and classmates together to come over and scare the kids. The Sandvoss family also comes over as well to participate in the scaring.
Everyone is given a certain role to perform on Halloween night, because that way every object in the house gets completely covered.
With almost everything in the house either making a sound, speaking or having a backstory, Haley Sandvoss points out the big objects to whoever comes through the door Halloween night. Everyone else who volunteers picks a few spooky objects in the house to make the sound go off or to hold as their weapon of choice.
"Every year Haley is my helper and guides everyone who comes through our door on Halloween night through the house. She makes up an entire story on what to tell people as they come through of everything in the house," Julia Sandvoss said. "Her friends then pop out and walk around to give a good fright. Family members also get involved and fill extra spots we need bodies for. Then all the boys we have are outside in the cemetery, which is one of the hardest jobs because everyone waits in a line to come in … so the boys are always on the scaring job."
Last year the house was such a success that Sandvoss and her daughter Haley were featured on the 10 a.m. news, with a segment on both "Show Me St. Louis" and again on the station's nightly news broadcast at 6 p.m.
Be sure to stay updated with "Show Me St. Louis" on Monday, Oct. 29, just before Halloween as there will be an updated segment of the new design of this year's Haunted House.
This year the haunted house is taking donations at the front door. There is no charge to enter, but donations are welcomed to keep this haunted house happening every year.
If you are interested in a good fright follow the Instagram page that Sandvoss uses to post updates of the haunted house. Send her a DM and she will let you know the time her haunted house opens as well as the location.