If you have ever called Missouri Baptist University, picked up a package or even passed through the lobby of the Administration Building you have likely caught a glimpse of the contagious joy of university receptionist, Laura Copeland.

Photo by Abby Kassebaum
Laura Copeland stands at her desk in the Administration Building where you can always find her with a smile on her face, greeting students and their parents and comforting newcomers.
__________________________________________________
In just a over a year's time, Laura Copeland has already become a familiar face to many and is often the first person visitors encounter upon arriving to campus.
Her desk always adorned with flower arrangements and mints and her face never seen without a smile, Copeland strives to make everyone who enters through the lobby doors feel right at home.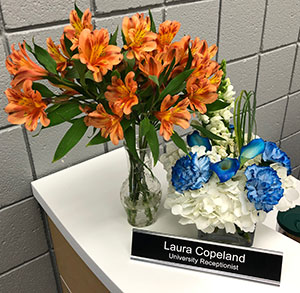 "I would characterize Laura Copeland as one of those unique individuals that make you feel warm and welcomed. At the same time she has the most inviting voice and face at Missouri Baptist University," said Cynthia Sutton, director of admissions at MBU.
As the university receptionist, Copeland answers phone calls, delivers and sorts campus mail and serves as the first impression to hundreds of prospective students and their families.
Because of her unique position Copeland gets to visit with a wide range of students, faculty, staff and visitors, and has the opportunity to develop relationships that go far beyond a classroom or office doors.
"I get to meet the person, not just the position," said Copeland, whose intentionality with students, faculty and staff does not go unnoticed.
"She cares about every person who comes to her desk and is always so bubbly and outgoing," said Bailey Ruess, a senior health sciences major from Bonne Terre, Missouri, who works as a student worker in the Admissions Office at MBU.
Before arriving to MBU in 2017, Copeland worked for the athletic director at Westminster Christian Academy, where her two children, Richard and Tessa, have graduated.
"Both my children went through Westminster and my youngest had graduated. I was thinking it was time for a change, wasn't really looking, but thinking eventually I might start looking," said Copeland.
Meanwhile, MBU had experienced the tragic loss of its beloved university receptionist, Cindy Payne, to a battle with cancer.
MBU was both grieving the loss of a friend and seeking to fill a position that was of such high importance.
Within a few months, Copeland came to MBU with the joy and contagious spirit that was needed in this season of transition.
"When I interviewed her the first time we met she reached out and actually gave me a hug and I thought, OK, this is the person that's going to be the next receptionist and the next voice and face of MBU," Sutton said.   
Shortly after coming to MBU, Copeland quickly befriended Dana Lorenz, accounts payable clerk whose office can be seen from Copeland's desk.
"Laura is an all-around kind of gal," Lorenz said in an email. "She is friendly and outgoing. I am always impressed by the fact that it seems she never meets anyone she doesn't already know."
Copeland's ability to make others feel heard and at home extends far beyond her desk.
While growing up her two children would often bring friends home where Copeland would eagerly extend her hospitality.
"We've always had a house where everybody is welcome, and so a lot of times I'll be mom, 'Mama Copes,' to a lot of kids," said Copeland.
Now that her children are grown and attending college, her home is much quieter, but she has big dreams to travel one day.
"I want to take a two-to-three-week trip to Europe," said Copeland, whose desire to travel started young as she obtained a degree in business administration from Saint Louis University in 1987 with hopes of going into international business.

"I had thought I was going to go into international business. I had a minor in French and my, you know, wanderlust for traveling I thought would be a great combination," said Copeland.

But something, or rather someone, caught her eye and plans started to change.

"I met this boy and fell in love and stayed home and started raising a family so that switched everything," Copeland said of the young man who would become her husband, Richard Copeland, an employee at The Gund Co. located in St. Louis.
The two celebrated their 30th anniversary last spring.  
Whether it be her role as a wife, mother or receptionist, Copeland strives to do it all for the glory of God.
"Whatever you do, you are supposed to do it well and do it as to the Lord. So even if it's as simple as answering the phone sometimes somebody just needs someone to listen and I am there and I can do that for them," said Copeland.

And so Copeland practices this in each of her tasks, whether it be pointing someone to the correct building or welcoming prospective students to what could be their new home, Copeland does it all knowing that her impact has the potential to reach much further.
"What I am doing has ripple effects that I might not even know about," she said, and anyone who walks through those doors knows that Laura Copeland is the stone that sets the ripples into motion.