After years of careful planning, the Missouri Baptist University School of Nursing opened its doors in January, welcoming 21 future nurses to their new program.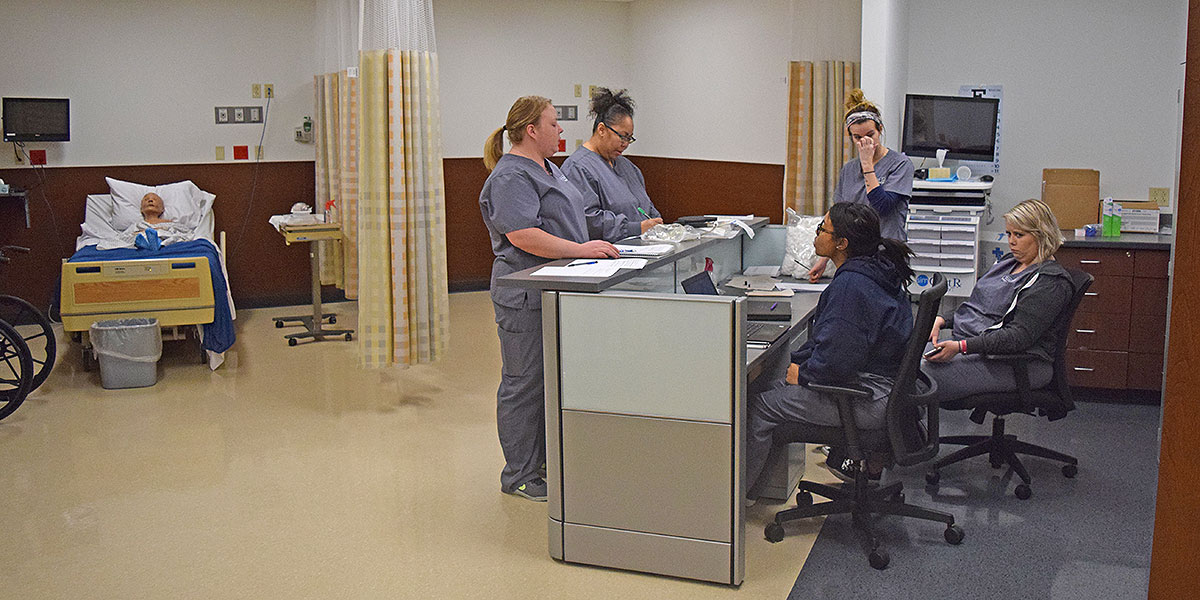 Photos by Abby Kassebaum
__________________________________________________
On Nov. 9, 2017, a classroom in the Walker Medical Building sat full of MBU faculty and staff, MBU donors and Board of Trustee members as former president, Dr. Alton Lacey, and founding dean of nursing and associate professor, Dr. Amber Pyatt, cut a big, blue ribbon to celebrate the launch of MBU's first nursing program.
As the ribbon fell to the floor the room filled with cheers, clapping and tears as all reflected on the journey it took to get here, and dreamed about the potential healers this place will train.
In August 2016, Pyatt packed her bags and her family and moved from Wichita, Kansas, after receiving a call from Dr. Lydia Thebeau, dean of advisement and retention and professor of biology, asking her to serve as leader of the new program.
Pyatt had seen the position posted online several times, but continually ignored the idea.
"It just seemed like a big position, I had never started a nursing program before," Pyatt said.
Then Pyatt's family traveled to St. Louis for a Cardinals game and once again Missouri Baptist University's name was brought to her attention.
As they traveled, they passed by the university and upon her return home Pyatt decided to apply at the end of June 2016.
After interviewing with Dr. Thebeau and being offered the position Pyatt and her husband decided to make the move.
"It just seemed like a really great opportunity, so we uprooted the family and moved the seven hours."
Once Pyatt arrived, she hit the ground running, pursuing the tedious process of attaining the Missouri State Board of Nursing approval to launch the four-year bachelor of science in nursing program.
After learning each of the statutes and requirements to create such a program and obtain the approval Pyatt set out for the task.
The first step for Pyatt was connecting with hospitals and organizations to arrange clinical studies for the students.
"The No. 1 thing the board was going to look at was, do we have enough spots for our students to attend clinicals? So that's what I did for probably the first two and a half, three months I was here," said Pyatt.
Currently students have the opportunity to attend clinicals at more than 20 different sites, including Mercy St. Louis, St. Luke's Hospital and Delmar Gardens, and the list continues to grow.
"Most programs around the St. Louis area do not offer clinicals in the first semester. However, ours does," nursing student Ashley Arink said in an email. "It's a great way to practice what we learn in class and lab on actual patients. It enhances your learning and makes the material we learn stick."
Arink, a junior and part of the university's inaugural class of 21 students that began in January 2018, hopes to become a pediatric nurse and work in the ER or ICU units.
"It's very exciting and a blessing to be part of a brand new program. To be the first graduating class from MBU's nursing program is unreal," said Arink.
Arink and her classmates currently attend classes in the South Tower of the Walker Medical Building, less than a mile away from MBU's main campus.
The space includes multiple classrooms, nursing faculty and staff offices, skills labs and simulation labs complete with simulated "patients" who can blink, speak and even give birth.
The future nurses are enrolled in classes such as health assessment, healthcare concepts and professional nursing concepts as well as attending weekly clinicals to provide some more hands-on experience.
But to get these students through these doors and behind desks required months of preparation from Pyatt and the nursing program team. Once Pyatt had clinical sites locked in, she needed to begin developing curriculum and admissions policies for the future applicants.
Pyatt explained there are two ways students can apply. Students entering MBU as freshmen can apply for early admissions if they have a 24 ACT and 3.5 overall high school GPA, so they can apply during their senior year of high school.
If accepted, these students take pre-nursing courses on the university's main campus and are guaranteed one of 10 spots into the program as long as their grades are maintained.
"If they are not a candidate for early admission, or maybe they went to community college and are taking classes, or are a current pre-nursing student, they can apply their sophomore year for admission their junior year," Pyatt explained. "We just look at their overall GPA, we look at their science GPA and then have some letters of recommendation and essays they have to submit."
This semester's class will be the only spring start for the program, and moving forward they will be accepting classes of up to 24 to begin each fall.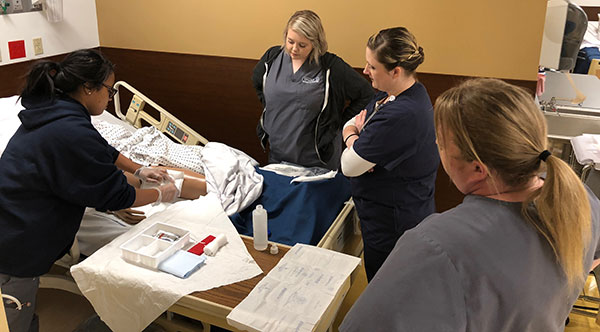 Assistant professor of nursing, Ashley Bell, watches students as they practice their skills.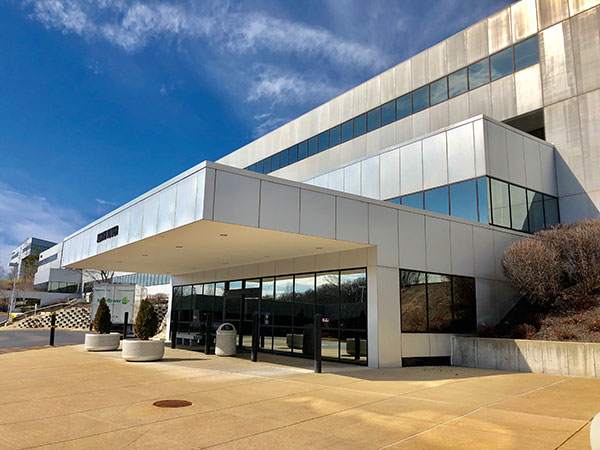 MBU School of Nursing meets on the third floor of the Walker Medical Building.
__________________________________________________________________________
Students who arrived in the spring semester came with MBU-branded scrubs, school-issued laptops and a hunger to learn to save lives.
"It is an honor to be a part of the first class of MBU's School of Nursing. Our class is marking history within this university and our success will set the bar for all future MBU nursing students to come," junior nursing student Rachel Garcia said in an email.
Garcia started her college career at MBU and with each word exudes passion for the nursing program.
"I cannot express enough how thankful I am that God pointed me here. Missouri Baptist University has become home to me and I am humbled to be a part of something so much bigger than myself within the Missouri Baptist University's School of Nursing," Garcia said.
And just as the students embody passion and enthusiasm, so do the School of Nursing faculty and staff.
"I am most excited to be among the founding faculty of a Christ-centered nursing program in the St. Louis area. It's a tremendous opportunity and I am grateful to work among such a quality team of colleagues," Robin Murray, assistant professor of nursing and pre-licensure BSN coordinator, said in an email. "We are using an innovative concept-based curriculum which is the state-of-the-art in nursing education. We received wonderful support of our program from the university."
In May 2017 the MBU School of Nursing received long-awaited approval of the Missouri State Board of Nursing, which enabled the hiring of faculty members such as Murray.
The team consists of four nursing faculty members and one staff member, each playing a vital role in the program.
In addition to Pyatt and Murray, faculty members are Debra D'Arcy, assistant professor of nursing, and Ashley Bell, assistant professor of nursing. Regina Stolzer is the sole staff member, who works as the administrative assistant.
"I would just describe us as a very collegial group, we get along well, we all have kind of a common goal. We are kind of like a family, we work together really, really well and we communicate really well with one another," said Pyatt.
Together this team of five women train up tomorrow's nurses, who are making history at MBU.
"There are truly no words to describe the respect and admiration I have for each and every one of our staff members and I am forever grateful for all the experiences and knowledge they continue to share with us in order to help us become the best nurses we can be," Garcia said in an email.
Arink echoed Garcia in praise of the leadership as she learns under the experienced and highly trained nurses.
"They are excellent nurses and I am honored to learn from them," said Arink "They make you think like a nurse from day one."
When you step foot into the MBU School of Nursing there is an undeniable energy in the air as the excitement is contagious and the passion is bursting.
"We are no longer just taking classes for a degree, we are learning to save lives," said Arink.
Pyatt held back tears as she described the year and a half journey of launching the program to the very first day of orientation.
"It was just very surreal to be able to put everything together what we worked so hard for," said Pyatt.
As an evangelical Christian university, the School of Nursing is able to implement Biblical teaching into the program and prepare students not only mentally and physically, but also spiritually.
"To be part of forming the nurses of tomorrow to care for the most vulnerable among us as Christ would care for them is truly a blessing," said Murray.
The School of Nursing mission statement states: "In accordance with the mission statement of Missouri Baptist University, the School of Nursing will prepare students spiritually, intellectually and professionally through a foundation of liberal arts education. Students integrate personal faith in the practice of nursing serving in a global and culturally diverse society."
And when you speak with students like Garcia and Arink, you know they intend to do just that.
Garcia said: "There is no doubt in my mind that this profession is exactly where God has called me to be and I wouldn't change it for the world."
Photos by Abby Kassebaum