"I feel like that's specifically what God's put on my heart, to write for the broken."

Photo by Abigail Scanio
Maddi Sullivan sits on her dorm room bed in the MBU Apartments recently, honestly and openly sharing her difficult story of tragedy, challenges and, ultimately, triumph through Jesus Christ.
__________________________________________________
A familiar face and voice to many students at Missouri Baptist University, Maddi Sullivan, sophomore worship leadership major, serves in the MBU Spirit Wing worship group, the university's Chapel Band, she is employed part-time with the worship ministry at Concord Church in South County, Missouri, and travels with her own collective group of close-knit musical friends.
However, less familiar is the story behind her praise.
Sullivan grew up in West Frankfort, Illinois, a small town which she nicknames "the podunk," or "redneck, rum in the corn fields, kind of thing," as she put it.
As second-born with three brothers, she recalled not growing up in a home where church was emphasized.
"It wasn't that, 'Oh we hate Jesus.' It just wasn't a part of our life. That was just how it was, and I didn't care," Sullivan said. 
Her family, now supportive Christians, at the time had distanced from the faith.
"We didn't go to church unless it was Easter," Sullivan said.  "I think a couple times we went on Easter, and we went to VBS over the summer, I think because we liked the snacks. And the music — I would always try to get a solo as a kid in the VBS songs, which was so stupid, but I did."
Despite her musical taste from early on, Sullivan was pushed by family and economic reality to pursue only what was considered "real jobs," or 9-to-5 careers, which led to her involvement in journalism during her junior and senior years at Frankfort Community High School.
"I was a writer and editor on our paper in high school and I freelanced stuff for our hometown newspaper," Sullivan said.  "I loved doing it. I love paper journalism, I'm sad that it's starting to go all-digital because I love the feeling of holding a newspaper and that's a very personal thing to me."
Looking back, she expressed the other side of that reality.
"I feel like I was mindlessly looking for a thing to fill my time — give me a career and a purpose while I was living there. I knew I couldn't make a career out of my music, a career out of my worship by living there because that's not very common where I come from. So, I feel like I was settling for these ideas," Sullivan said.
"I felt like there is a love for that but I was never fully committed to that. I just talked about it because I had to have some idea of what I was going to do. And I was trying to like go with the 'realistic option,'" she said, making air-quotes with her hands.
"You know, because where I'm from it's what they pounded into me. You have to pick a 'realistic' 9-to-5 career, and you have to pursue that, and you have to get married and have kids and that's your purpose in life," Sullivan continued. "I just never felt like that was my purpose in life. But, I kind of suppressed that while I was dating this guy and we were talking about getting married just because I wanted to fulfill my purpose, you know, that had been handed to me."
As she felt committed to checking off boxes for life's large tasks such as a practical career choice, she also said: "I was looking at getting married. Like, I was in a relationship with a guy and we were dating, really long-term relationship, and were looking to get married after I graduated high school. We were going to stay in Southern Illinois. I wanted to study journalism and I wanted to be on our paper in town, work there, pour into that and he was going to be a teacher. I was OK with that and I tracked with that for awhile."
However, Sullivan ended the three-year dating relationship amicably during their senior year.
"As I got closer to my senior year of high school, I started feeling that pull, like I wasn't made to stay here," she said.  "I wasn't made to stay in Illinois. Everybody is called to different things, but I couldn't compromise on that call. I've always burned to travel, and to go, to write music and to explore every possibility. I just couldn't settle into the idea of staying there. And I have a lot of love for my hometown. But, my entire time in high school I was ready to go."
After her decision to follow her calling to leave Southern Illinois, she scheduled her first university tour to what would later become her college home, MBU in St. Louis.
"I always loved St. Louis. A lot of my friends from home have gone here," Sullivan said. "So I was just kinda like, 'Maybe I'll just look just to give it a try."
In describing her visit to MBU, she continued: "It was in the summer and no one was here, but something about it spoke in my heart. I don't even know how to describe it, but that it was just a God-thing. I just felt peace while I was here, and just walking the campus I was like, 'I'm sold.'"
Entering MBU as a freshman in fall 2016, Sullivan had been a Christian for about four years, having stepped into a church for the first time without family or a holiday in 2012, at age 15.
"All I wanted was something that was real and honest because I felt like I had been lied to and hurt by so many people," Sullivan said.
Sullivan said she had been sexually abused by someone close to her at an early age and later by another person who she knew well.
Even when she became saved in August 2012 at Cornerstone Christian Church, now called Redemption Church in Johnston City, Illinois, she was afraid to trust people because of the way she had been abused by people in her life.
"I was so broken and I was feeling like I wanted to take my own life and I felt like I was worthless because I had been treated so badly in my life, and at that point when I first came to church was actually at the point where I decided that God must not be real. Like, God must not be this great awesome God that everybody talks about and flaunts at other people in my hometown because why would a God like that allow people to go through such awful things at such a young age and they didn't do anything?" she said.
Sullivan continued: "And I wrestled with that most of my life, wrestling with, Was it my fault that I was abused? Was it my fault that the things that happened to me did? And I went to church solely because it was my last resort and I was very suicidal and I was self-harming and I just felt like there was nothing left.
"Like there was a time I thought I had no future at all and I thought that I was just not meant to be anything else except the person that got abused, and that was it for me and when I went into church, I did not have an open mind and I was very against it, but I wanted to be able to say that I'd tried everything to get better and to feel better and to overcome it.
"So I went to church for that purpose and I didn't expect anything. But the one thing that spoke to me, because I don't remember the thing that was preached when I went to church, I just didn't get it and I didn't know how to understand that, but what I do remember is the music.
"And I remember when they played their music and it was like worship music, like contemporary worship music, which at the time was like old Hillsong and like that kind of stuff, and I had never even realized that Christian music could be like that.
"I thought Christian music was just organs, hymns, choirs, that's it. That's all I thought worship or Christian music was. So I was really shocked at that in itself just because I could relate to it, and I don't remember all the songs that they played that day, but I remember just feeling like not only seeing … those words and wondering what those words meant and wondering if those words could apply to me, but also seeing the congregation just worship, which I didn't know what worship was at that time, and I didn't know what it meant to have a personal relationship with God, so I was on the outside looking in, but I remember thinking, 'Whatever it is that those people have is what I need. And that's what I want. And that's what's gonna heal me from all of this pain.' And I just kept coming back."
Through the new worship she found, she also discovered great redemption.
"I feel like when I talk about the things that I went through then, I'm not talking about myself. I feel like I'm talking about somebody else because God has just healed my heart. I've seen that," Sullivan explained. "I believe so much in the healing power of Jesus because he has healed the most impossible situations in my life. I want to write music that does the same thing for other people that God can use to talk to the same people that are hurt and broken and feel like they have nothing left.
"I just want to lift those people up and show them that. I don't want to flaunt my Christianity in other people's face. I never want them to think I'm better than them because I'm a Christian or because I'm in ministry or whatever because I'm not. I'm the least of these."
Sullivan also finds practicality through her musical ambitions.  
"I'm quoting songs all the time of things that have ministered to me and I want to be able to do that as well," she said. "I wanna be able to write things that help people come back to the heart of the Lord because that is what heals, that is what changes things, and what makes all of this broken crap in this world make sense.
"My prayer is that when I write music — not even just when I write music — whenever I lead worship, whenever I step on stage, that they don't fall in love with my voice, they don't fall in love with what I'm doing. It's not about the show or the 'performance,' you know — I hate those words at this point because I don't want it to be about me. God, through music, can heal and provide comfort, provide hope, and that's what I wanna do. That's the whole dream."
Sullivan is not new to writing songs of her own, desiring to release new music in the near future.
"I've been writing for awhile, I've always done it. I have an EP out right now, but it's something I recorded before MoBap, so it's not super high quality. It's not super awesome. I recorded it in my dad's closet when I was living at home two weeks before I started at MoBap. It was just something I felt like I needed to do."
Her EP titled, "My Inmost Being," is based off Psalm 103:1, which says, "All my inmost being praise Your holy name."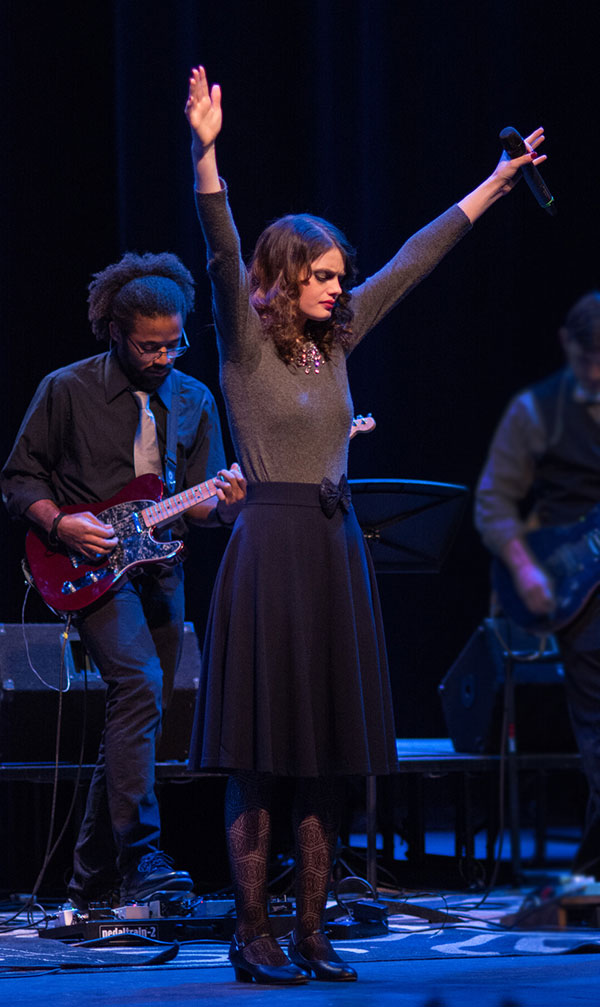 Photo provided by University Communications

Maddi Sullivan sings with the MBU Chapel Band during a chapel worship service.
___________________________________________________________________________
She described a picture of her writing style during the release of the EP involving "just vocal and piano, and my crappy yard sale piano just in the corner of my room."
Sullivan said: "I would just wake up or be awake and I'd go sit at my piano. I was starting to fall in love with the Lord, and that was the beginning of my relationship with God. It was probably about six months after I got saved that I really started to explore that relationship because I had been in that abusive relationship for the first six months. After I got out of that I got to just explore the presence of God."
Although her EP was released two years ago, she has not stopped writing as apparent when asked which of her writings has been her favorite.
"I recently wrote a song — I'm kind of caught between two songs that I recently wrote that aren't on the EP because I wrote them within the last year — but they're two songs that have really been a lot to me," Sullivan said. "One of them is called, 'communion song.' I haven't really actually officially named it. It's just kind of about communion, so that's what I've been calling it. But there's a line in that song that says, 'Sinners and lepers we come, brought to our knees by the thing you have done, you have paid it all just to save our souls.'
"Then later it would say, 'Give us hope as we come to the table, hearts made pure by the God who is able, you will not relent, we have seen how far you went.' The other one I love which is called, 'All Eyes on You,'  which I wrote a few months ago just kind of in a moment."
Lines she shared from the song said: "Here in this moment I'm turning my attention to you, remove all the noise and my fleshly desires and change the intents of my pursuit, I'm tired of building myself up because you've called me to take and drink your cup. I'm tired of the pride that I pursue, so right now Jesus, all eyes on you."
The songwriter explained: "That's just been like my heart cry forever. You have to check yourself when you do the kind of ministry that I do. When you're on the stage or anywhere where you're on a platform, you have to check yourself and why you're doing what you're doing.
"So, I'm thinking, 'What are the intents of what I'm pursuing?' I'm pursuing this music career and I'm pursuing this songwriting, and I wanna travel and I wanna tour and I wanna do all these things, so I have to constantly be like, 'What's the intent of this? Why are you doing this? Is it for you? It is to build your enamorbility, or are you building His?'"
The band she travels with off campus, that group of close musical friends which includes MBU seniors Guy Shaw, Steve O'Neil and Jonathan Yarborough, agree her motives match her talent. Yarborough said in a message, "She's a perfect mix of skill, determination, love and Jesus that will undoubtedly lead her to great heights musically, but also to working amazing things in and around the church body."
Her passion for MBU's chapel services shone through the tears in her eyes.
"This is such a unique opportunity to be a part of Chapel Band, to be a part of the chapel services, just because so much of our campus is lost," Sullivan said. "When I think about that, they'll see a lot of people on the stage and they'll think lots of things about those people on stage, my prayer is that when I contribute to that ministry, what I bring is a genuine relationship with God and a genuine love for those people, not just the ones that are saved, because I love those that aren't saved, if not more.
"I've been where they are and I want to help them come into this relationship, not because of judgment. I don't want it to be fake. I don't want it to be forced. I don't want them to be looked down on if they don't care or if they don't believe in the Lord. I want them to feel loved and embraced."
Kasey Cox, instructor of communications and theatre as well as directing MBU's chapel services, said in a message regarding Sullivan, "What I adore about Maddi is her heart for broken, imperfect people. So often when we lead in our churches we look for the people in our congregations who 'get it.' They have their hands in the air, they know all the words to the songs and they know how to present themselves in church culture. Maddi loves those people, but she connects with the messy ones who sit in the back needing a God who isn't afraid of brokenness. I love working with Maddi because she reminds us that true worship can only spring out of brokenness and she is gifted at coaxing it out of those of us who don't know if we have anything left to worship with."
Sullivan acknowledged her high involvement with the college campus saying, "There have been times where it's like, 'Do I have time to do this?' because it is a pretty big time commitment."
But, her deep heart for her spiritual mission spoke louder than the amount of hours required.
"There's a heavy, heavy burden on me when we do [chapel], to just be honest and to be real. There are times that I'll just cry because God put something on my heart so heavy, and I want to be able to not have to mask that. I want to be able to be like, 'This is real life. Like, it's not perfect. I'm not perfect because I'm a Christian. We're not perfect.' Worship's not perfect. It's not this pretty little thing, and it's not always, 'God, you're so great.' Sometimes we feel the opposite and yet we're still stepping on the stage and having to have the faith still to say, 'It is well.'"
Some of her favorite songs of chapel's 2018 spring semester included "King of My Heart," which she said has been "weighty for me lately. I have been kind of in a hard time of my life where I have been very busy with lots of pouring out and not a lot of pouring back in —  just kind of giving myself away and kind of need being ministered to myself. And, with everything that has been going on in the world lately, that has just been kind of impounded into my heart."
Not always are the worship songs easy for her to sing, but she does not fear the challenge, but sees the challenge as one worth embracing.
"We did, 'It Is Well' a couple of weeks ago," Sullivan recalled. "I feel like I'm laboring something. I feel like those are the best times of worship, whenever it's not easy. You know, it's great to praise God and be like, 'You're good, I love You, You're awesome,' you know, and 'worship is great and everything's peachy,' but I think there's more depth, too, whenever we have those times where it takes a lot to be able to say, 'It is well,' 'You're the King of my heart,' 'You are good' and 'You're never gonna let me down' when we feel like God's let us down and we feel like God's not looking at what's happening in the world right now."
Breaking the mood, Sullivan shared her excitement about the new guitar she planned to pick up over spring break, as well as opening up on her post-graduation dreams for 2020 involving moving to Nashville, Tennessee.
"I have some connections down there and am trying to get through school first and just kind of see what God does. I'm trying to let God lead the whole thing, so it's very open-ended at the moment," Sullivan said. "But the idea and the hope and the call that I feel is just to write music, put out albums and tour — just go wherever God sends me, wherever it is. I definitely plan to relocate in Nashville. I've always wanted to do that and it's been in my heart. That's the dream of my heart — to make Him famous."