As the weather outside turned chilly, the Perk was warmed by a stunning performance.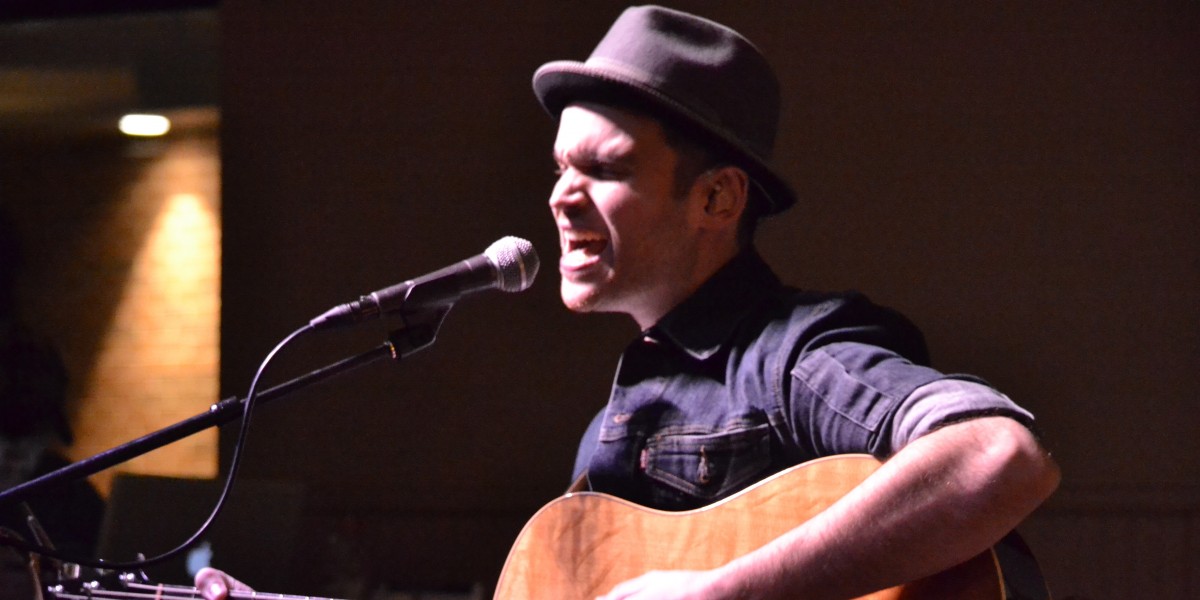 Photo by: Rebe Rutledge
__________________________________________________
Contemporary artist Jimmy Needham performed at Thursday Night Live at Missouri Baptist University on Thursday, Nov. 13.
Needham performed an amazing 10-song set that was entertaining as well as heartfelt and relatable.
He was accompanied by his friend and percussionist Joey Parish, who both live in Dallas.
Needham did not only come with the purpose of giving a good show, but was intent on presenting the great message of the Gospel.
However, Needham's performance at MBU almost never was.
In the summer, Needham damaged his vocal chords while singing.
He was nearly forced to go to the extent of cancelling fall performances.
Thankfully, Needham showed signs of recovery only weeks beforehand and decided to continue performing through the fall.
Nov. 13 marked Needham's second performance since his vocal incident.
This accident surely was not apparent in his performance as his musical ability seemed back to maximum.
Needham also showcased a brand new, upbeat song titled, "Mama Didn't Raise No Fool."
Needham's music often gave the audience a look into his own personal life.
During the show we learned about Needham's college years, his own sin issues, and the things that are important in his life such as his wife, kids and Jesus Christ.
His musical style ranged from contemporary to pop, Christmas music, and even a modern hip-hop rendition of "How Great Thou Art" that he wrote with Christian hip-hop artist, Trip Lee.
Needham said in an interview after the show how he and Parish had known each other for two years, and became especially good friends in January 2014.
He asked Parish to work with him a little later that same year.
The entire show was able to take place due to A Mighty Passion director Jonathan White, who was able to invite Needham to perform on campus after being involved together at a local church.
For those who were unable to see the musical talents of Needham, he will be leading worship at First Baptist Church of Ellisville, Mo., this Sunday, Nov. 16.