"Another day another destiny, I dreamed that love would never die, there is a life about to start when tomorrow comes." These words, saturated in poignant history and revolution, describe the world-renowned musical, "Les Miserables." Debuting Thursday, Nov. 20, and running through the weekend in the Chapel, it is the largest production in the history of Missouri Baptist University.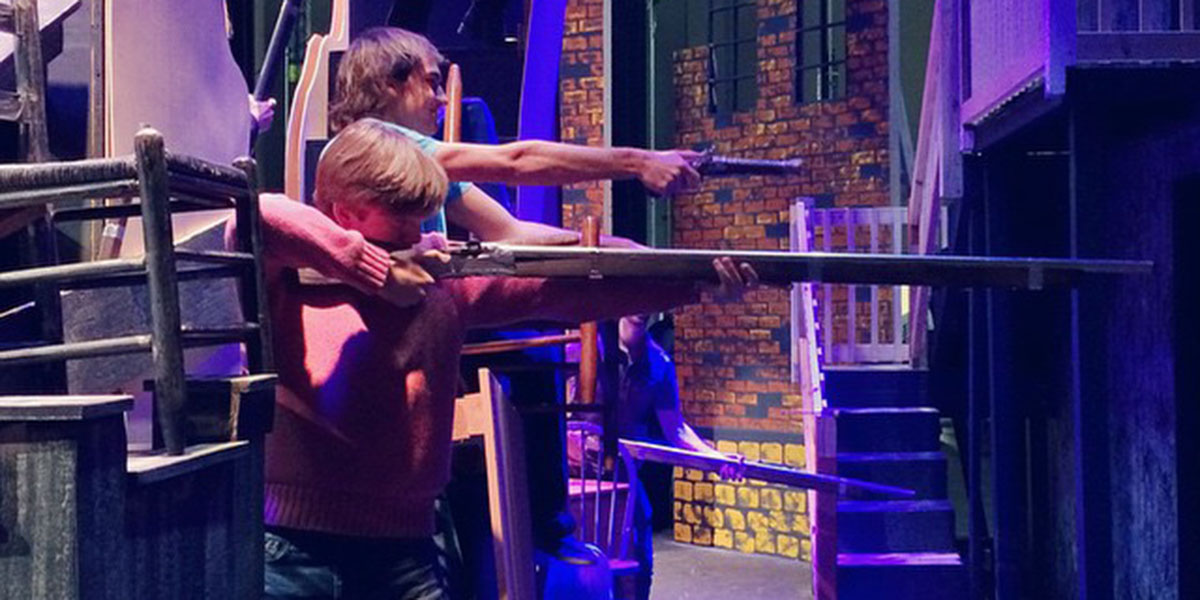 __________________________________________________
Seen by over 70 million people worldwide, translated into 22 languages and produced in 42 countries, "Les Miserables" is the world's longest-running musical.
Translated literally, Les Miserables means "the miserable ones." Running Thursday through Saturday, Nov. 20-22, at 7:30 p.m., and Sunday, Nov. 23, at 2 p.m., it is the largest production in the history of theatre at Missouri Baptist University.
You can purchase tickets by clicking here.
Set in the heat of the French Revolution, "Les Miserables" follows the lives of individuals whose existences are miserable in many ways.
At the heart of the play is the central character Jean Valjean, a man sentenced to prison for stealing one loaf of bread.
Throughout the play he is pursued by a former prison guard, Javert.
Many other individuals are introduced throughout the play with complicated lives based on intricate pasts.
Joy Powell, director of drama productions and assistant professor of theatre arts, gave MBU Timeline a look behind the curtain into the making and mindset of "Les Miserables."
Inspiration
Choosing plays for each semester is pivotal to enhance student education and provide community enjoyment.
Powell offered some key insight into her decision to direct "Les Miserables" at MBU.
"The rights have only been available in the past year. Only recently have the rights opened up to educational theatre," Powell said. "It is a pleasure to take on such a challenging show. There is a definite balance between what students need like lighter fare such as 'Seussical' and plays like 'Les Miz' where the vocal demand is really high."
In addition, this production includes the largest cast for an MBU production — 63 cast members.
Cast
This production is an alluring melting pot of talent.
With a cast comprised of current students, MBU alumni and guest performers, the culture of the cast is incredible.
Powell explained her reasoning behind incorporating outside performers.
"When you perform with someone better than you, you learn tremendous amounts," Powell said.
It is all about practical lessons for the students.
"The choices students make matter. How you behave, what you do and how you do it is vital to professionalism," she said.
Powell also explained that while students are learning from these guest performers, they are also learning to be confident in their own abilities and not become intimidated by talented individuals.
"When students are able to act with guest performers under the same rules and same time pressures they are able to learn more than acting skills, they learn techniques for a successful life," Powell said.
Storytelling
In such a historically rich production, the costuming and set design are crucial elements allowing the audience to travel back in time.
"Since 'Les Miz' revolves around intricate class systems the costuming gives the audience needed visual cues," Powell said.
Powell is thrilled to work with two professional costumers.
Both of these women have degrees in costuming, so they thoroughly understand period clothing.
One of the costumers works for a local dance wear company.
Their expertise helps the cast tell the story with even more intensity.
Set design also adds emotion to this powerful story.
The unit set for "Les Miz" is a street with cobblestone walkways and buildings.
Since the play spans 30 years the set must be very multifaceted.
"We're starting something new in this production. We will be projecting years onto the backdrop so the audience can follow along," Powell said.
One scene in particular becomes reality for the audience due to intense set pieces and special effects.
"The barricade scene is very emotional. With four different barricade attacks, we will have gun shots, people falling from wounds and smoke in the room. There is just no substitute for live performance," Powell said.
Depth
Theatre is more than a combination of acting, singing and dancing.
It goes much deeper than that.
"Theatre is history, psychology and art. This really is a story about redemption and grace. We have a neat way to tell it because we are performing for God's glory," Powell said.
For Powell, Colossians 3:23 is the core purpose of theatre, "Whatever you do, work at it with all your heart as working for the Lord and not  for men."
In addition to the supreme purpose of glorifying God, theatre builds relationship.
"When the cast list goes up there is instant community. When people do theatre they are engaged in something bigger than them, which reinforces gratitude and perspective," she said.
Putting it all Together
For Powell, "Les Miz" holds special significance.
"When I was 15 my science and social issues teacher took my French club to see the Broadway production of 'Les Miz.' I remember being mesmerized by Fantine singing 'I Dreamed a Dream' and thinking whatever this is, I want to be a part of it," she said. "That moment changed my life and I wanted to give back."
As a director Powell does just that.
She is a filter, helping students stay in the moment, not becoming overwhelmed by nerves or lists of details.
She is a mirror, reacting to their performances good or bad, and she gives necessary critique.
Finally, she is a translator, describing the play in modern terms, helping actors resonate with the context.
"There is something about every character that we can connect with, even villains. There is something intrinsic in human nature that allows us to connect," she said. "Removing that comfortable distance between then and now sets the groundwork for a powerful production."
Step into a revolution, hear the gunshots, feel the pain of loss and love.
You don't want to miss MBU Theatre Department's production of "Les Miserables."