Just like the name implies, Basket of Hope is a Christian non-profit organization that gives hope to children in hospitals across the country by letting people know they do not always have to be strong. MBU Timeline's own Katie Seffens had the opportunity to travel to San Francisco, the site of Super Bowl 50, to volunteer with and document the "Super Baskets of Hope" event.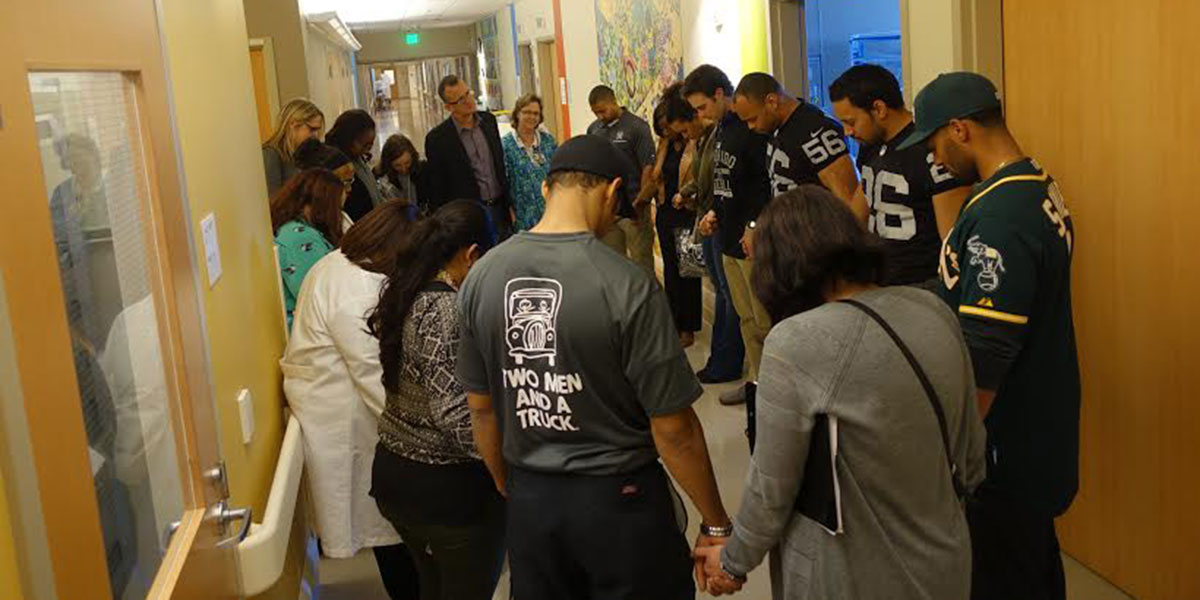 __________________________________________________
When your child is battling a serious illness everything inside of you is trying to stay strong for them when in reality you feel anything but strong; 20 years ago Paul and Angela Brunette went through those same emotions, but rather than dismiss it decided to do something about it.
The St. Louis couple knew what it was like to need those reminders that there are families praying for you and that God is there, that He isn't punishing you and He does still love you, so it became their mission to be the voice that delivers that message to those grieving.
It started out by personally visiting families in Cardinal Glennon Children's Hospital and two decades later, with hundreds of volunteers and the help of the NFL, they now provide thousands of baskets and totes containing age-appropriate toys and games for the children and their siblings, along with inspirational material for the parents across the nation.
Recently, I had the privilege of traveling to Sonoma County, California, for the Super Baskets of Hope event in coordination with Super Bowl 50.
Hundreds of people from the community pooled together to make this event a success, one of those being DeAngelo Hall, All-Pro safety for the Washington Redskins and also a branch coordinator in Atlanta.
He described the reasons for bringing his family to the packing event.
"We booked a flight and came out here, we wanted to give our time," Hall said. "Any time you can help affect the life of a child in need is important. Children that are sick, they don't, they didn't ask for that sickness or injury and so, you know, when we can go to hospitals and just give them a little bit of joy and a smile on their faces and their parents, you know it's always encouraging to do that."
Renee Smith, the Iowa Branch coordinator, added, "To be able to come here and see all the volunteers, all the different states represented, we just realized we're part of such a big project, such a big undertaking."
Three-thousand baskets were packed the weekend before the Super Bowl and will be delivered amongst the different branches and dispersed to their respective hospitals.
Gloria Bradbury, of the Seattle Branch, described the event as putting a fire in her belly, which was the reasoning behind bringing members of her board down from Washington.
This event isn't just packing baskets, it encourages people to go out and bring hope to others, it builds up communities, it brings to reality that life is more than just playing football or working a job, that we as humans have the ability to go out and positively influence those around us.
Raiders linebacker Lorenzo Alexander told me that God gave him a great platform to help people and that's why he does it.
"It's the relationships with the nurses, the volunteers, it's everything and really making that personal connection with people is one of the greatest things," Alexander said. "That's why Christ is such an important piece of this, because it's all about relationships and serving others."
Even Sonoma County Tourism, official wine sponsor for Super Bowl 50, jumped on the opportunity to get involved.
"It has a huge impact," said Mo McElroy, chief Sonoma ambassador for Sonoma County Tourism. "The millions of people that see Sonoma County on the Super Bowl, they taste the wines, they see things like the Baskets of Hope coming, it really speaks not only to the beauty of our community, but also to the generosity of our community," she added. "The most meaningful thing for me was to put the call out to our county and have so many people respond with so much enthusiasm."
And they did. Kendall Jackson Wineries provided 100 volunteers, and Spring Hills Community Church hosted the event.
Listening to the stories and struggles leading up to the event I couldn't deny it when I heard Angela Brunnette praising God for His provision for the over $1 million event.
Bradbury told me she saw something special in this organization, a message "that you don't have to go through this alone, that there's community members that are surrounding you that are praying for you, that are praying for the families and children and, most importantly, that God is there," she said. "That's the most important thing, you don't have to be strong."
That's a message anyone going through a struggle needs and that's why the hope this organization provides reaches further than just a basket.