Since the start of the semester, MBU Student Activities has hosted a variety of events, including the Welcome Back BBQ and a Spring Break trip, and there are even more to come, with plenty going on this week.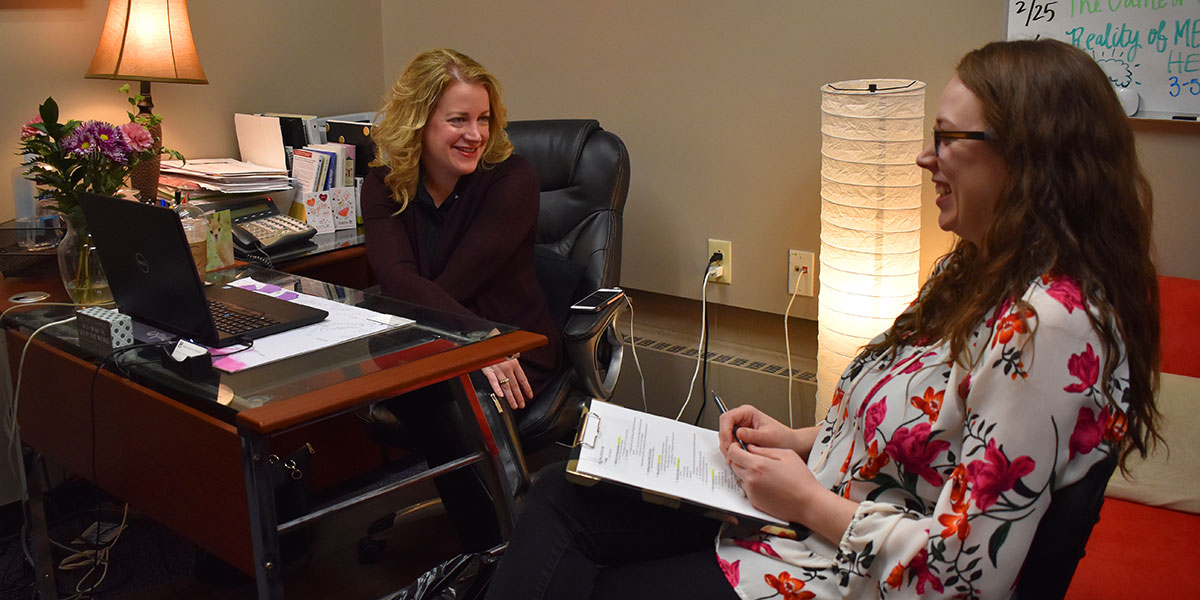 Photo by Madelyn Shotton
Lara Hines, director of student activities. and Ragan Duboise, student activities office coordinator, discuss the semester's events in the Student Activities Office. Spring Fling is happening this week across campus.
__________________________________________________
As soon as they released the spring semester events flyer, the Student Activities Office became a busy place.
"We have been busy planning these events since the summertime," said Lara Hines, director of student activities. "We put a lot of time and effort into them to make sure the student life events are as successful as possible. We want MBU students to enjoy their college experience."
The office started off the semester by appreciating the commuters of MBU, offering free donuts and orange juice on a January morning in C Lot.
Joey Link, sophomore business major from New Baden, Illinois, and member of the student activities staff, said he wanted to make sure the events cater to commuter students as well, and offering a "surprise breakfast" was just what he was hoping for.
"It was a breath of fresh air to bring some happiness to C Lot. … It added to the surprise and awe that commuters had for this event," said Link. "It was a sheer pleasure."
Hines and her leadership team of Ragan Duboise, Student Activities Office coordinator, Abby Temper, junior early childhood and elementary education major from St. Charles, Missouri, and Madelyn Shotton, senior journalism major from Bowling Green, Missouri, work together in creating events that cater toward different groups of students.
The Hidden Valley Ski Trip in late January catered to students who love to ski or snowboard, as well as first-timers or those who chose snow tubing.
Victor Rada, a first semester senior, exercise science major and student activities member from Caracas, Venezuela, said he was eager to plan an event involving snow as it was something he couldn't do at home.
"After planning this event, it was an incredible experience. It was my second time trying snowboarding and I really liked it," Rada said.
Among some of the smaller, daytime events, were the Valentine Dessert Building on Feb. 11 and the Valentine's Day Party on Feb. 14, where students received free food, created Valentines and spun a wheel for prizes.
Although most of the semester's events are annual, student activities hosted one new event called "Game of Cards Night" on Feb. 25 in the Perk.
Using a play on words from "Game of Thrones," this event held several tables of competitive card games, including UNO, Spoons and Pass the Trash.
Emma Jones, a sophomore pre-nursing major from Washington, Missouri, and member of student activities, said the event was perfect for anyone who loves a little friendly competition.
One of the most popular events each year is the Spring Break trip. According to Hines, this year's trip to Destin, Florida, filled up quickly in January as there were a limited number of spots on the bus.
This $100 trip included hotel and transportation, with the bulk of the cost being subsidized by the university. For those who missed it, the trip will be offered again next year with sign-ups beginning in January 2020.
Spring Fling Week began this week, featuring free food, Painting in the Petty, an '80s Skate Night at Great Skate in St. Peters, and a newly implemented scavenger hunt.
Sign-ups for the scavenger hunt begin at 6:30 p.m. Thursday and the game begins at 7 p.m. Students will use their knowledge of MBU as well as physical endurance to explore campus hunting for items and answering questions related to the education and history of MBU and more.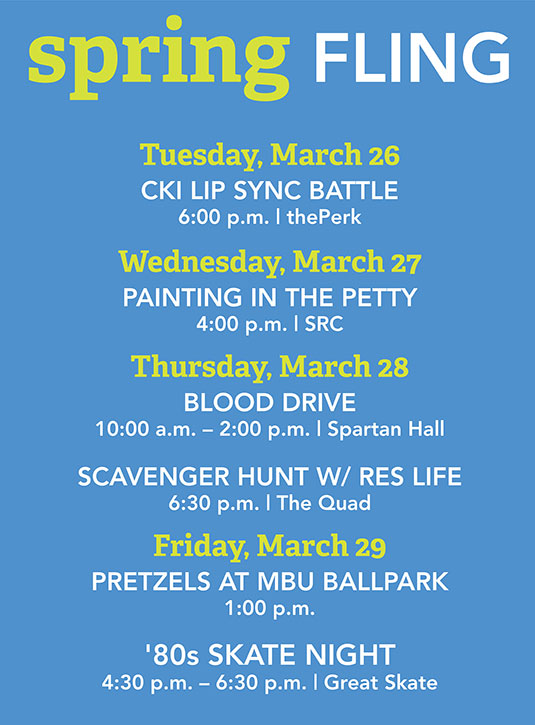 To make the most of the warm spring weather, Student Activities is offering an End Of The Year BBQ in the Quad on April 10, during which the dining hall staff will flip burgers and hotdogs throughout regular lunch hours. Outdoor activities include washers, cornhole, music and popsicles.
Finals Feast will wrap up the school year on April 22. Use your carpentry skills to build a house out of Pop-Tarts to compete for gift cards or enjoy breakfast for dinner served by MBU faculty and staff. This event starts at 9 p.m. in the dining hall.
"Finals Feast is such a fun event. I've always thought it was such a fun time to get together before the real stress of finals hits," said Heidi Wolford, senior elementary education major from Greensburg, Indiana, and member of student activities. "Getting to plan this event has allowed me to enjoy it even more being behind the scenes."
Students are encouraged to come to the Student Activities Office with club or event ideas, or to learn more on how to get involved with the organization.
These events are offered to liven university life and ultimately grow the potential of MBU students through various social events and opportunities to try new things or get involved.
For additional information on events, times, locations and sign-up instructions, visit the Student Activities Office located in the student development suite in the Field Building.
Follow @mbu_sa on Instagram and follow MBU Student Activities on Facebook for live updates on last-minute additional events, updates and photos from events.