This year Missouri Baptist University's International Education Week took place Nov. 14-18. There are currently 45+ countries represented in the MBU community. This includes traditional F-1 student visa holders (international students) and people born outside of the U.S. who have other visa types or now have permanent residency or citizenship. The purpose of the week was to showcase the wide range of diversity to which MBU caters. With opportunities to try different international foods, play unique sports from other countries and partake in international festivities, International Education Week is a great way for the MBU community to learn new aspects about food, culture and traditions from all around the world. Many MBU students, staff and faculty showed up each day and engaged in the events hosted by the Office of International Experiences, showing their appreciation for the different countries represented at Missouri Baptist University.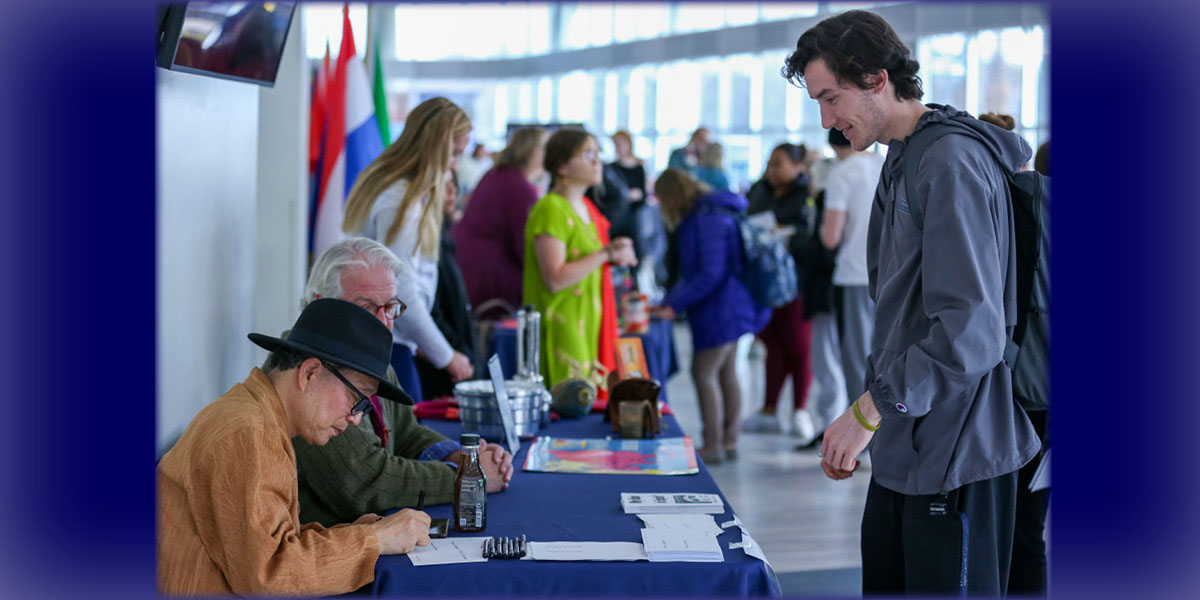 With the International Festival being the staple of International Education Week, there is always an assortment of booths to partake in. One table in particular had Korean calligraphy. Junior Jacob Simmons watches Dr. John Han translate his name into Korean during the International Festival. All photos by Jessica Kunkel
__________________________________________________
As the girl experiencing International Education Week through a camera lens, I can confirm there were so many diverse sights, sounds and tastes offered each day. 
The entire week was a blast, filled with fun activities and events that not only educated the MBU community on different cultures and countries but also fully immersed those in attendance into the atmospheres of different nations.
With the variety of events and activities that took place during this week, it's hard to pick a favorite.
Monday, Nov. 14, offered the opportunity to try many different foods from different countries. The food I most enjoyed at this event was stroopwafel, which is a thin, round waffle cookie made from two layers of sweet baked dough held together by caramel filling.
This sweet treat is popular in the Netherlands. MBU senior Liz van Houwelingen, who is a Breda, Netherlands native and MBU volleyball player, mentioned to me that she likes eating stroopwafel after warming it up for about 10 seconds. 
I appreciated this interaction because I always like to try new foods, so I was glad to learn more about stroopwafel from Liz.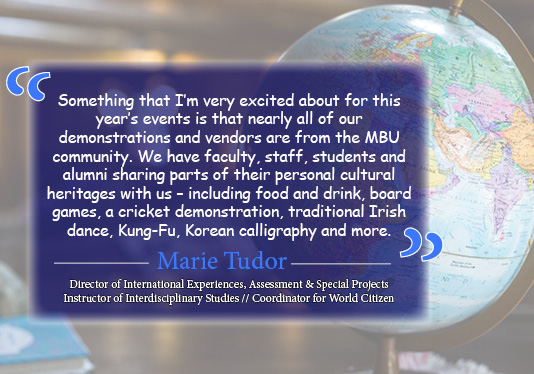 The catered lunch on Tuesday, Nov. 15, from
Seoul Taco
was definitely a fan favorite. The protein options available to students were chicken, spicy pork and tofu.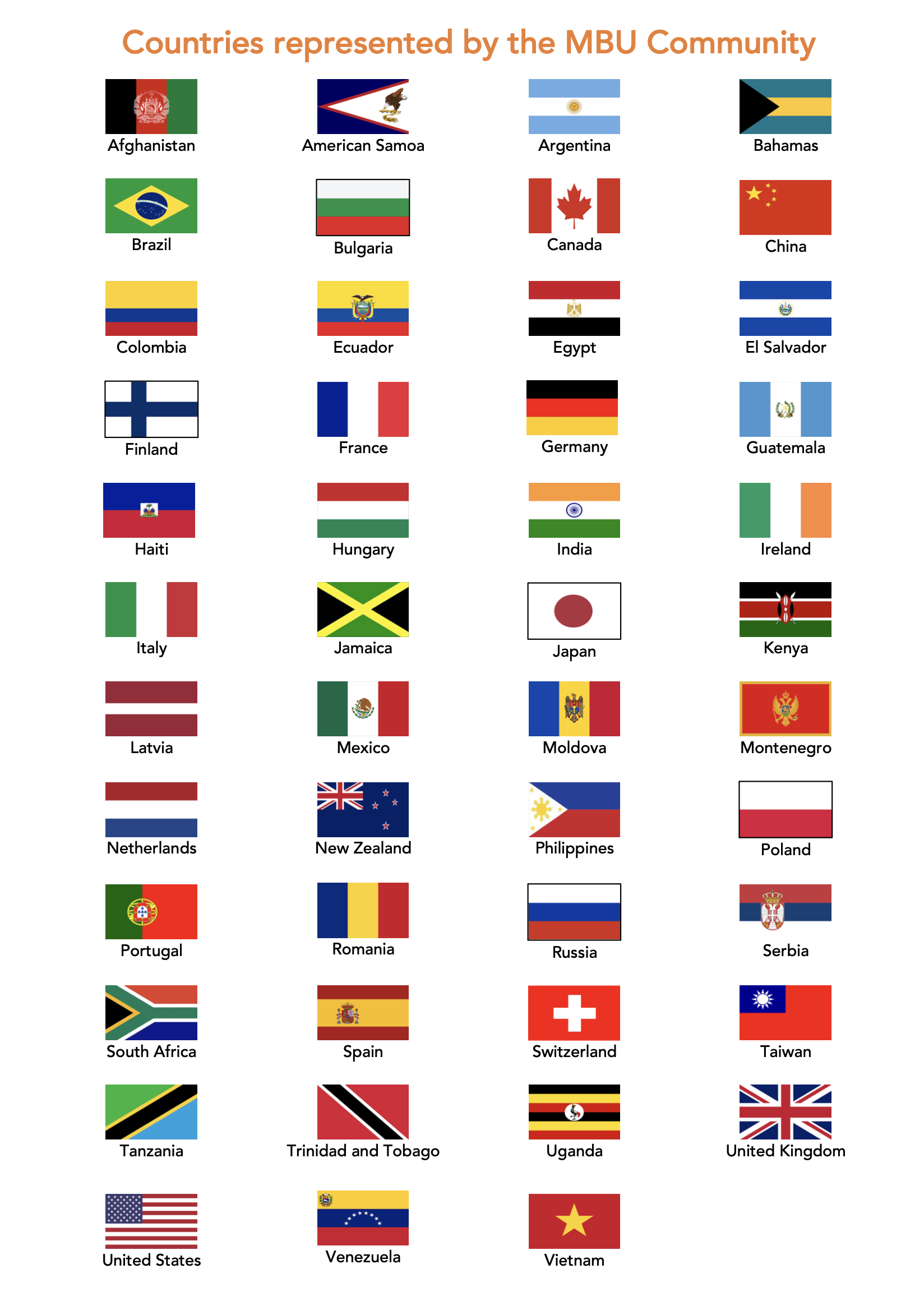 I personally leaned toward the chicken and pork, but I did still try the tofu. While the flavor of the tofu was excellent, I didn't care much for the texture, but I was happy to have at least tried it. 
The main event of the week, the International Festival, took place on Thursday, Nov. 17, in the Great Hall.
The International Festival is the pinnacle event of International Education Week, consisting of live demonstrations of Kung-Fu and Irish dancing to Henna tattoos.
The food offered during this festival was immaculate. This event offered another opportunity for me to try more international cuisine, which I thought was awesome.
For me, the best and most unique offering of the festival was getting my name translated into Korean calligraphy by Dr. John Han, who is a professor of English and creative writing at MBU. 
Due to other commitments and classes, I never had the chance in the past to attend all the events that take place during International Education Week, but I was able to experience and capture the beautiful sights, sounds and tastes of all the events this year through my own lens. 
Everyone should definitely try to attend International Education Week if they can because this week is a great opportunity for the MBU community to appreciate the diverse world, cultures and experiences God has created.
— Experience below all the fun activities of MBU's 2022 International Education Week —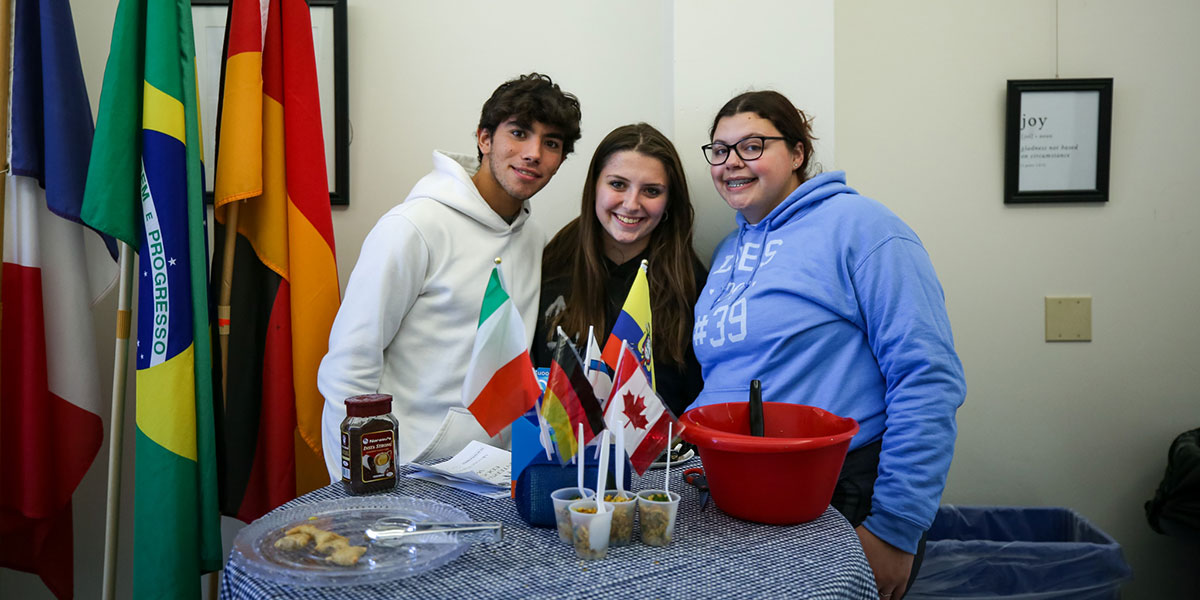 Students Youssef Mokhles, Madison Meyer and Danielle Eckhardt, volunteer their time to help with passing out food during the Taste of the World.


{Thank you to, Marie Tudor, the Office of International Experiences, and co-sponsors (of the Office of Diversity, Equity and Inclusion, Spartan Athletics and the Student Success Center) for all their hard work and time for putting on a fantastic 2022 International Education Week.}