Junior Max Wingate wanted nothing to do with God or the idea of God, but his life has been changed and flipped completely since attending Missouri Baptist.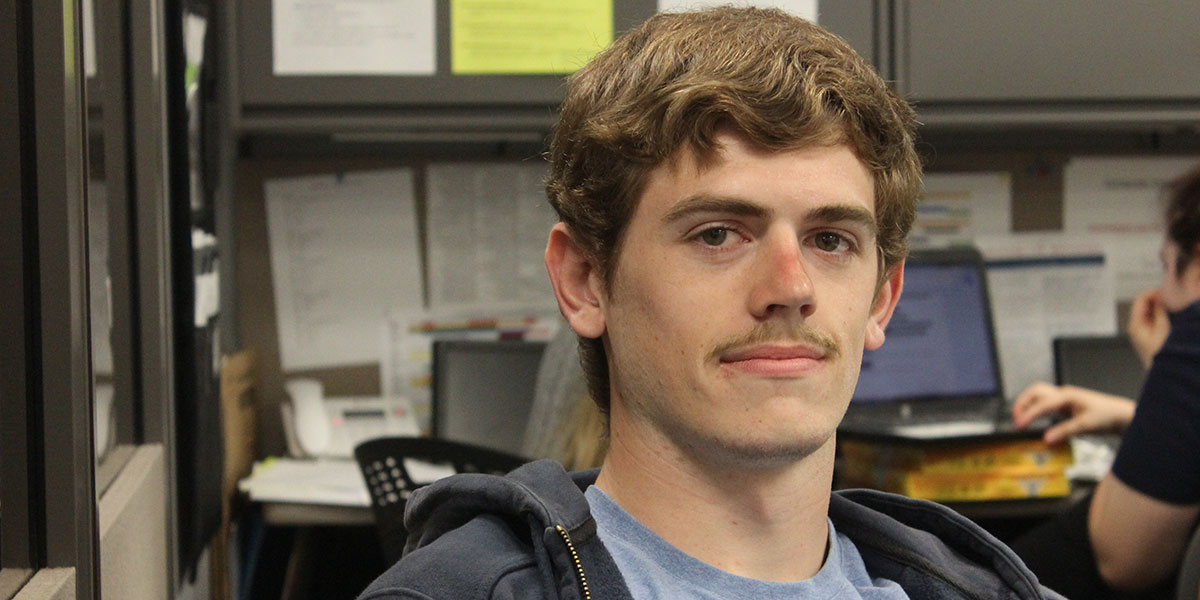 Photo by: Rickie Ross
_________________________________________________
Max Wingate considered himself to be an atheist prior to attending Missouri Baptist University as a freshman in 2012.
The Fenton, Missouri, native recalls wanting to stay as far away from the school as possible. In fact, the only way he found himself ever attending a Christian university was through losing a bet with God.
"I remember the only reason I even checked them out was because of a bet that I made with … quote-unquote 'god,'" said Wingate. "There was something that I really wanted and I didn't think I could get it by myself. So I prayed. … That was back in my junior year of high school, and then obviously my senior year Missouri Baptist calls me out of nowhere."
His prayer, according to him, had been very selfish.
He asked God to give him something personal, and when He did, Wingate started believing God could be real.
He realized in this moment that a God he didn't even believe in had perhaps heard his prayer.
"Crap. This is God taking me up on my bet," Wingate recalled. "And I was always a man of my word so I wasn't going to let this God that I didn't even believe in at the time … keep me from my word."
That was the moment he decided he would try Missouri Baptist University.
Wingate had visited the campus just before graduating high school.
He was a track athlete at Rockwood Summit High School, and with his success as a Pole Vaulter, he was recruited by Missouri Baptist based on his high school statistics.
Wingate came from making a bet with God in his junior year of high school to becoming a junior decathlete at MBU now studying Mathematics and Exercise Science and planning his life after graduation.
"I'll go for a year and then I can transfer out to Lindenwood and just do what I originally planned," thought Wingate.
His original plan was to go to Lindenwood University, where he thought he could be noticed as someone who was successful and liked by everyone, something he did not feel could be found at Missouri Baptist, but he was willing to abide by his bet and give it a shot.
Wingate believes that God was in fact moving through his entire college decision and beyond.
"One day, just like a few weeks into school after practice, David Lee (then a sophomore on the track team) was running back to his truck and ran past me," said Wingate. "I started talking to him, because we were both on the track team. … We started talking just about … our backgrounds and stuff."
That conversation sparked a relationship between the two, which resulted in Lee inviting Wingate to church and Wingate beginning to really wrestle with ideas of God.
"I got a bad desire to know everything," Wingate said. "I want to know the answer to this."
He began to want answers to lifelong questions he had about God and the world.
As Wingate began learning more about God, he began realizing he was no longer asking the question, "Is this true?" and instead he found himself saying, "Wow. That's really amazing that something like that happened."
Through that wrestling and struggling Max has seen complete change in himself.
"I think this Jesus dude is real and like, I want to follow him," said Wingate.
Wingate finally decided to surrender to God and follow Jesus.
This moment was July 17, 2013, at Crazy Bowls and Raps with his friend Lucas.
Wingate finally realized in this moment that Jesus was true and he wanted to follow Him.
He surrendered to Jesus.
Since that moment he has continued following Jesus and now attempts to live out his testimony every day.
His perspective has changed, especially around the subject of athletics.
"I just make sure that when I'm at meets like I just remember that whether I do good or bad this meet, all the glory goes to God, and that I was blessed enough to be able to compete no matter how bad it is," said Wingate. "No matter if I got a hamstring strain or if I'm just like off … there are people that don't get a chance to compete in college and I do and that's a blessing."
According to Wingate, God has moved and is continuing to move in his life and show Himself more.
Wingate has continued to be forced to rely on God.
Last summer he went on a seven-week mission trip to East Asia.
Where he and the other missionaries, who were all a part of a local college group called Campus Crusade for Christ, journeyed is required to be kept private and therefore the specific location of the trip was not able to be disclosed.
"I had to raise $5,300, which is something that I've never done before," said Wingate. "That whole process just really taught me how to just not lose faith and rely on God.".
His journey has been a process with definite struggles and joys, but Wingate considers himself a new person since coming to Missouri Baptist and becoming a Christian.
He is now continuing his journey and even plans to go to England this summer on another mission trip.
Max Wingate was a self-proclaimed atheist who had no intentions of attending Missouri Baptist, but God changed the direction of his path and is now leading his life.
"Before Christ I'd say I didn't have a meaningful purpose," said Wingate. "Now I've got something that is eternal."
He stated that his life before Christ was a cycle of building up his own kingdom that would never get anywhere, but his life with Christ has given him an eternal purpose.
Wingate is a decathlete on the track and field team and he tries to do everything now for the glory of God.
He has had a successful season so far and his two best events have been Pole Vault and Javelin.
Last weekend Wingate actually broke the javelin school record of 49.5 meters, throwing 50.49 meters, and he is working still to keep improving his stats.
He has been changed, without a doubt, and he is now living for God rather than against Him.