There are many different ways to enjoy your days of late summer and fall, and everyone has favorite activities that are meaningful for various reasons. Some like being indoors, others like outdoors, some like high-energy activities and yet others enjoy calmer options. Here are some of my most anticipated summer and fall fun activities.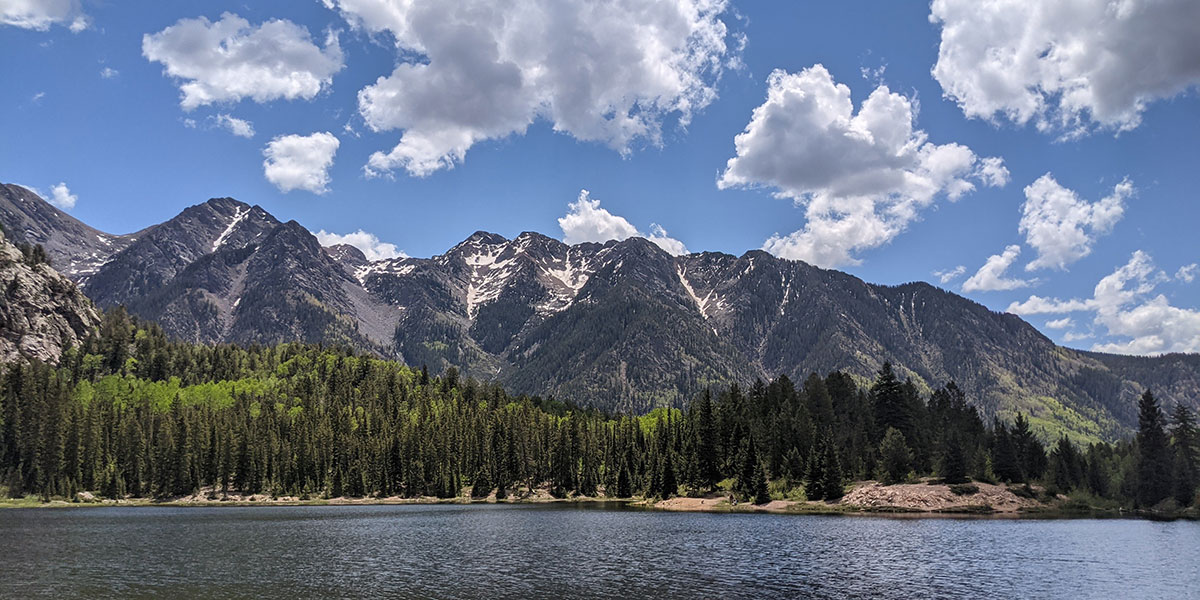 Mountains tower above Spud Lake in the San Juan mountain range in Colorado, a mountain range my family has revisited throughout the years, always enjoying its beauty and the chance to explore together. Photo by Emma Tihen
__________________________________________________
The more I venture in God's splendid creation, I increasingly learn about Him and the more I desire to explore. Reflecting back on my summer break as we transition into the fall semester, there were several specific activities I looked forward to doing and which I think many students can enjoy.
The activities I always look forward to during the summer include disc golf, kayaking, spending time with friends and family, adventuring on the Katy Trail and exploring new and familiar places near and far.
The weather is turning cooler now, and although it can be hot and muggy during the summer, it is surprising how much fun you can have trying out a new hobby in the sun and fresh air, even if you end up sweat-soaked at the end of the day.
The heat even makes it all the better to return to a refreshingly cool home, grab a glass of cold water and relax in the evening.
Many people have heard of disc golf, but have you tried it yet?
Disc golf can be a whirl of fun for many different reasons and for people with wide ranges of interest, even if they do not consider themselves particularly athletic.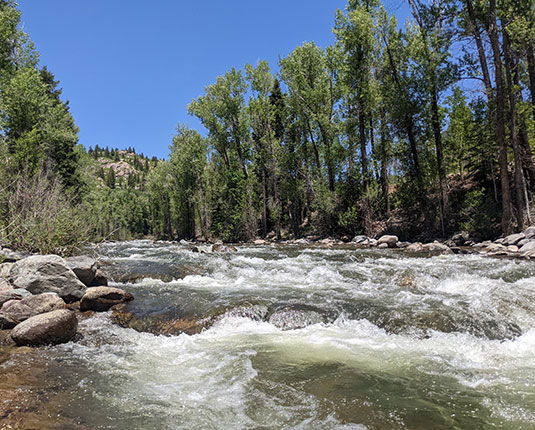 Starting with just a few discs (or even just one), nearly anyone can head out the door to the nearest disc golf course. Even if you don't know the rules of disc golf, you can try your hand at throwing any disc you have toward the basket, beginning your journey to learning the sport.
When I play disc golf, I don't have to play competitively or for a long time to have fun, but I think the sport proves to be a great way to spend time with friends and family, get outside, enjoy some fresh air and stay active.
After all that hot, sweaty disc golf, it sounds nice to jump in a crisp, cool pool … or river. It certainly did back during our recent summer months.
Kayaking can be a great way to cool off during the hot summer months as well as provide time for day trips with family and friends.
There are several rivers around Missouri, such as the Current River, the Black River, the Big Piney River, the Huzzah River and the Jacks Fork River, which offer many different floating trips, some only a few miles, serving for a shorter float trip while others drift for longer distances and serve for longer adventures.
My favorite river to float is the Current River because the cold, spring-fed water moves swiftly, carrying you along on its ripples. During the summer months, I try to go on several float trips with my entire family as well as sometimes just my siblings and our significant others.
No matter who comes along, floating is a great activity for a cool respite from the summer heat. The Current River, among others, is also a spectacular float during these current fall months.
I love floating down a lazy river that sometimes suddenly wakes with a patch of rapids. When I find a deep part, it's always fun to anchor the kayaks and canoes, dive into the rolling water and go for a swim.
If you have never been floating, be sure to research the river, the segments you will be floating, water levels, time of year, wildlife and weather you may encounter, and go with someone who has experience floating.
Hopefully, we all get to spend time with family and friends other than just in the summertime, but many times life gets busy, especially now that school is back in session, and it may be difficult to spend much quality time with loved ones.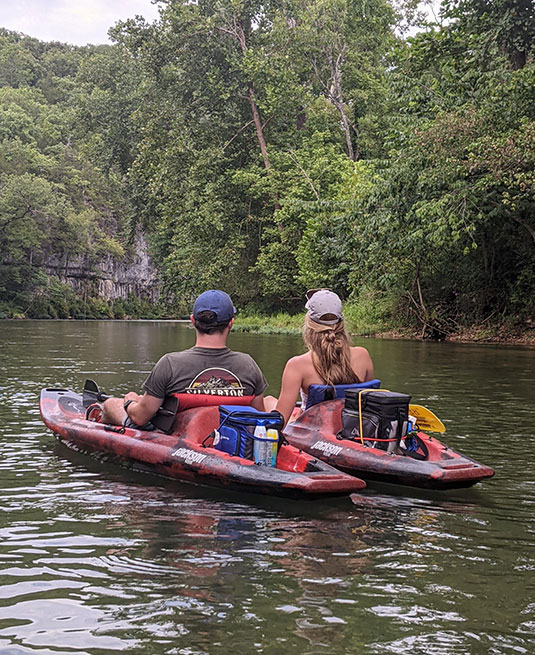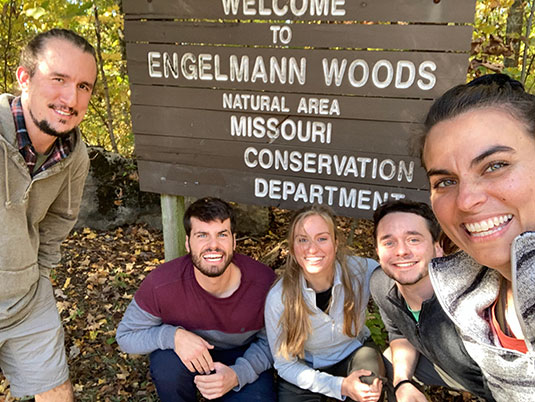 Often, summer is more laid back, but even if we are in the full busy swing of fall, I always want to be sure to catch up on quality time with my crew.
At all times, I actively want to remember to be thankful for my family and friends, and I strive to be intentional about spending time with them, so I am always encouraged to accomplish this during the summertime when I tend to be less busy.

What can I say? I love adventuring. God's creation is magnificent, and everything around us points back to His magnificent glory.
The Katy Trail spans 240 miles, winding across Missouri through prairies, forests, cliffs and more, offering various breathtaking vistas. Since the trail accommodates walking, running, biking and horseback riding, I enjoy exploring new segments as well as revisiting segments I have traversed before.
The trail offers a revitalizing way to get outside, bask in the fresh air, exercise, spend time with family and friends, take my dog for a walk and just explore more of the beauty that God has so lovingly created for His glory and for us to enjoy.
Whether it is summer, fall or any other season, I take advantage of opportunities to discover new places in God's amazing creation and give Him glory in everything I do.
There are so many parks around Missouri as well as other U.S. states that offer many attractions, and I continually want to discover them.
Hiking, running, walking, biking and adventuring are just some things I love to do when I explore the great outdoors.
While I was growing up, my family vacationed to different states almost every year.
Before I was 20 years old I had traveled to 37 of the 50 U.S. states, and I continually desire to explore more of them.
My family has been to different parts of Colorado several times, and our trips to this state have ranked among some of my favorites. Something about the Western states and mountains is especially grand.
The air is so fresh and clean, the smell of pine trees wafts through the crisp air, the sky is piercingly blue, God created it all for us to enjoy, and I cannot help but appreciate them and reflect on God's love for us.
I love to explore more of nature all while being in God's presence, growing closer with Him, learning each and every day more ways to be thankful and learning more about His character from His Word.
So let me remind you, no matter the time or season, strive to be deliberate in spending authentic time with your loved ones and being grateful for all the wonders God has given us.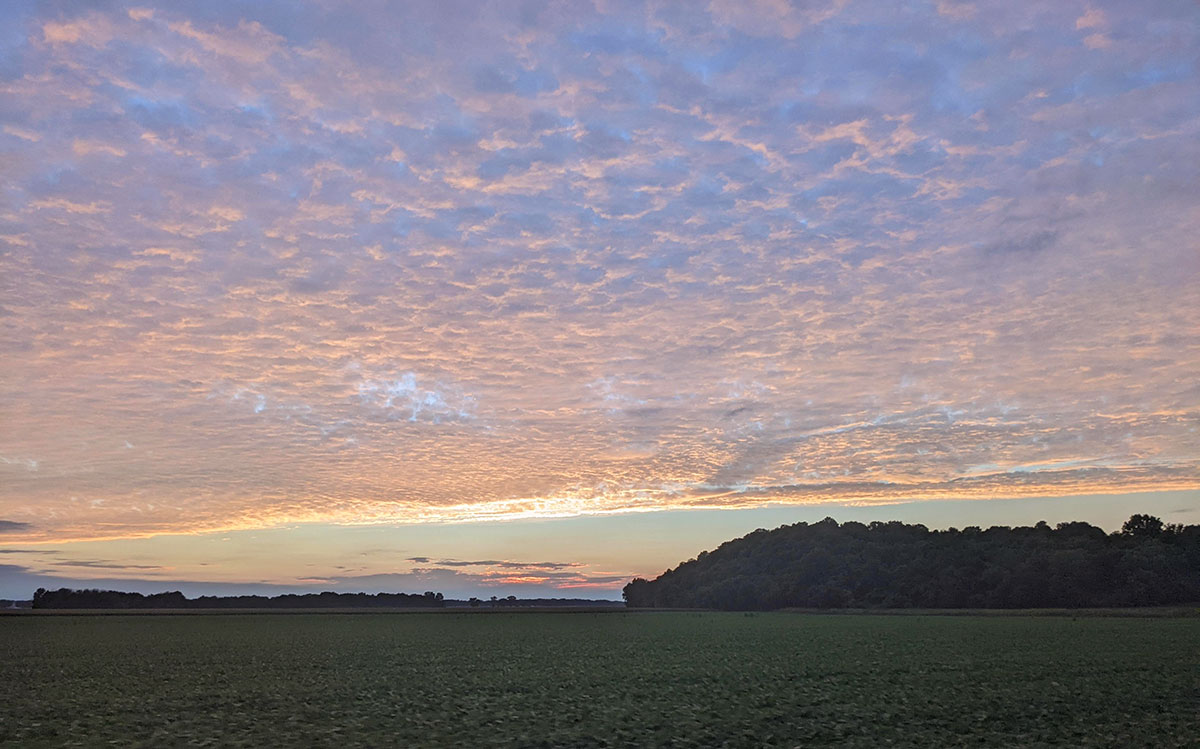 Spectacular colors flood the sky during sunset over a farmer's field near the Katy Trail in Augusta, Missouri. The Katy Trail winds around many fields like this one, and brilliant sunsets may be viewed from many points along the trail. Photo by Emma Tihen