From the fast to the flashy, all types of vehicles were on display and revved into performance in this year's St. Louis Auto Show.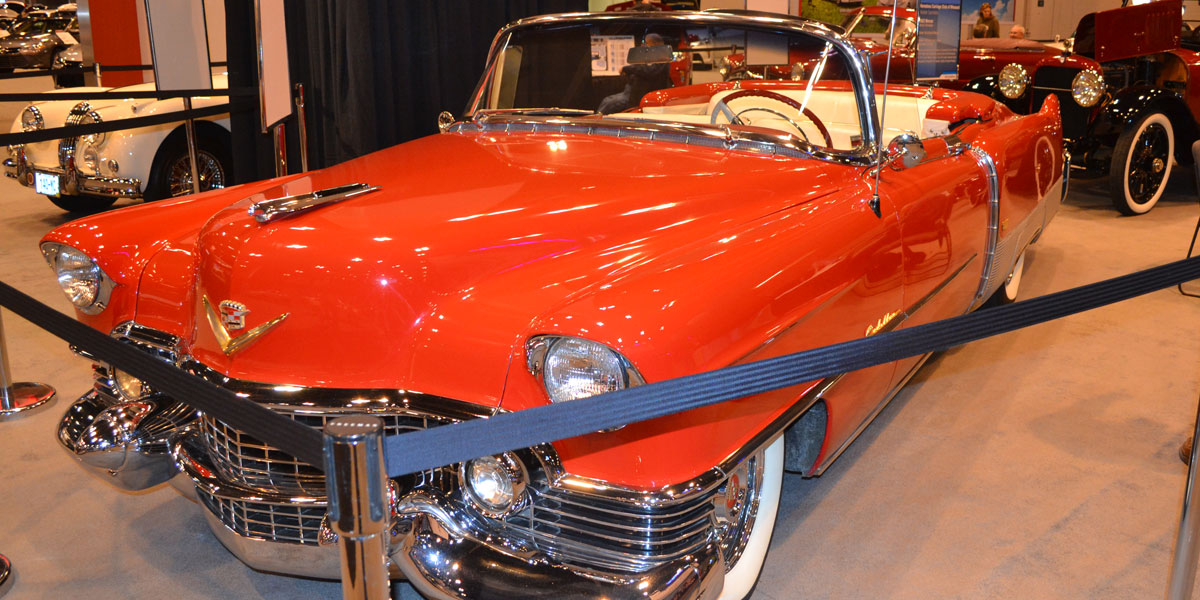 Photo by: Chris Curry
__________________________________________________
The St. Louis Auto Show Jan. 23-25 downtown included a showing by stunt car driver Vaughn Gittin Jr., Hurst Performance Racing and millions of dollars in the world's finest vehicles.
The main attraction was Gittin Jr., a championship drifter who brought three of his cars and demonstrated his tire-spinning, rubber-burning, car-sliding, smoke-billowing techniques in the parking lot of the Edward Jones Dome.
There was a Mustang RTR spec 2, a Ford Mustang RTR spec 5 and a Ford F150 on display; each vehicle was used in his drifting ride-along demonstrations.
The Ford Mustang RTR spec 2 was designed as an upgrade option to a Ford Mustang GT 5.0 and comes as a package sold by more than 50 different dealerships across the country.
The Spec 5 was a total custom rebuild used only for track purposes, outfitted with a Crate Stock Ford Racing engine that has been modified to produce around 485 wheel HP, or 500 brake HP, the difference being the friction lost by the drive train.
Gittin's lead mechanic Joe "Cuz" Iuzzolino said that overnight on Thursday, Jan. 22, the Spec 5 had been vandalized and that the "use of the car was going to be questionable."
He said they were lucky to have enough replacement parts to be able to use it at all, "that is without fuel flying out the back and all over the track."
During a demonstration run the tire usage was about 35,000 miles worth of tread, or going from brand new tire to showing the steel belt, in 15 minutes.
Hurst Performance Racing had on display the 1974 and 1977 Indianapolis 500 official pace cars.
Also on display were the 1972 and 2011 Indianapolis 500 parade cars; the 1972 car was an Oldsmobile 442 designed to show off the Hurst Shifter and was featured with Linda Vaughn, who was a beauty contestant throughout the 1970s.
Hurst also was showing off its modified 2014 Camaro SS with a 420 Crate engine, with fully modified suspension, exhaust and custom rims.
Over 500 production cars were onsite for inspection and perusal, with Ford and Kia having a virtual test drive with a fully automated driving simulation.
St. Louis Rams punter Johnny Hekker was at the Kia location signing autographs and posing for photos.
The Horseless Carriage Club had several cars on display, including a 1956 Jaguar, 1954 Cadillac and more.
The original Corvette Club of St. Louis displayed several cars including a 1973 Stingray and a 2011 Callaway GS.
Also on display were the six finalists in the Trick My Ride Contest, where auto modifiers from the area were able to show their rides off at the Auto Show.
The finalists were a 2004 Infiniti G35, a 2007 Chevrolet Corvette, a 2006 Nissan 350Z, a 1993 Mazda RX7, a 2003 Infiniti G35 sedan and a 1997 Nissan 240SX.
Million Dollar Mile had several cars on display including the Lamborghini Aventador, the Aston Martin Vanquish and several other exotic vehicles.