Two MBU graduates created a way to meet a need and give back to current MBU students by developing REFINE, a career building and skills course.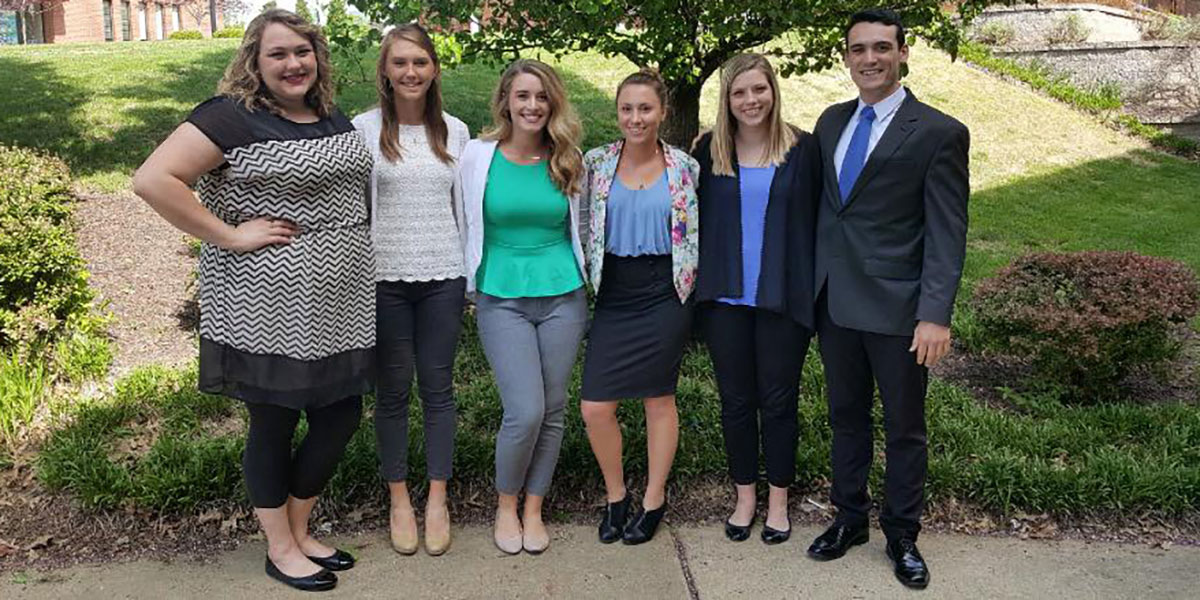 Photo by Sarah Gibbs
This 2017 REFINE class photo was taken prior to the class' final mock interview and networking event. Pictured left to right are Ashleigh Poteete, Cheyenne Anderson, Haley Birkner, Madi Cawfield, Abby Kassebaum and Ben Carril.
__________________________________________________
The MBU career seminar course, REFINE, launched for its third consecutive year in January, designed to teach college students the practicalities of entering the workforce.
Founded by two MBU alums and now staff members, Sarah Gibbs, assistant director of career services, and Marie Tudor, director of first year experience, together they saw a need they were longing to see met.
"We just realized there was a pretty large gap in what we expected to happen (after graduation) and the abilities we had to transition well, and we figured that if we had these issues other students probably have the same type of issues," Gibbs said. "And we thought that if we could [be] the stop gap between the issue it could help other students in the future."
In order to join REFINE, students must submit an application and resume in the fall semester.
Students then meet once a week in the spring semester, learning practical lessons such as proper handshakes, networking skills and the importance of thank you notes.
"Every time I go to REFINE I find something new each day that becomes my favorite and I am able to share what I have learned to others," REFINE student Sophia Wallace, a junior exercise science major, said in an email.
At the end of the semester, REFINE students experience a mock interview and networking event with professionals from their desired fields.
For MBU and REFINE graduate, Ashleigh Poteete, this event is what connected her to her current position as a family service worker at Bringing Families Together.
Poteete was interviewed by Sarah Shands, who had completed REFINE the year prior and received a position as case manager at Bringing Families Together.
Gibbs and Tudor invited Shands back to interview Poteete for the mock interview and networking event, where Poteete reconnected with Shands, who got her in touch with her supervisor, and the foster care case management and resource family development agency ultimately made the hire.
"I truly believe it is because of connecting with others and knowing how to effectively connect with others that I have my job," said Poteete, who graduated in 2017 with a degree in human services and psychology.
For Gibbs, this is a moment she holds as one her proudest in the REFINE program.
"Our past REFINE students giving back to our current REFINE students and propelling this concept of networking and being proud of their university and just excelling," said Gibbs, who graduated from MBU in 2010 with a degree in middle childhood math education and was hired by the university following graduation.
Gibbs and Tudor have an obvious passion for the students of MBU and have an even deeper desire to see them excel beyond their schooling.
"I am so passionate about REFINE because as an educator my job is not for students to necessarily do well in my classes, my job is to prepare students to do well in the world after college is over," said Tudor, who graduated from MBU in 2005 with a degree in psychology and religion and was hired full time by the university in 2006.
This semester's class is in full swing, with five students enrolled.
Students recently had the opportunity to observe a job fair, learning by watching body language and introductions between attendees and potential employers.
"I am learning more in terms of how to make myself more presentable to the working world outside of university," Dylan Walker, a senior biology major, said in an email.
And just by observing, students are continually gaining skills to prepare them for the final events of the semester and then onto their career.
"I would recommend students to take REFINE because many college students do not know how to make a resume, cover letter or how to give a proper handshake. Students need to know what it takes to get a job and how prepared you need to be," Wallace said in an email. "Some may think creating a resume takes 30 minutes or less. Not true. Creating your resume and cover letter is a part-time job. You have to put hours into it.
"Some of us are afraid to ask questions or do not know who to talk to in order to get this important information. REFINE is offering you more than just creating a resume or cover letter. This program is setting you up for success. REFINE prepares you for after college and what happens in society."
Gibbs and Tudor have big dreams for REFINE but in the end their passion comes down to students and seeing them succeed.
"The ultimate goal, whether it's through REFINE or through the divisions picking up what we are doing, the ultimate goal is to see all MBU students practically prepared to go out into the career world," said Tudor.