Michael Cutler is a fifth-year senior who has been heavily involved on campus since he transferred to MBU as a junior in 2013. His extra time in college has allowed him more freedom to select a major, as well as more opportunities to gain experiences while at school.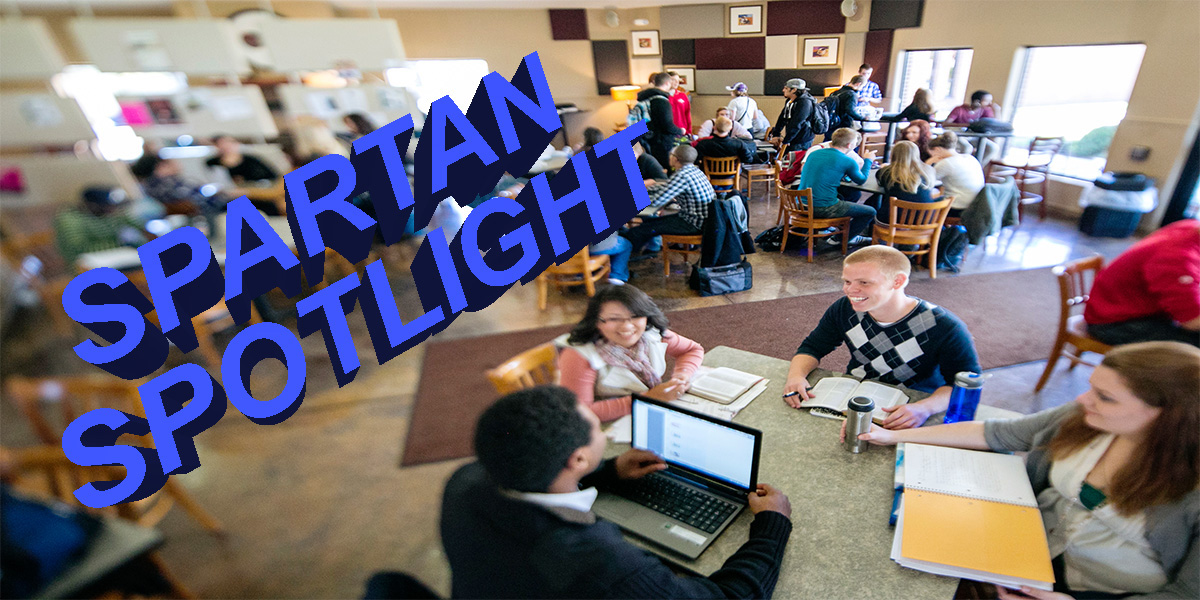 Graphic by Stuart Slates
__________________________________________________
By ERIC PHILLIPS
Your perspective can change quite a bit between your freshman and sophomore years of college, especially if you are a student who has two senior years.
That is exactly what Michael Cutler, 23, has found himself doing nearly three years after transferring to Missouri Baptist University from Lincoln Land Community College in Springfield, Ill., as a junior.
Cutler is majoring in worship leadership, but he hasn't always been interested in doing ministry vocationally.
"When I was in high school my friends told me I should be a pastor or a youth pastor or something like that, and I said, 'Nope, not gonna do that,' but now I'm here, getting a ministry degree," Cutler said.
In fact, during his time at MBU Cutler began serving at South County Bible Church, where he is now heavily involved with the youth group.
"Proverbs 16:9 says, 'The heart of a man plans his way, but the Lord directs his steps.' I have tried to do many different things while at MBU, but in the end I've been pushed in the direction of ministry," he said.
On campus Cutler is an accomplished guitarist and worship leader, having served with SpiritWing, chapel band and Thursday Night Live, where he leads the worship band.
"MoBap is just a very loving community and there's a bunch of different ways you can get involved with it," said Cutler. "I think living on campus here and being a community leader has shown me that I really do want to be a leader."
Cutler claims to have learned a lot during his time at MBU, and he plans to use what he's learned to teach others at MBU and beyond.
"What I have experienced here at MoBap, I can use in other people's lives," he said. "God has already provided the opportunity for me to use those experiences in people's lives, and I've seen how that has encouraged people."
So, how has Michael Cutler made it through college, despite a "victory lap," or super-senior year?
"I know that, while my different experiences and struggles were definitely challenging, I was brought through it because of the people that I was surrounded with who were continually encouraging me, showing me the love of Christ, and pointing me back to Him."