Mokabe's Coffeehouse, at 3606 Arsenal St. in South St. Louis, is about so much more than just coffee and snacks. Owner Mo Costello sees her shop as somewhat of a refuge for some, a meeting place for activists, a welcoming place for all.

As you walk through the door of an unassumingly edgy-but-comfortable Tower Grove coffee shop, smells of Chauvin cappuccinos linger in the air alongside conversations about local politics, college finals and life in South St. Louis.
Industrial meets previous-century diner meets laid-back park-side cafe as its checkerboard floor leads to an open air patio catty-cornering Tower Grove Park, Mokabe's Coffeehouse, at 3606 Arsenal St., has been thriving with unique individuals for over 25 years now, although it began as a bookstore in Kirkwood, Missouri, in 1992.
"It was a long-time dream, for sure," said owner of Mokabe's, Mo Costello.
The location stayed in Kirkwood for about a year and a half until it moved to Tower Grove in 1994 at what was once only a very small, one-story building. They gradually began expanding the interior and added the upstairs.
Mokabe's offers a full coffee bar area upon entrance where most of Mokabe's mingling, meetings and gatherings take place as well as a quieter, more dimly lit study area upstairs where Costello said many students from SLU, Wash U and Webster enjoy lounging.
"Sometimes I call it the dorm/study space. I wouldn't be surprised to see dirty socks hanging off the rail," Costello said with a laugh. "These college kids will come and they'll be upstairs for hours, and they'll eat breakfast and lunch, like they spend their money … they support us. I'm really grateful for that."
Costello is the most currently active owner of Mokabe's, along with twin sister, Kathy Carmody and friend, Becky Brown. By adding the first two letters of each owner's name together, they were able to come up with the catchy name, Mo-ka-be's.
Costello has three children, all who work at Mokabe's, and her brother, who runs the kitchen during the day.
She provides health insurance for all full-time employees and has been for years. "It's the right thing to do. People need health insurance. They just have to have it," she said.
Costello said she's always believed by doing the right things just for the right reasons, everything else will fall into place.
It had always been a part of her plan to open a coffee shop where everybody feels welcome and nobody feels judged.
"That was part of my vision," said Costello. "My term was 'people on the fringe of society' who don't feel like they quite fit into whatever normal might be considered that they feel comfortable here."
She said that of all the groups, clubs and committees that utilize Mokabe's space for discussion, recovery groups such as Alcoholics Anonymous and Narcotics Anonymous have consistently made Mokabe's their meeting spot.
This is because Mokabe's is a safe space where no alcohol is served and where a lot of people are sober and have been for years.
"It's not necessarily the same faces but it's the same meetings," said Costello.
Costello said that ever since the Stockley verdict was announced, protest planners have been visiting Mokabe's regularly, generating discussion about the verdict and their plans for action.
"There's a big meeting tonight that I reserved the upstairs for because I think it's really important," said Costello. "It's Jail Support coming together to educate and to be accountable for the folks that are planning the protests."
She wanted to give both separate entities (Jail Support and protest planners) the opportunity to work together to discuss and educate each other on the matter.
In the wintertime, Mokabe's participates in Winter Outreach, an organization designed to provide hospitality, shuttling and emergency shelter to those living on the streets of St. Louis in the harsh winter conditions.
Costello has been participating in this program for about eight years and she and others utilize Mokabe's for the space to keep supplies such as blankets, hats, scarves and gloves.
"It's worked out because we've been doing it now for years out of here," said Costello. "It's a Band-Aid, we all know that, but it's an attempt to save people from freezing to death, literally."
Each winter, they spread the word through their Facebook page, have volunteers come and meet at the coffeehouse prior to pairing up and driving through the city in search of those in need.
"We go out and attempt to bring somebody that we find into a shelter," said Costello, as a woman approached the table thanking her for the gifts she was given and then asking for permission to ask around the outdoor patio tables for spare change.
Costello replied, "Go for it."
In the past, there was a homeless woman visiting Mokabe's from time to time, and she would usually sleep on the bus stop right across the street.
"We knew [her] from Outreach," said Costello. "She was sleeping on our patio for awhile."
When Outreach first began, it involved simply providing blankets to the homeless. It wasn't until churches and AmeriCorps got involved that hospitality and shelter could also be provided.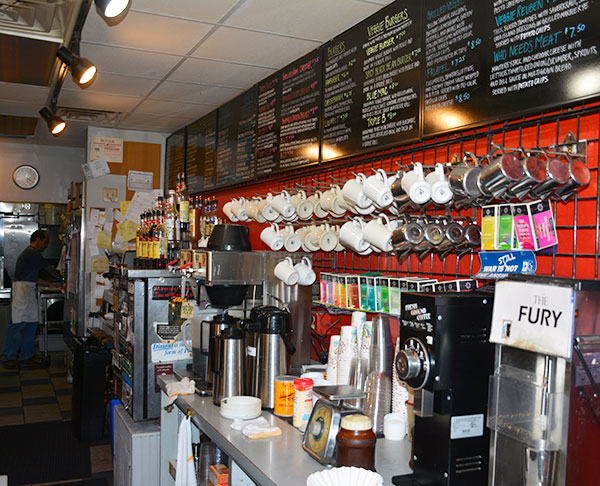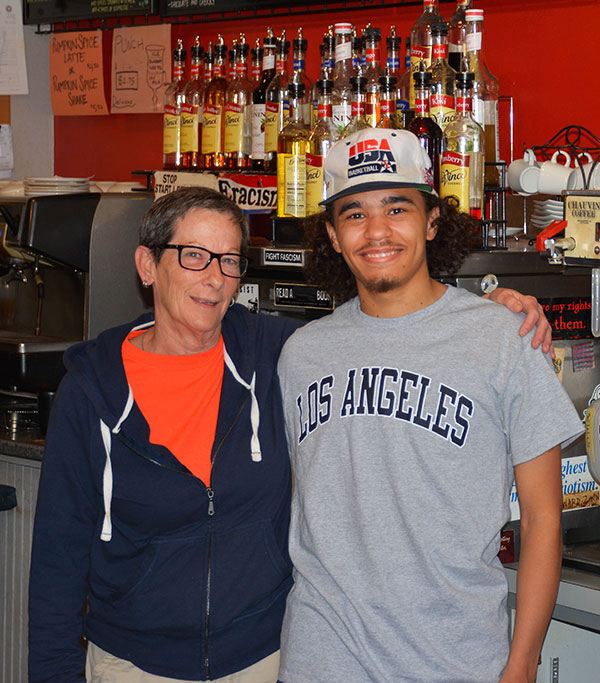 Thus, they were able to tell those they were delivering blankets to that there is a shelter available for them which isn't a city shelter or one associated with having a bad reputation.
"Literally, within 24 hours, she had a home," said Costello.
"We were able to grow that from 15 beds a night to as many as, on a given night, we can offer 80 people in our little shelters a place to go get a really good, warm, home-cooked meal and a really respectful place to rest their heads," said Costello.
Mokabe's participated in a similar process last summer called Summer Outreach, and instead of blankets, they gave out food and bottled water to the homeless enduring the overbearing heat.
"We did it every night of the week for the entire summer," she said.
Another aspect of Costello's vision for her coffeehouse has always been that diversity plays a crucial part. "Folks that have less and folks that have more can live next door to each other and thrive," said Costello.
She said one of the biggest struggles for her and her coffeehouse has been the conscious attempt to avoid full gentrification.
"How do you keep some authentic reality versus full gentrification? It's really hard. It's really hard but it's really important, I think," she said.
One thing that most definitely has not been a struggle for Costello is hiring new employees, in fact, they always keep a stack of scratch paper of people who want to work there. "I get great staff and it's word of mouth," she said.
Trying to be a fair business owner is important to Costello, "in whatever ways that means," she said.
One example of this is her willingness to allow anyone and everyone the right to use their public restroom.
"One of my biggest pet peeves is restrooms for customers only," she said.
Stunned by the number of people leaving the bus stop, who come inside and are afraid to ask to use the restroom, her response is always, "Of course you can."
Frustration arose in her voice as she continued to stress how important this concept is to her. "I mean, like, of course, well of course you can. Of course you can. And you're homeless and you need to go clean up a little bit, of course you can. I mean, of course. I mean, that's … I can't understand the opposite."
She believes it is a simple act that should be seen at all public businesses. "Wouldn't society be a little bit more inviting?" she said. "I think about, in all the years, how little problems we've had with the restrooms. And we have always had open restrooms for whoever needs to use them, always."
During the Ferguson unrest, Costello said that it brought into Mokabe's many people from out-of-state as well as international press.
"I've had people from New York, Boston, all over California say to me, 'I wish we could have this space where I live,' because we were right in the midst of that uprising, by choice, by determined choice, much like the Iraq War. We stood strongly up against that war," said Costello.
Her son, John Costello, 36, has hosted movie nights on the patio showing pertinent movies about revolution following some group discussion.
Meetings centered around unified discussion occur daily at Mokabe's, ranging anywhere from racial equality groups to book clubs and even Bible studies.
"There's so much stuff that goes on here, sometimes I wish that I knew more," Costello said with a laugh. "It reflects who I am in many ways but it's not just me. It reflects everybody that comes in here that feels comfortable."
Costello appreciates the space that she and others have grown into an ethically upstanding coffeehouse.
She said that despite all that is going wrong in the world currently, she is lucky to be able to see people every day who care and are doing such great work within the community.
"There's so much good work going on in all capacities," she said. "I'm constantly feeling hope."
Photos by Jessica Danielle Moore