"Nervous. It's always a risk putting yourself out there. It's terrifying. It's like part of your soul just hanging in this gallery."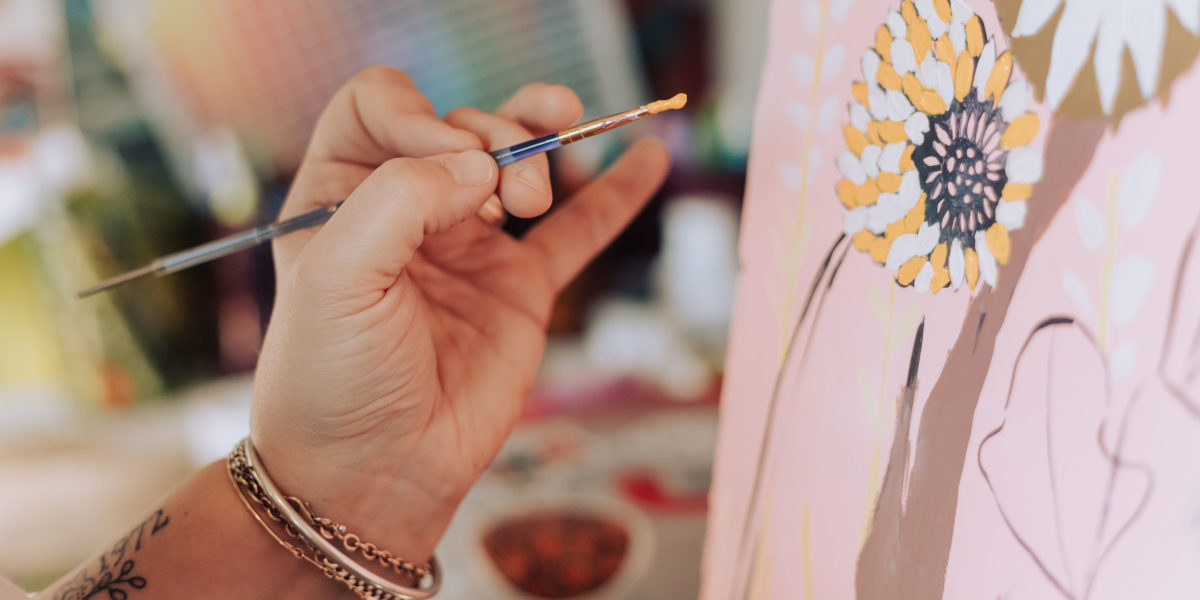 Photo by Stephanie Masat Photography
__________________________________________________
Greta Coalier feels a mixture of excitement and anxiety for the opening of her art exhibit at Missouri Baptist University.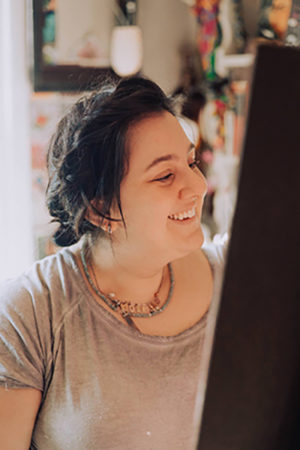 Recently the Rock Hill, Missouri, artist presented her unique art gallery in the Pillsbury Chapel and Dale Williams Fine Arts Center of MBU at her exhibit's grand opening ceremony.
Reflecting on what led her to bring her work to MBU, Coalier said she has known Terri Adams, MBU's director of calendar and special events, for 14 or 15 years and the two created the event date together.
The usual white walls of the sunlit corner of MBU's Chapel building are filled with vibrant acrylic paintings of colorful birds, mermaids and florals from the past year of her work.
Usually working on multiple paintings at a time, Coalier said during a recent phone interview, "I just dropped the kids off at school and am working on a couple right now."
Inspired by family heirloom quilts, textiles and her parents' artistic and supportive personalities, Coalier has been an artist for as long as she can remember.
She knew as a young high school student after a class trip visiting the School of the Art Institute in Chicago that it was there she would land years later.
"I remember thinking, 'This is where I'm going to school,' and I did what it took to get there," said Coalier, who graduated from the School of the Art Institute of Chicago. "I worked two or three jobs at a time, so it was a lot of work, but a great experience."
With her in-home art studio in Rock Hill, she "is flexible to be here for the kids" and in turn, draws ideas for her work from the colors in her home and children's activities, as well as her own imagination.
When considering which of her paintings is her favorite to introduce to guests, she said, "Oh man, that's a hard one. There are so many, but one of my favorites would have to be the one with the yellow bird surrounded by florals."
Her advice for young artists and hope for her exhibition is to "stick with it."
"It takes a lot of years to even discover what you're about," Coalier said. "So, even being in art school at 18, 20 (years old), I didn't really know who I was yet," Coalier said. "So it was really just learning the skills and the craftsmanship and how to go about things. Then I think later in life I could find what I was about and what I wanted to paint about. Yeah, I definitely feel like it's a life-long path. It doesn't just happen all at once. It's a journey."
Coalier resides with her husband of 14 years, who she met in sixth grade, and four children, ages 8, 10, 12 and 14.
Her work has also been featured at SOHA Studio and Gallery located in South City, St. Louis, and the Whitebox Eatery restaurant in Clayton, Missouri.
Click here for more information and to see more of Coalier's art.