Interested in learning more about different cultures while expanding your friend group? Come to CFA 211 at 11 a.m. Tuesday, April 20, to learn more about the International Mentor Program.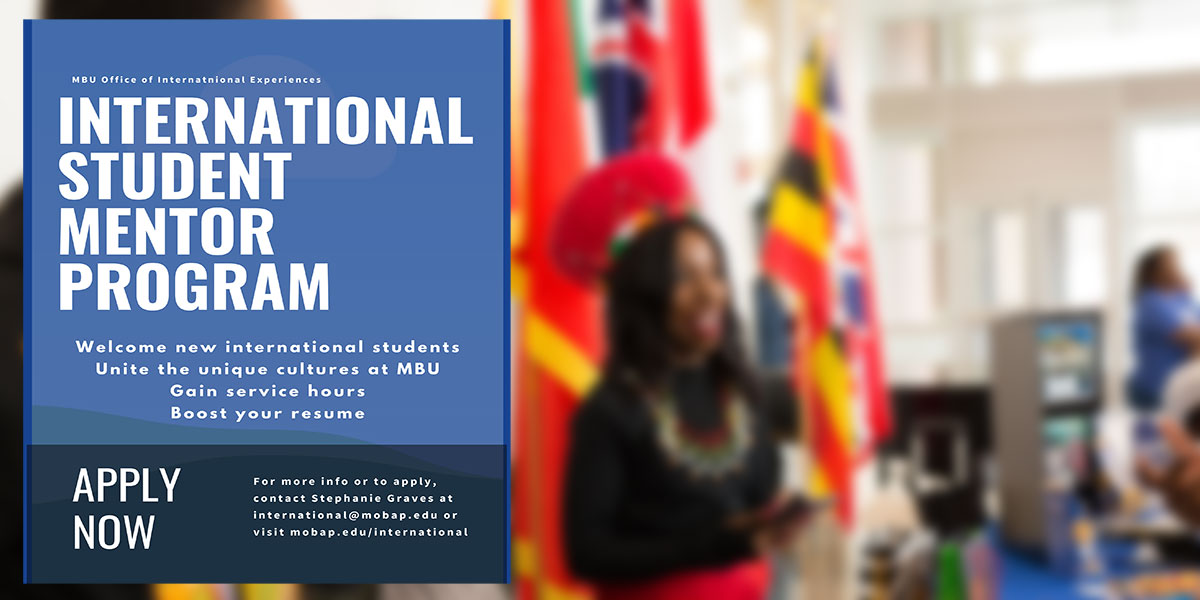 __________________________________________________
Missouri Baptist University's Office of International Experiences is starting its first-ever International Mentor Program to help international students transition to the United States as well as meeting domestic students in the process.
This program came to light when the former director, Lauren Repp, had the dream for as long as she had worked at MBU. Her hope was to create a program that would pair the school's incoming international students with domestic students.
There were a couple different reasons for this dream.
First, to help ease the transition for international students.
Second, noticing that a lot of the school's international students just stick with other international students, Repp really wanted to see those friendships begin to build with the university's domestic students, as well as international students.
Once graduate assistant Stephanie Graves started working for the office, she was put in charge of turning this dream into a reality. 
"I had the opportunity to sit down with some of our international students as well as several of our domestic students and just kind of talk with them about what they saw a program like this looking like and how they saw it benefiting the campus. And they were able to give me a lot of insight, and so from that I just started basically forming this program," Graves said in an interview. "We started creating the program and now we are really excited to come to fruition."
Their mission statement for the program is, "Connecting international and domestic students through a mentoring relationship to support academic success, encourage cultural interaction and build the community."
Reflecting on her own arrival to MBU, Jiemmy Rodriguez, an international student from El Salvador, said a program like this has great benefit to incoming international students.
"I think if I would have had somebody to walk me through the transition and be aware of how hard it is but also exposing me constantly to that different culture, it would have just made it easier," she said.
One of the first mentors signing up for the fall semester is David Gregory, a junior worship leadership major. 
Gregory said he decided to become an international mentor because he is a people person and sees the need.
"I became an international mentor because I have a desire to see people united and welcomed from all walks of life. No one should feel like they don't belong," Gregory said. "We will always make room at the table for someone to sit."
MBU currently has over 85 international students attending in person and online, and they are part of the Optional Practical Training, which students can do after they graduate.
For fall 2021, the office has received over 61 new applications of potential students, although not all those applicants will end up coming in the fall.
If this is something you are interested in signing up for, you can click on this link on MBU's website to fill out an application. Prior to filling this out, someone from the office will reach out to you about more information.
There will be an information meeting at 11 a.m. Tuesday, April 20, in CFA 211.
"People are truly my hobby, so getting to make new friends who have a completely different background than I do absolutely brightens my soul," Gregory said.