"A walking miracle." That's what some medical experts told Missouri Baptist University professor Dr. Jonathan Blackmon, who shares his story about God's protection, safety and recovery.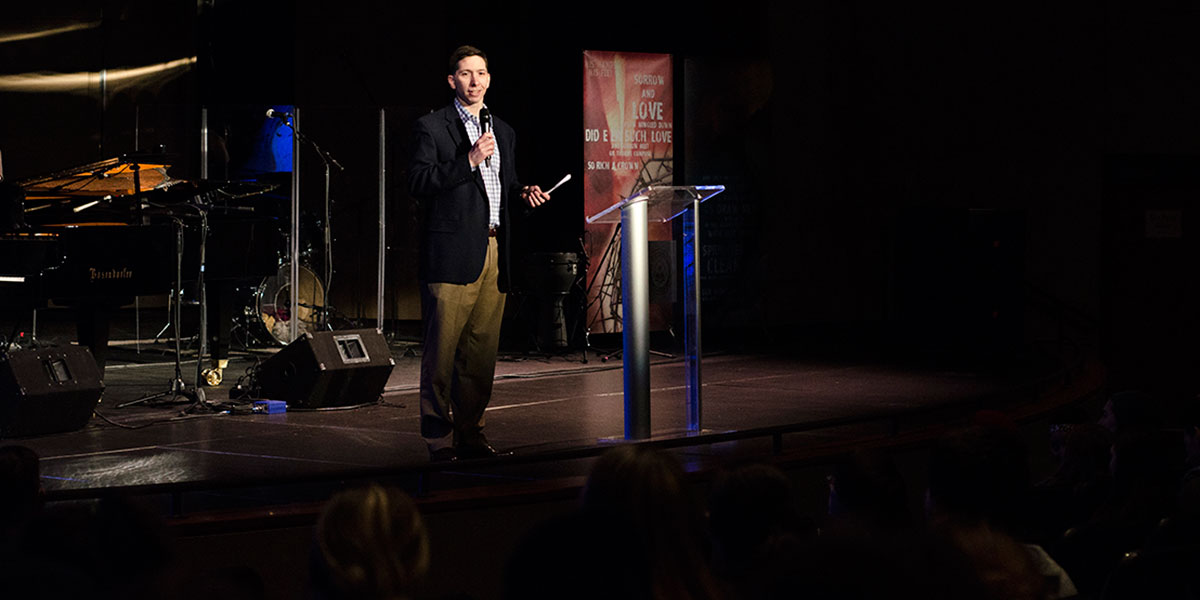 Photo by Jenny Gravatt
Jonathan Blackmon speaking at the spring 2015 Worship Heart & Art Seminar.
__________________________________________________
By JOSHUA DuBOISE
Missouri Baptist University faculty members Jonathan Blackmon and Bert VanderMark were in a serious car accident at the beginning of the 2015 fall semester on Friday night, Aug. 21, in southern Illinois.
The two men miraculously survived coming back from a worship arts conference in Nashville, Tenn., after being side-swiped by a tractor-trailer on Interstate 57.
"The doctors said it was a miracle that I survived that type of a crash," said Blackmon, associate professor of music and director of the Worship Arts Program and Ministry Teams at MBU.

Their car was hit twice by the tractor-trailer, which forced the car in front of the truck, and it proceeded to roll nine times and 250 feet into the highway's ditch, as reported by the responding police officer.

Blackmon was driving with the cruise control on, "just enjoying talking about the Lord," when the truck hit them, he said.

A local police officer who was about to start his shift was returning home to get a flashlight he had forgotten when he came upon Blackmon's vehicle, which had caught fire.

After both men were taken from the car, Blackmon was put on a stretcher and airlifted to Barnes-Jewish Hospital in St. Louis, and VanderMark, an adjunct instructor of art at MBU, was taken to Southern Illinois Healthcare Hospital in Herrin, Ill., with less severe injuries.

"I felt like I had an elephant standing on me," said Blackmon, "an incredible crushing weight."

Blackmon sustained the worst physical injuries of the two men, with a concussion, two fractured cervical vertebrae and a fractured sternum.

"Literally, my sternum cracked, and that caused a lot of bruising on my heart and lungs," said Blackmon, who is recovering at home this semester.

A cracked sternum can easily puncture a lung or the heart, which makes it crucial to have immediate care.

"I wasn't afraid through this ordeal," said Blackmon. "I had this incredible sense of peace that God has his hand on us."

The odds of surviving a cervical fracture are rare, doctors said, let alone surviving and not getting quadriplegia.
"I think every single doctor, nurse, every person I saw would say something to me like, 'You're a walking miracle, you are really lucky,'" to which Blackmon replied, "That doesn't have anything to do with it, God graciously protected me."

Blackmon was speaking with a nurse a few weeks later and mentioned that he wanted to speak to his doctor the next day about symptoms he was dealing with while recovering at his home in Fenton.

The nurse called back a minute later and said, according to Blackmon, "Sir, I need you to go to the emergency room right now."

Blackmon was presenting symptoms of having a blood clot in his lung.

He was in the highest possible risk of a blood clot due to having been in a serious accident with multiple breakages, high amounts of medications and the lack of mobility even weeks after the accident.

One of the specialists thought that Blackmon had hours to live, not days, but after performing a CT scan on him the specialists found nothing there.
"Medically, he couldn't explain it to me," said Blackmon.
Blackmon's classes are being covered through substitute instructors, email and Skype.

"It has been more mentally taxing than I ever thought, but I do enjoy it," said Blackmon, referring to working again. "It helps me keep moving. I got something I'm working for."

MBU colleagues stepped in to cover Blackmon's responsibilities while away from campus.

"We didn't initially have a substitute so Mr. (Eric) Dalbey went and asked and checked around, and was there for us," said Michael Maasen, a student of Blackmon and a junior worship arts technology major from O'Fallon, Mo.

"Dr. (Joy) Powell has been great and has done her best to get things like course material, the book, and has taken a lot of time out of her schedule just to be there super early," said Maasen.

MBU colleagues not only filled in his teaching positions, but some students as well.

Ragan Briggs, the student assistant for Abide, one of the MBU Ministry Teams, also filled Blackmon's role with the assistance of Jordan Cox, director of SpiritWing and an alum from MBU.

"I've had to take that role in the group of scheduling practices and giving details to the team, and to keep them in the know of what's going on," said Briggs, a junior human services major from Clinton, Mo.
The Ministry Teams have been able to lead at many churches local to St. Louis due to the combined effort of staff and students.

The Blackmons are thankful for the support of their Missouri Baptist University family, and they ask for prayer for further healing and comfort for both Blackmon and VanderMark.