Many events occurring on campus are centered around students. On Friday MBU will strive to serve others as area senior citizens arrive to enjoy lunch and take in a show.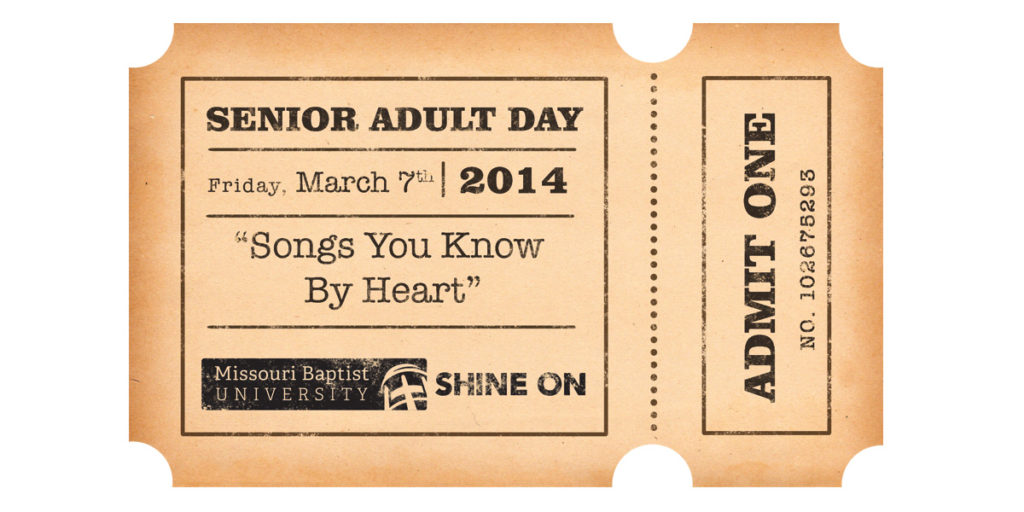 __________________________________________________
Missouri Baptist University opens its doors early in March to escort seniors down memory lane.
On Friday, March 7, MBU students, faculty, staff and alumni will present "Songs You Know by Heart," a musical showcase, during its annual Senior Adult Day.
The show will begin promptly at 9:30 a.m. in the Fine Arts Building.
Guests will enjoy a homestyle luncheon immediately following the showcase in the Mabee Great Hall.
MBU staff and students will serve the guests a hearty lunch of fried chicken, green beans, corn, mashed potatoes and dessert.
The event is highly anticipated every year and represents MBU in a positive light to the community.
Lydia Keller, Advancement Services coordinator at MBU, plans and runs Senior Adult Day each year.
"While I love any opportunity to plan the details of an event, the greatest part of Senior Adult Day is speaking with the sweet elderly individuals during the reservation process," Keller said in an email. "Many of the senior adults from churches and other groups in the community look forward to and attend this event each year."
MBU music students display their creative gifts and talents for the event each year.
"I think it is so wonderful that we are reaching out as a university to an older generation," said Stuart Harrier, freshman worship arts major at MBU. "I think it's an honor to be a part of a select group of students to serve others."
Students working part-time in the Special Events office are also able to glean much-needed wisdom from Senior Adult Day.
"Senior Adult Day is always fun to work because you have all these elderly people who just want to spend all this time talking to you, getting to know everything about you, and then they give you their piece of wisdom," Kirsten Howard, MBU student and box office assistant for Special Events, said in an email. "They are so interested in our lives, and they love to tell us about theirs."
Parking on Lot B will be busier than usual that Friday morning, so come prepared to park elsewhere and free those spaces for MBU's senior guests.
Entertaining and serving local seniors in the community fosters a spirit of servant leadership and allows students to glean wisdom from well-seasoned senior adults.