Isabelle Scheibe is the theatre assistant and shop manager at Missouri Baptist University who works extra hard backstage to attain full potential from each MBU production and theatre student.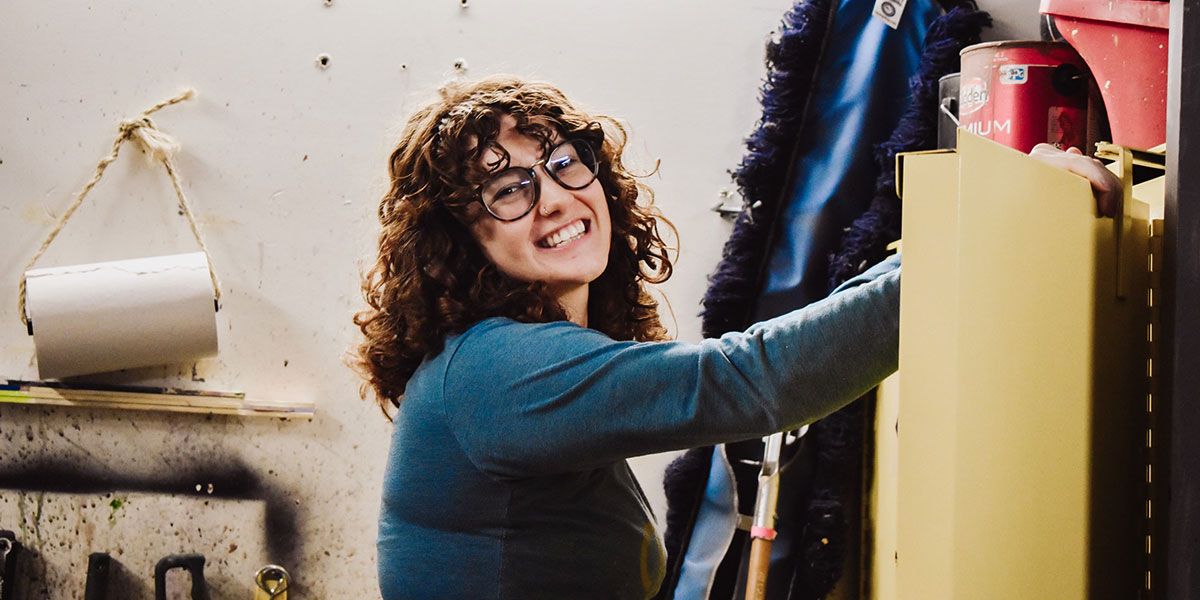 "Isabelle works as though she is working for the Lord, not for me. She is excited about the vision for the future and the possibilities for MBU Theatre as we continue to grow," Kasey Cox, director of MBU Theatre, said about Isabelle Scheibe, pictured here working backstage for a production. All photos by Anna Jeschke
__________________________________________________
Isabelle Scheibe, 24, MBU Theatre assistant and shop manager, displays a strong work ethic, but since she works backstage of every production, she goes unseen. People see her work but don't often see her. 
"Isabelle is an incredibly hard worker with an eye for detail," Kasey Cox, director of MBU Theatre, said in an email interview. "I have to remind her regularly to never go over her contract hours."
Cox not only acknowledges the extra work Scheibe contributes to the Theatre Department, even when it surpasses her 20 hours per week, but also acts as an inspiration to Scheibe.
"Kasey kind of changed my perspective of theatre when I started here," said Scheibe, who came to MBU in the fall of 2019. "Each show we do, she finds Christ within the show. So, for instance, when we did 'Into the Woods,' we found sin in the show, we found love in the show, we found examples being Christ-like examples in the show, and I think that just changed my perspective that was taught to me in college, [that] theatre's just theatre."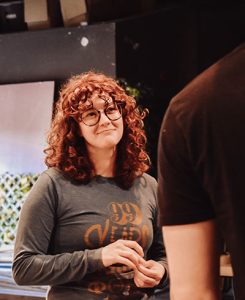 Cox sees a Christ-like attitude within Scheibe as well and recognizes the humility within her as she works behind the scenes and expects no recognition or praise for a job well done.
"Isabelle genuinely cares for the students beyond what they can or cannot do for the department," said Cox. "She wants to watch them develop in character and in their love for God. As a stage manager, her job is to lead the cast and crew, particularly during the performances. But if she does her job well, you don't even know that someone is behind the scenes calling all the shots. She never takes any credit, and quietly does her very best work on every production she touches."
Student Ashley Harris, who has performed in 12 shows with MBU Theatre, agrees with Cox that Scheibe seeks out the best for the students. 
Scheibe is the department mentor of Harris, a sophomore secondary education speech and theatre major, and puts in extra effort to teach and guide Harris through her time at MBU. 
"She may not have the actual title of professor at MBU," Harris said via text, "but you can always find her teaching people in the Theatre Department various skills, how to properly paint a set, or the most efficient way to build something. She assists me by giving me direction as to what I should be doing with my time during the mandatory theatre load-ins. She also assists me spiritually and is always ready to talk about how much Jesus loves every single person."
Scheibe understands the theatre students because she was also a performer, beginning at age 3 and continuing through college at Stephens College in Columbia, Missouri, where she performed in a musical theatre troupe and graduated in 2019 with a degree in tech theatre with and an emphasis in stage management.
Although Scheibe is finished with the performing side of theatre, she continues to make an impact within the department backstage.
"My love for theatre is mainly how you can use performances and shows to impact people in their day-to-day lives," said Scheibe. "I found that I really enjoy the helping aspects of tech. You're not the show but you're helping make the show happen. I very much am the type of person that wants to be there to help and aid, and that is kind of like my prerogative, and so tech kind of fit my view of life a little bit better than performance."
She felt lost when she graduated college on how to glorify God through theatre but now she realizes that her prerogative is to assist others. 
Her sister attended MBU and had worked at MBU in graduate admissions, so Scheibe knew MBU Theatre was looking for a technical assistant.
At first, Scheibe was not interested in the job. She had plans to live with her sister in New Jersey and freelance in New York.
But God had a different plan, so she ended up receiving the job at MBU right before the COVID-19 shutdown. 
Scheibe saw God's faithfulness through this because had she not accepted the technical assistant position with MBU, she would have been unemployed because theatre performances were essentially shut down during the height of the pandemic. 
She is also grateful she accepted the job because "this work is meaningful and MBU really helped solidify that for me and helped me figure out what I wanted to do with my life," said Scheibe.
Under the job title technical assistant/shop manager, Scheibe is in charge of load-in and strike, which is the set-up and take-down of the set, costumes and props in the theater, for the six yearly shows, creation of sign-in sheets, helping students receive all their credits for their degrees, and shop points, which are required for the theatre scholarship. 
Scheibe oversees about 20 students, making sure they reach their required amount of shop points, and acts as a mentor to students within the department.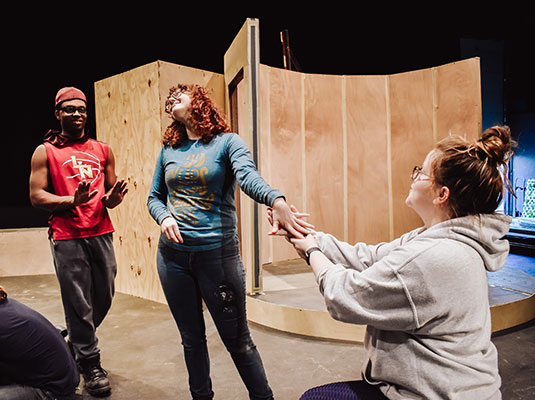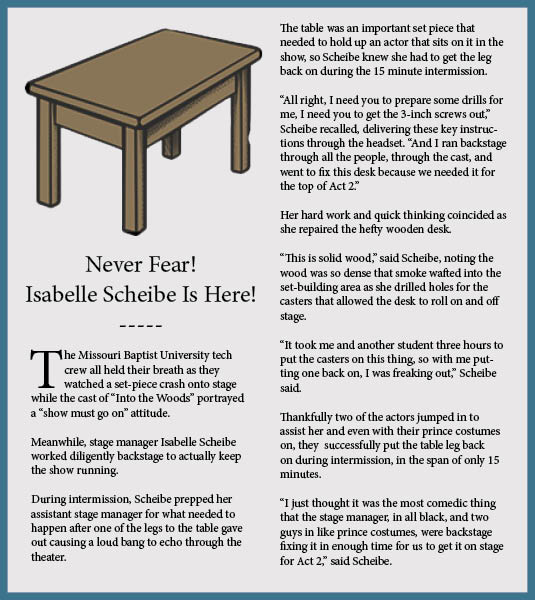 Scheibe also maintains organization of the storage units and closets, and her proudest accomplishment is redesigning the entire costume closet, hanging everything on racks in an organized system.
Cox noted Scheibe's excellent work and organizational skills within the costume shop.
"Having Isabelle as a member of our team has absolutely revolutionized the theatre program," Cox said in an email. "Because of her, we have functional prop and costume storage, set builds and strikes run smoothly, and students have grown exponentially in their stage management skills. She keeps the entire department running smoothly." 
Before she tackled the storage room, there was no space to walk in, it was so disorganized, so Scheibe measured the room, bought and cut pipes, installed hanging racks and designated a spot for every item. 
Scheibe is also in charge of communicating tech needs for the shows and then stage managing the shows when students aren't available, which usually ends up being the musicals because they are bigger and harder for the students to manage. 
While her weekly contracted hours are 20, Scheibe often works above and beyond, due to load-in weekends when she works 12 hours on Saturday and 8 hours on Sunday because she chooses to be gracious with the students' hours and has to be there throughout all of their work-day shifts. 
"I love that she has the rare ability to be both direct and kind simultaneously," said Cox, recognizing the diversity in Scheibe's skills that help her accomplish her wide range of tasks and cooperate with everyone.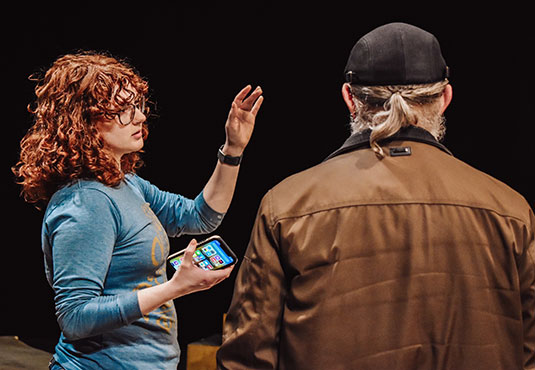 Scheibe understands that students are busy, but it can be challenging to build a set without their assistance, and she relies on students to help. However, on some opening nights, Scheibe is still painting the set herself. 
Her understanding approach as technical assistant and mentor stands out to theatre students.
"I've learned so much from her but the No. 1 thing that I have learned from her that has stuck with me is to give yourself grace," said her mentee, Harris. "At times we get frustrated with ourselves, maybe our project didn't go as planned or our performance wasn't the best as we had hoped, but she always tells me that our Lord and Savior gives us grace and forgives us and we must be like Him and forgive ourselves and give ourselves grace because with every hiccup in the road is a growing opportunity that will only make us stronger for the next time."
No matter the length of time, she is grateful the students are invested in the program and will do anything to help them get their money's worth of experience within their degree. 
Flexibility and grace are what drive Scheibe when she works with the students of MBU.
"I try my best to find ways that I can help them make time to come in, and anything I can do to help them get the most out of their degree I will do because I think you're investing so much money into this education and I am a part of it, and I want to be able to give them as much knowledge and as much help as I possibly can for them to succeed in this degree and this program," said Scheibe.
Future goals of Scheibe are to be a production manager and one day open her own theatre company.
Away from theatre, Scheibe is a coffee snob from St. Louis whose mission is to find the world's best latte – specifically a lavender oat milk latte. She also hikes with her small 7-year-old mutt, Max, as a way to calm and center herself.  
Although Scheibe works mainly backstage, she inspires many people as her passion for theatre drives a Christ-like work ethic that changes the MBU Theatre Department for the better, creating an impact on people she knows and those she doesn't.