It's never easy when it's time to say goodbye to your job, your university, your colleagues and your students, but for one beloved English professor who has been at MBU only a few years, that time has arrived.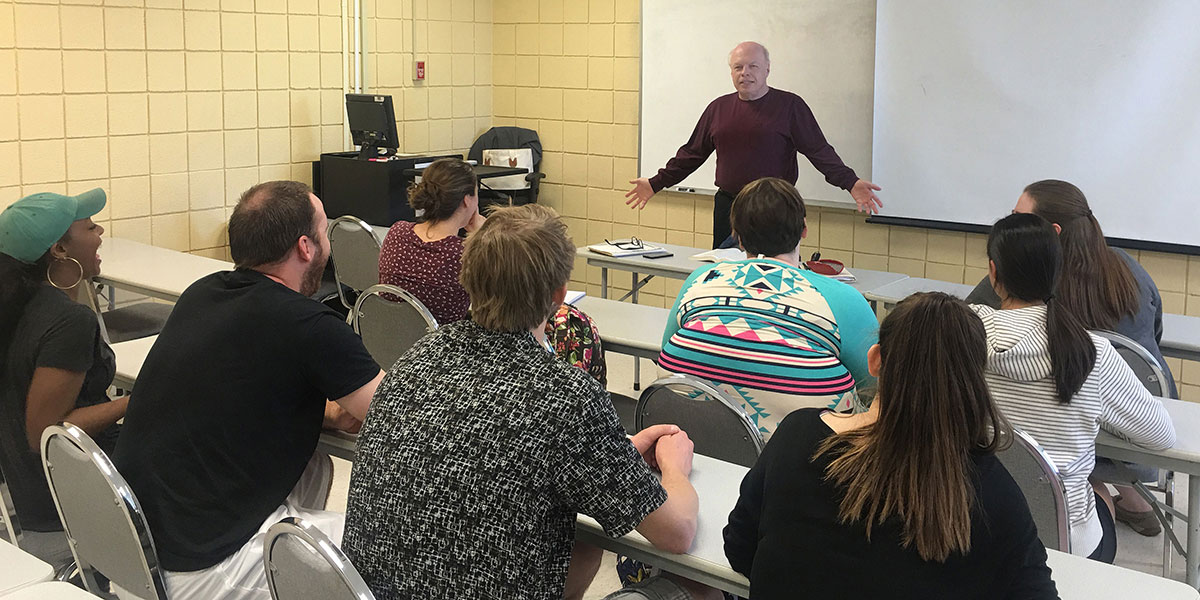 Photo by Madison Mabrey
__________________________________________________
By MADISON MABREY
Admired literature professor, Dr. Glenn Hopp, recently announced he will be leaving Missouri Baptist University after the 2016 spring semester.
"The best times, I think, of my career was sitting in my office and looking at a piece of literature that I've either taught a lot, or never taught at all, and thinking, 'How could I present this in a way that people would be inclined to think about it? Whether they liked it or not, try it on for size, and come away with something,'" Hopp said.
After 40 years of teaching at various high schools, junior colleges and universities, Hopp no longer wants to teach full-time so he can finally begin collecting Social Security and enjoying semi-retirement.
But, that doesn't mean he is saying goodbye to teaching forever.
"I will probably still be looking for some kind of teaching part-time someplace, and I would be glad to work here if there is any need," said Hopp, who came to MBU in 2013 from Howard Payne University in Brownwood, Texas.
Hopp has influenced many students positively during his three years at MBU, being known by some for bringing wit, humor and wisdom into the classroom.
Cragon McBride, an MBU junior majoring in English and secondary education, has witnessed Hopp's wisdomatic effect in his British Literature II class.
"I don't know if Dr. Hopp meant to teach a hidden lesson in one of his tangents in class, but he once spoke about paying a large sum of money for a fountain pen (I think it was around $40). He said that he knew that people thought it would be silly, but he didn't care. He knew that for his passion (English and writing), it would be something that would make his experience more enjoyable. I kind of found this to be a miniature life lesson," McBride recalled. "Oh sure, it was about a pen, but what I heard Dr. Hopp say was, 'No matter how many times you hear that something is ridiculous or maybe even crazy, you have to pursue that thing if you know that it is something that you want and something that will make you happy.' Or who knows … maybe he just got ripped off on a pen."
After completing his student teaching hours in the fall of 1976 at University City High School in St. Louis, his cooperating teacher advised him to fill out an application and apply for a long-term substitute position opening up in her classroom. Hopp was offered the job and taught there for about six weeks.
From 1976 to 1984 while working on his graduate degrees, Hopp became a teacher's assistant at Southern Illinois University in Edwardsville, and later at the University of Missouri in Columbia.
At the age of 30, Hopp accepted his first full-time position at Central Methodist College, which is now Central Methodist University, in St. Louis. He taught there for two years, replacing a teacher on sabbatical, then took a position at Howard Payne University in South Texas, where he stayed for 26 years.
During the first few years of his career, Hopp said he believed it was more professional to keep his enthusiasm about literature hidden. He soon learned that wasn't the way to approach his students.
"When I started to let the enjoyment I have for literature, and the compassion I have for literature show, it really made my students come out more," he said.
With such enjoyment and compassion for literature, it's no wonder Hopp became a professor.
"I always liked writing, I always liked verbal things, I always loved reading and I was always good at school. It just kind of seemed like a natural culmination for somebody who was good with reading, writing and school to move into that."
Hopp received his bachelor's degree from the University of Missouri St. Louis, his master's degree from Southern Illinois University in Edwardsville and his doctorate in English from the University of Missouri in Columbia.
With a lengthy educational background and teaching career, Hopp agrees he has met some pretty interesting, intelligent and amazing people along the way.
"I will miss the people, the students, my colleagues and things like that."
It is clear that Hopp's students and colleagues at MBU will miss him as well.
MBU senior, Julie Sieber, has had Dr. Hopp for British Literature I and II.
"Honestly, at first I wasn't sure what to think of him. He has his own way of teaching, but once I understood his methods I really enjoyed his classes," said Sieber, who is majoring in English and secondary education. "He likes to tell stories. His stories may seem off-topic, but they really make me grasp some of the concepts he's introducing. I also like that he encourages discussion and has no problem with a student seeing a piece of writing differently."
Dr. John Han, chair of the Humanities Division, said Hopp will be very hard to replace because he has so much knowledge in literature.
"Dr. Hopp is passionate, enthusiastic and willing to help his students in and out of the classroom. He is sincere about his teaching and very focused. He has been an asset to the English Department," Han said. "He specializes in medieval literature and really has an expertise in that area."
Hopp admires filmmaker Billy Wilder who, like Hopp, was known for his wit and passion.
Wilder once said, "If you don't like what you're doing, it's unlikely anyone else will either, so be sure you are happy with your own work first."