In one of the largest musical productions in the history of the Missouri Baptist University Theatre Department, this postmodern classic takes the stage Thursday through Sunday. So cut loose and get your tickets now.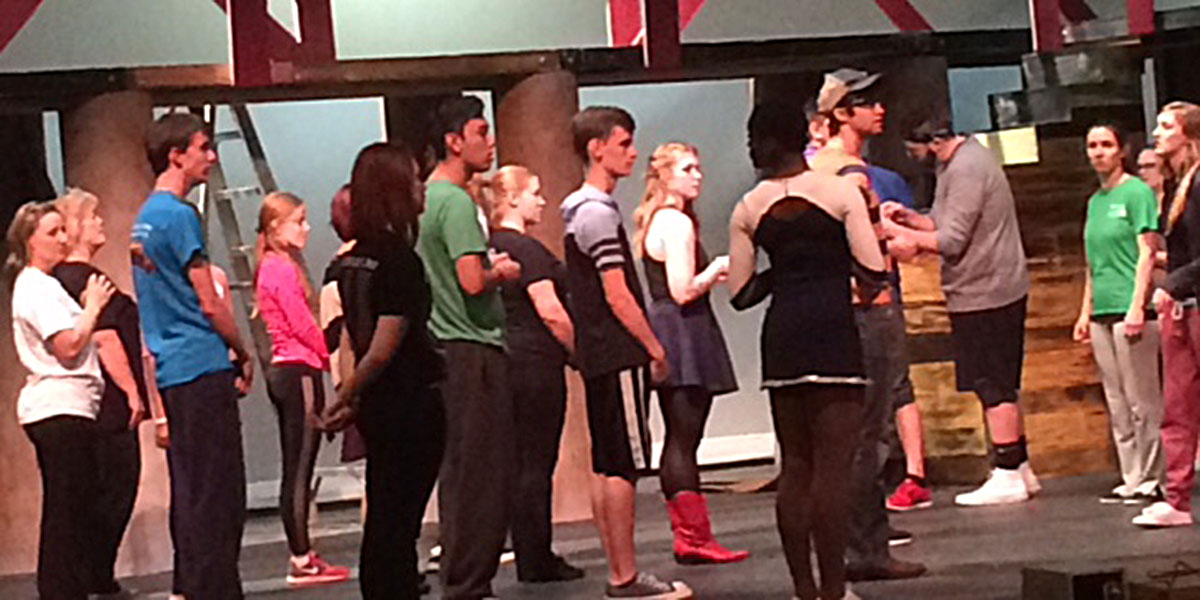 Photo by Shannon McAndrew
Dancers, singers and actors run through the paces during rehearsal for "Footloose The Musical," a high-energy production that takes audience members to the town of Bomont, where dancing is prohibited and rebellion comes in the form of singing and, of course, dancing. The show opens Thursday.
__________________________________________________
"Footloose" opens Thursday, Nov. 12, at 7:30 p.m., and continues through Friday, Nov. 13, and Saturday, Nov. 14, at 7:30 p.m., with the final show at 2 p.m. on Sunday, Nov. 15.
Here's a link for ticket information.
__________________________________________________
By SHANNON McANDREW
"Footloose The Musical," a play about conflicting generations that brings an amazing cast of actors — from freshmen to seniors, alumni to community members, theatre majors to science majors — opens this week at Missouri Baptist University.
"It's a fun show which deals with some serious stuff," said Sean Muzzy, a freshman majoring in broadcast media appearing in his first role in a play while attending MBU.
Directed by Dr. Joy Powell, "Footloose" opens Thursday, Nov. 12, in the Pillsbury Chapel & Dale Williams Fine Arts Center.
Ticket prices can be found on MBU's website at this link.
This show is one of the larger productions that MBU has done, with 40 cast members consisting of students from various majors as well as alumni and performers from the surrounding community, coming in second only to last year's production of "Les Miserables," which consisted of 20 more cast members than "Footloose."
According to Dr. Powell, director and producer of "Footloose," auditions are sometimes opened beyond MBU in order to "connect with the surrounding community."
Rehearsals began on Sept. 8 and the students have been rehearsing 2-3 times a week in order to prepare for the show.
The story of "Footloose" is about a student named Ren McCormack, who is new to town and finds himself at a standoff with the adults in a clash of ideals.
Nathaniel Bergstrom, MBU alum, graduated in 2011 with a degree in worship arts, and now works in the Admissions Office as the enrollment services coordinator at MBU. Bergstrom, who is also worship director at Harvest Bible Chapel St. Louis South, plays the role of Ren in the show.
"He's such a fun character and he genuinely has a good heart and means well," said Bergstrom. "He has a lot of resentment from his past and his father, but ultimately he just wants to see change for the better in his new life through healing of the people he meets and a lot of healing of his own."
In the fictitious town of Bomont, the adults view dancing as evil and believe the youth should not participate in such an act.
While some were cast in non-dancing roles due to their characters' stand on dancing, those who are dancing must learn many dances with difficult choreography.
Brooke Hankins, a junior, is part of the teen ensemble and is in many of the dances.
According to Hankins, "Heaven Help Me" is the "most difficult choreography and for me not being a dancer. … I love a challenge."
Many know the story of  "Footloose" even though they have never seen the movie or play before.
Such is the case for Muzzy, who is playing the role of Coach Dunbar. Muzzy describes the play as "the story of kids from Bomont who want to throw a dance and we, the old people, are trying to stop them."
Those who know the story see the play in a totally different light and have their own description of the play.
Jenny Hampton, a junior who plays the role of Wendy Jo, loves the show and has seen both movie versions, the 1984 version starring Kevin Bacon and the 2011 remake starring Kenny Wormald.
"I think it's a very fun musical. It's got a lot of good meaning to it. It's a cool story to tell, especially from a Christian view," Hampton said. "I love dancing so it's cool to be in a play with a lot of dancing to it."
There is a great variety of people involved in this show who just love the fun of acting and they see the people they perform with as family.
Hankins was also in her high school's performance of  "Footloose" before MBU's production and explained the differences. "It's a different dynamic … really put together … well cast … and like a family."
Not all actors in the play are theatre majors, as some are business majors, science majors and broadcast media majors, but all enjoy acting and singing to some extent.
Powell, who is in her 13th year at MBU as director of the Theatre Program, said she loves directing and feels called to not only direct but also teach.
"It starts in the classroom and continues onto the stage," said Powell, who sees theatre as a way to "get someone into something they can relate … even those who aren't into musicals."
For Powell, "Footloose The Musical" is relatable to her personally because growing up as a preacher's kid she could relate to Ariel in the play, even though they have different stories.
In the play, Ariel, the daughter of the reverend in the movie, disagrees with her father about dancing and just wants to have fun.
Brittani O'Connell, a fifth-year senior graduating in December with a degree in theatre, is playing the role of Ariel in the show.
"Her actions seem rebellious, especially to her father, but I believe that they ultimately stem from a place of hurt," said O'Connell. "She loves her friends and family, but she has a different mindset than them."
O'Connell has performed in "Footloose" before as the role of Wendy Jo while attending Mineral Area College, making this a special show for her since this will be O'Connell's first and last show while in college.
The stage version of the play is not exactly the same as the movie version because there are some songs from the movie and some that are not, although the story is very much the same.
There have been some great memories made while preparing for "Footloose."
"We were reviewing the choreography for the Finale of the show and there is a lift that happens in the middle of the dance with our partners," said O'Connell. "Then one day came and it just happened … we were in such a state of shock and excitement that we completely forgot to keep going in the dance and had to catch up."
Not only does the cast enjoy acting and dancing, but many also love the chance to give glory to God through their performance.
"Praying with this cast before every rehearsal, having Christ be the complete focus of what we do," said Bergstrom. "Musical theatre can be a very self-centered art, but shows at MBU always recognize the Giver of Gifts over the one He has given the gift to."