Commuter Club launches with an intent to promote a deeper sense of community for all MBU students.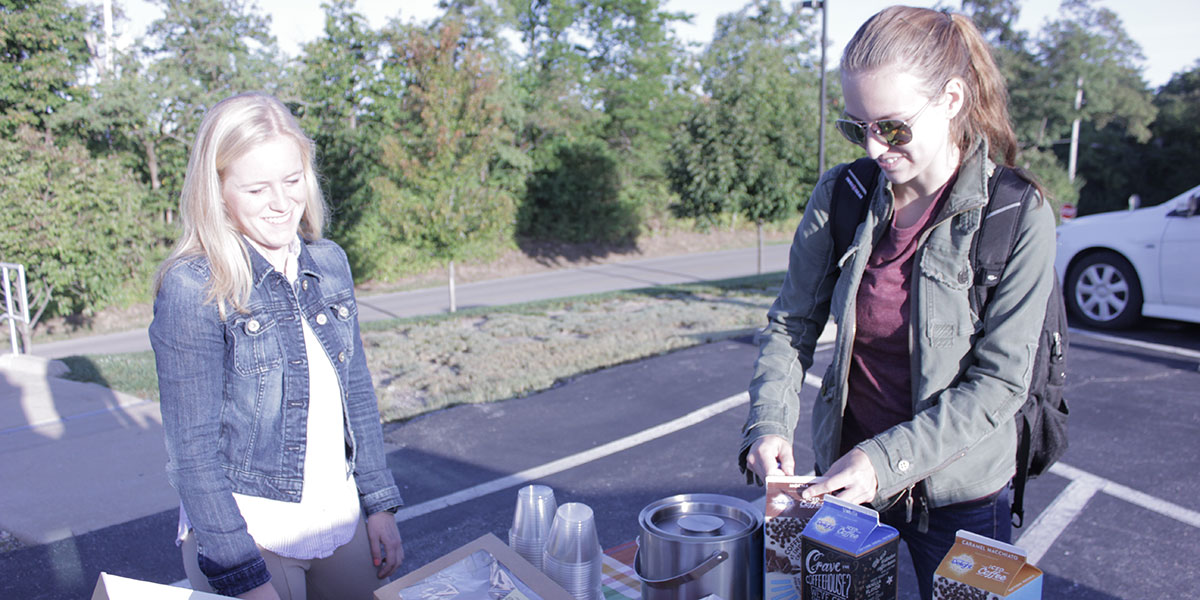 Photos by Abby Kassebaum
__________________________________________________
With the majority of the MBU student body being commuters, it can be easy for those who drive to campus to lack the same type of involvement as those who live  on campus.
Two MBU commuters saw this predicament and took matters into their own hands.
Junior biology major, Becca Starrett, from Edwardsville, approached fellow classmate Ansley Little, sophomore nursing major  from Pacific, with her idea of having a club dedicated to encouraging commuter students' involvement and brightening the days of those who park in the infamous C Lot.
"My freshman year I saw there wasn't a lot for commuters and I always wanted to start something but was too afraid to do it by myself," said Starrett.
The club, with Starrett serving as president and Little as vice president, kicked off their first event on Thursday, Sept. 7, by arriving to C Lot at 7:30 a.m. with donuts and coffee for all who passed by.
As commuters were welcomed with a sweet surprise their faces immediately lit up.
Starrett greeted the early risers with a smile, while Little played her ukulele for those who passed by to enjoy.
"It's just kinda little things that brighten your day as a commuter because like you have been driving for so long and you're like having to go to class and there's not that much stuff around and we are college students who don't have that much money so we just want to like have little bright spots in your day," said Little.
Many commuters will spend over an hour combined in their car traveling to and from school each day.
Time is precious when you're in college, and Commuter Club serves as a way to lighten the load that comes with being a college student.
Starrett herself drives a little under an hour just to get to school on top of working and being a student athlete for the women's cross country and track and field teams.
"It can be a haul some days," said Starrett.
The two have big plans for the club, and hope to see commuters take their own incentive in meeting new people outside of their normal friend groups.
Commuter Club is to serve as a foundation for commuters to form a bond and to empower students to know that just because they don't live on campus does not mean they can't be involved.
"We want it to be like a community. Because a lot of commuters just come to class and go home," said Little.