National Share gives families the opportunity to share in their loss and fill the sky with balloons in remembrance of their lost babies. A feature story written from a personal perspective highlights the events and emotions of that day.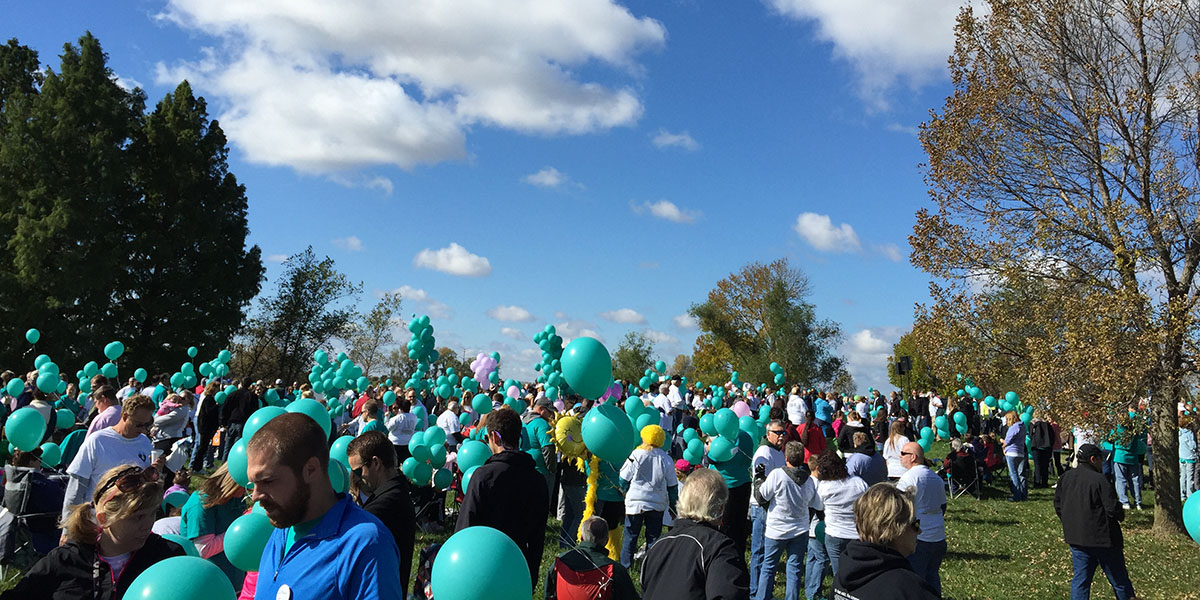 Photo by: Rebekah Rutledge
 __________________________________________________
Losing a baby is a seriously heart-crushing event in a person's life, but one that is so commonly brushed under the rug because it's something that can be embarrassing for families or hard to talk about.
National Share is an organization that supports families who have suffered the loss of babies due to miscarriage, post-term complications and other pregnancy complications.
Sister Jane Marie Lamb founded National Share in 1977 with a single support group chapter and from there, National Share grew as a support for bereaved parents.
Every year, National Share holds a walk and balloon release for families who have lost babies and this year I got the honor of being a volunteer at this event.
The walk was held at Creve Coeur Park this year, on Saturday, Oct. 18.
Right at 8 a.m., the park began to fill up with families wearing shirts saying "I have footprints on my heart," one of National Share's key sayings.
The parents who had lost babies were wearing teal, everyone else was in white.
Myself, as well as other members of MBU's Circle K International Club, were working the Creation Station kids craft area.
As families came through, I wasn't sure what to say to them. I couldn't imagine suffering such a loss; the things I felt I could say could never make up for their loss, but they were open and willing to talk about it, say their baby's name and share their stories.
One family that I had the opportunity to talk with was from Honolulu, Hawaii, and when I asked the mother how they ended up in Missouri, her response was, "Well, this is where the walk is being held this year."
This event is so important to the families that people come from near and far to be able to be a part of it.
The event was an opportunity for the families to be able to publicly share their stories of loss.
As the ceremony started, the families gathered around a small stage and formed a sea of teal balloons.
Here we go, I thought to myself, the tears were already forming in my eyes. This was where the baby names would be read aloud.
Over 500 baby names were read, one by one, and as each one was read, a balloon was released in remembrance of the baby.
"Angel, Baby Blue, Baby Anderson, the Five Johnson Babies," the list went on and on.
For some, it was a celebration of life; for others, it was a day of grieving, but each family, each mother, each father, had their own reason for releasing that balloon.
As we watched the last few balloons release into the sky, the walk began and the families took off, each step taken for their baby, or babies.
Over 500 baby names were read, but these were just the ones that were registered to be read. According to Hope Exchange, approximately 1 million pregnancy losses occur each year out of about 4.4 million confirmed pregnancies.
No one wants to talk about it. Nobody wants to say that they lost their baby, but National Share has given these parents who experience this tragic loss the opportunity to share in their grief and to have a life-long support through the organization.