From humble beginnings in 1996, one beloved Missouri Baptist University tradition encompasses 18 years, thousands of students and a life supply of coffee.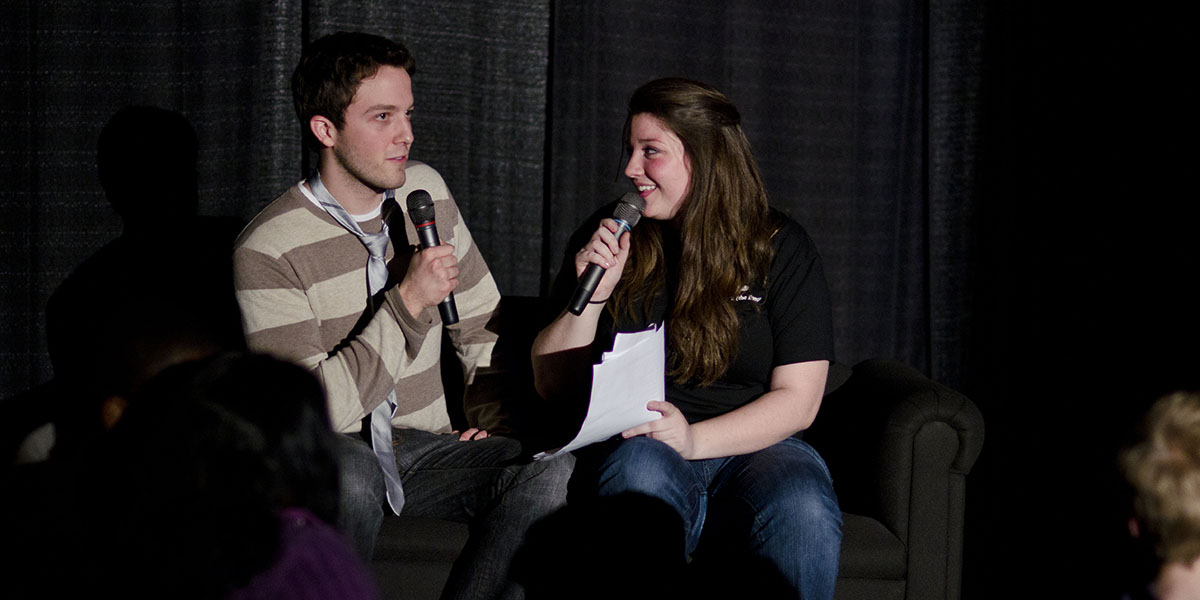 ________________________________________
The Perk: After Dark, the kickoff for Homecoming each year, brings students together for a classic coffeehouse event that unites the campus.
What's the secret to this event's cross-generational success?
Krista Huse, founder of the event and administrative assistant to the vice president of student development, provided many profound insights to this tradition.
Themes
This event began as a Resident Life-sponsored activity originally created by Krista and her husband, Paul.
Every year the event took a different theme, which was much anticipated by the student body.
The very first year, Paul booked Sixpence None the Richer to perform.
In 1996, this band was incredibly popular and the students were thrilled to attend this fun and new event.
"We originally held it in the Pillsbury-Huff lobby with roughly 75 people in attendance. One of our earliest themes was the '70s.  People came dressed up and we decked out the lobby. They loved it," she said.
The event took on a very creative, artistic look over time.
"Our themes were artsy and intricate, which made each year look very different from the one before," Huse said.
Krista did a lot to prepare the food and Paul handled lights and sound.
"At the beginning, we tried to do the coffee ourselves, but the event quickly outgrew our efforts so we began hiring companies like Starbucks and Kaldi's," Krista Huse said.
Around 2004 to 2005, the event reached close to 500 students.
Atmosphere
Julie Hammack, assistant director of student activities, attended the event as a student and now works behind the scenes to bring the Perk: after Dark back to its former glory.
She reflected on the ever-changing atmosphere over time.
"Now that it is in the Muncy (Gymnasium), decorations have become much nicer and it has evolved into a primarily social event rather than a show," Hammack said. "In the past both students and departments would create amazing videos, teams would get together and do dances and the focus was more on performance than hanging out."
Hammack also reflected about the variety of performances compared to current years.
"People used to recite poetry, friends would act out 'SNL' skits, faculty and staff would create funny videos. Around 2009 to 2010 the performances became ministry dominant," Hammack recalled. "As a result the event lost diversity and the cool factor because the performances of praise and worship songs were so similar."
Cool Factor
Moving into the future thanks to the brilliant beginnings of this cornerstone event, the Student Activities staff works hard to ensure lifelong memories for alumni, current students and future students.
Lara Hines, director of student activities, described strategies to achieve the cool factor.
"Making an event cool is so subjective. It is very hard to make an event a 100 percent success," Hines said. "That being said, we begin by trying to provide people a lot for free."
With a $5 admission fee students receive limitless coffee, dessert, access to group photos and chances for giveaways.
Krista Huse explained the necessity of understanding your target audience.
"You have to know your students so you know how to mix it up," Huse said.
For the students, everything hinges on who's there.
"Who is there, who is performing? It is immediately cool if you get lots of people from various groups to attend. It's all about diversity," Hammack said.
Hines pointed back to collaboration as a central motivation for success.
"As the campus grows departments are growing, which results in less collaboration. If we could bridge the gap between Resident Life, Student Activities and MBU Athletics, we would reach more students and build a more creative experience," Hines said.
All three of these incredible women have done so much to build and grow "the Perk: the event" into "the Perk: After Dark."
From its start in 1996 to its new location and new name in 2014, this legendary event will continue to create memories and friendships for years to come.