A mix of old traditions and new events are being prepared this week for students and alumni to enjoy.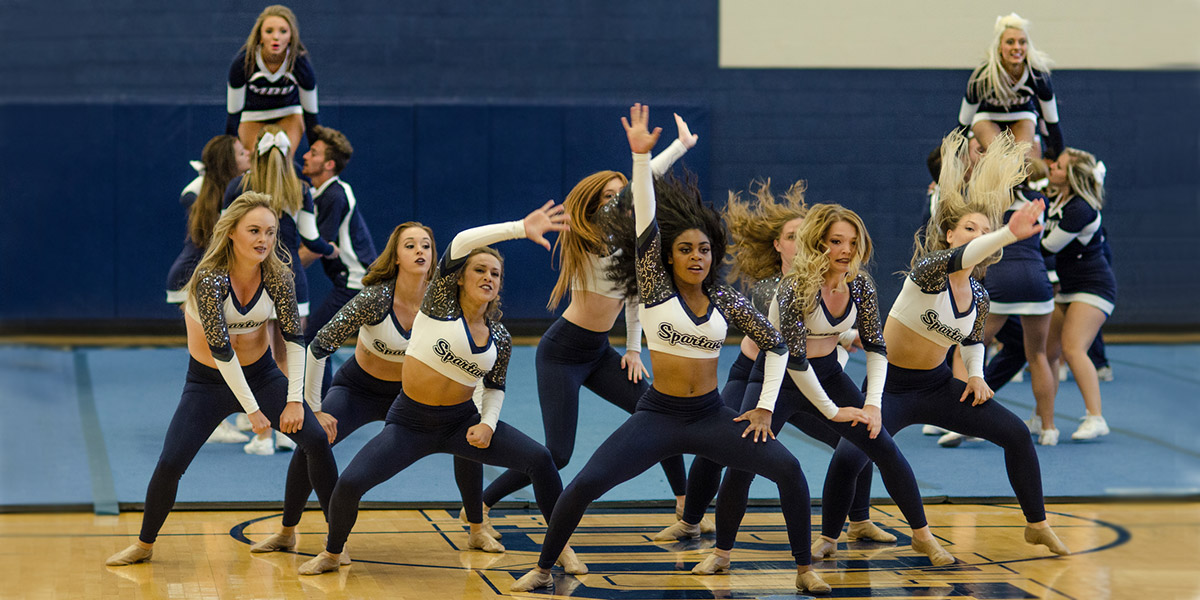 Photos courtesy of University Communications
The MBU dance team and cheerleaders perform for students and faculty at the 2017 Homecoming Chapel in the SRC. Homecoming 2018 kicks off tonight with Spartan Madness at 8 p.m. in the Lacey Gym.
___________________________________________________________
Homecoming traditions and festivities began at Missouri Baptist University in 1964.
Fifty-four years later, MBU's Homecoming Week is growing to be bigger and better than ever.
To start out the week, Spartan Madness is a new event being rolled out this year.  It will be held on Monday, Oct. 22, at 8 p.m. in the SRC.
Spartan Madness will have a pep-rally feel, featuring Spartan basketball and spirit teams.  
The first 100 students in attendance will receive a free T-shirt.  
Homecoming Chapel will be held in the SRC on Tuesday.  
Immediately following this chapel service, the Homecoming Bash will begin in the Quad. Event planners this year have high hopes for this event thanks to a successful event and turn-out last year.
Madison Click, senior elementary education major from Vandalia, Illinois, is one of the Homecoming week student event planners: "Planning Homecoming is exciting because I know how many people look forward to the events and Homecoming gear.  That reason alone helps me to push myself to make it the best it can be."
Another favorite event will be held at 8 p.m. Friday, Oct. 26, in Muncy Gym.  
"The event I'm looking forward to the most is the Perk event," said Lara Hines, director of Student Activities.  "Aaron Chastain is in charge of the event and he always does an excellent job. The event has great music, food and is a great social event for current students, alumni and staff."
To wrap up an exciting Homecoming week, Saturday will be filled with free food and fun.
The day will start out with food trucks and games at the Rally Alley before the Homecoming football game against Trinity International University at 1 p.m. at the CBC stadium.  
For more information about the Homecoming week events, check out the official schedule below.