The COVID pandemic has not only affected our schools, but non-profit organizations as well. Boys Hope Girls Hope of St. Louis is a local non-profit that has risen above the challenge to help continue giving opportunities to children who would normally be left behind.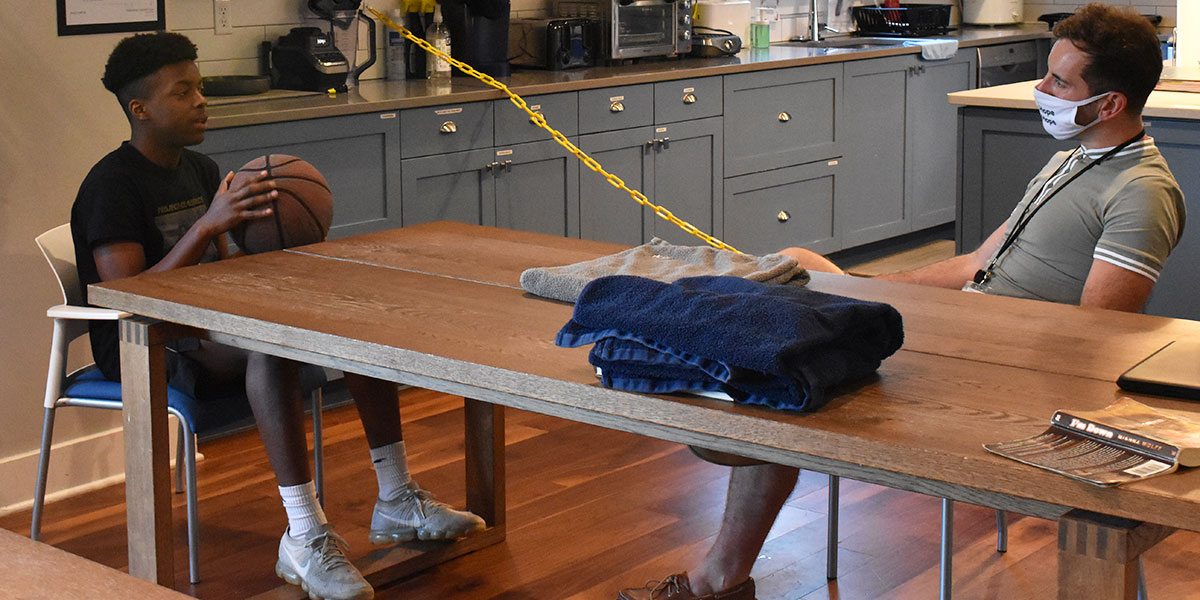 Scholar Kamren sits down to have a discussion with BHGH therapist, Brady Sullivan. Not only is the scholars' academic performance a high priority in the program, but their mental health as well.     Photos by Erin Dunnegan
__________________________________________________
"To nurture and guide motivated young people in need to become well-educated, career-ready men and women for others." This has been the mission of Boys Hope Girls Hope since it first opened its doors in 1977.
Boys Hope Girls Hope, also known as BHGH, is an international non-profit organization founded with Jesuit principles by Father Paul Sheridan, who served as the president of St. Louis University High School from 1996 to 2005, helped to establish Loyola Academy in St. Louis and served as the president at Bellarmine College Preparatory, an all-boys Jesuit high school in San Jose, California, from 2005 to 2015.
Sheridan's vision for this program was to help break the cycle of poverty by offering children a stable, loving home with access to quality education. 
Scholars who participate in the program live in a family-like home with other participants, are enrolled into college preparatory schools, and join in extracurricular activities and community programs. 
Over 40 years later, the program has grown to include affiliates in 14 different cities across the U.S. and two in Mexico and Guatemala. 
Here in St. Louis, the local affiliate currently has 20 scholars participating in the program with an even split of 10 boys and girls ranging between sixth and 12th grade. 
"BHGHSTL is unlike any other non-profit in the STL region," Cassandra Sissom, who is the executive director of the St. Louis affiliate, said in an email. "We provide a level playing field for bright kids to reach their potential, which would otherwise be extremely difficult due to circumstances beyond the kids' control."
To the scholars participating in the program, Boys Hope Girls Hope is so much more than just an academic program. 
"Boys Hope Girls Hope is a great opportunity to learn and develop into a young woman," said Justyce, 14, a Girls Hope scholar whose last name is being withheld as a courtesy to students' privacy.
Ciara is another Girls Hope scholar who joined BHGH back in 2019 when she was only 12 years old. "BHGH gives me support. They help to give me a clear future." 
Michael, 15, a Boys Hope scholar, loves the family connections that BHGH has given to him.
"Boys Hope Girls Hope means family. It means family because I will always have someone to lean on and ask for help. Just like a real family," said Michael.
The emergence of the global pandemic in March 2020 closed the doors of the dormitories and forced the staff of BHGH to get creative with their care of the scholars in the program.
The residential counselors still met every day with the scholars under their care, with social distancing and safety protocols in place, offering tutoring and mental breaks. 
Staff members held parades for birthdays and graduations, all trying to show that we are all still connected even though we physically had to be distant. 
BHGH reopened in August 2020 for preparation of the current school year. 
All the scholars are attending school virtually with a new study space set up in the basement of the home campus located in Richmond Heights, Missouri, including a desk for each scholar 6 feet apart and a cafeteria set up for lunch breaks. 
The dorm rooms were fitted with a curtain dividing the room in half, giving the scholars a sense of privacy while maintaining COVID compliance. 
While day-to-day life may look a little different, the mission has not changed.
Jan Wacker, director of development, has spent the past 11 years making personal connections with each of the scholars.  
"Miguel, Karl, Justyce, Sidnei, all names of real people, real scholars who are being given opportunities. Opportunities is what BHGHSTL is all about," Wacker said in an email. "Providing our scholars who are motivated (but still goofy teens at times) the environment and opportunities to thrive in the face of obstacles, to adapt to an ever-changing world, generates a positive ripple effect in their families, their future workplaces and in the community they choose to live in someday. Our scholars inspire me daily as they strive to reach lofty goals. Goals made possible through the Boys Hope Girls Hope St. Louis Program."
Julie Newman has worked with BHGH as the business manager for the past 12 years, and is currently the longest-standing employee. Watching firsthand the opportunities given to each individual who comes through the door is what Newman feels the program is all about.
"The mission of BHGH is important to me because it gives smart kids a place to call home if their living arrangements are not ideal," Newman said in an email. "I've watched numerous young men and women grow up at BHGH and go on to be productive valuable citizens who often return to give back."
Throughout the years, alumni of the program have gone on to excellent colleges and universities across the country, including MBU. If you are looking for a wonderful service opportunity, BHGH is always looking for dedicated volunteers who can help with tutoring, meal prep or fundraising initiatives.
You can sign up on the office website, https://boyshopegirlshopestl.org or by calling (314) 776-9406 to speak to Terry Sibbitts, the community relations manager.
____________________________________________________________