From the first time being up in the plane, Emmi Windes knew she didn't want to come down to Earth. Taking the steps to become a pilot is difficult and challenging, but this high-flying MBU student is ready to take to the sky.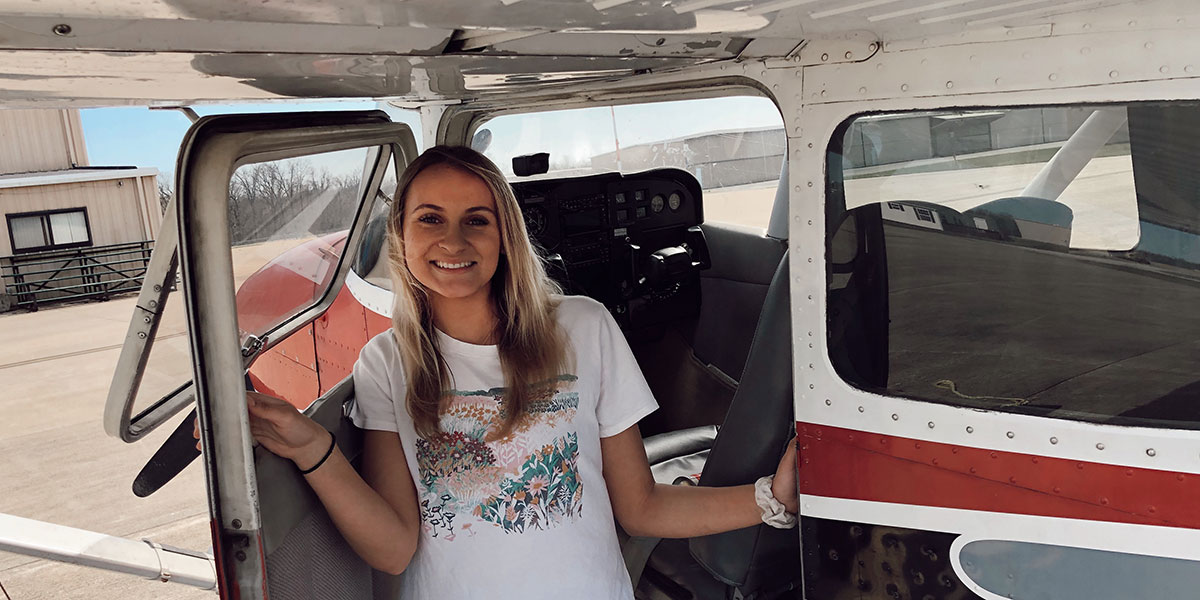 Emmi Windes, sophomore communications studies major at MBU, gets ready to hop in the cockpit of the Cessna single-engine airplane she is learning to fly during a series of flight lessons. Windes, who comes from a line of pilots in her family, hopes to one day be a commercial pilot herself.         Photo courtesy of Emmi Windes
__________________________________________________
For some college students, their dream is being a doctor, a teacher, or even a professional athlete. For Emmi Windes that dream is being 37,000 feet in the air flying a plane. 
Windes, a sophomore communications studies major from St. Clair, Missouri, has three generations of pilots in her family, starting with her grandpa Everett B. Windes, who flew with the Civil Air Patrol, which is a federally supported non-profit corporation that serves as the official civilian auxiliary of the United States Air Force. 
Everett Windes wanted to be involved in the military but had a tragic farming accident at a young age which left him with only one leg.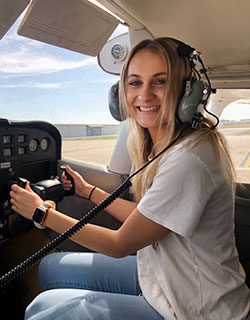 The next generation is her father, Lt. Col. Jack Windes, who serves in the Missouri Army National Guard as a Blackhawk and Apache helicopter pilot. 
Having two generations of pilots in her family, Windes felt like she never wanted to come back down again from the first time she went up in a plane with her dad at age 14.
Windes said her passion started at a young age, as  she remembers sitting on her dad's shoulders watching the planes take off.
"I also love the scenery. I love looking below me and seeing my house, my church, Six Flags, the Arch and the Mississippi River from a few thousand feet above the ground," Emmi Windes said.
When Windes was 14, she took over the flight controls while up in the air for the first time, flying in a small Cessna single-engine plane. 
Since then, Windes has had her eye on a bright yellow Piper J-3 Cub plane she hopes to one day be able to own herself. For now, the Cessna 172 will have to do for her flight lessons at the Creve Coeur airport, or Sullivan Regional Airport, where she has been taking lessons for the past year.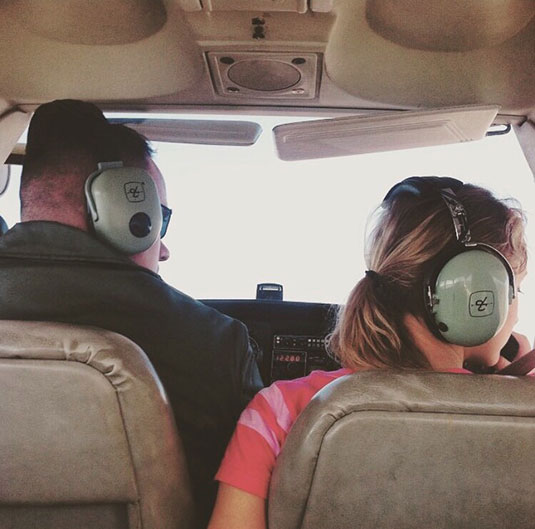 Emmi Windes and her father, Jack, enjoy flying together as often as possible.      Photo courtesy of Emmi Windes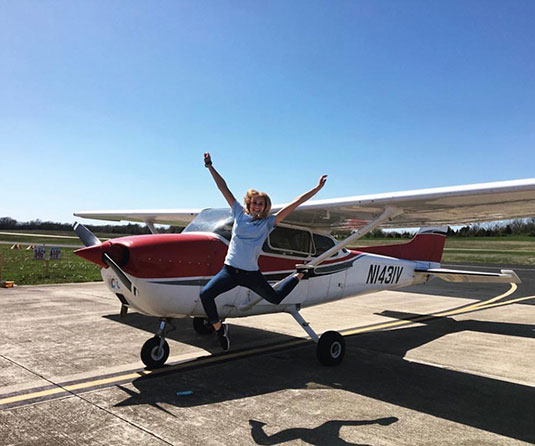 Emmi Windes jumps for joy after logging successful flying time recently.     
Photo courtesy of Emmi Windes
Windes said her father recently received his official certification for flight lessons, so he will be her instructor moving forward.
Windes does not have a set end goal for when she will receive her pilot's license, but hopes to have it by summer 2022. With uncertain times, that date may be pushed back. 
Windes hopes to first get her private pilot's license, which requires 40 hours of recorded flight time, flight time with an instructor in the plane, cross-country time, night-flying time, a written test the FAA provides and an oral test.
Windes has logged about 12 hours of flight time while she also studies for the written test. Flight lessons aren't the cheapest either, as Windes pays roughly $120 per lesson.
Windes has a checklist that must be completed before each flight. She needs her flight log and a completed preflight check ensuring there are no dents or scratches, the wheels are not falling off and the wings don't have any damage to them.  
After getting her pilot's license, Windes' dream is to be a commercial pilot, or to work for a bigger commercial airline company. 
Windes has had her fair share of scares while flying. One of her scariest memories came when she was 17 and her instructor decided they would be doing emergency landing drills.
The instructor would take charge of the flight controls from her side, go around in loops and circles, and then have Windes take control and stabilize the aircraft. But that all led to Windes gaining more confidence in the fundamental maneuvers, like taking off and landing the plane.
 "The feeling I had when I first landed the plane during my first flight lesson was unmatchable. It wasn't perfect, and my instructor guided me through it, but it was an amazing feeling to be the person behind the controls in a successful landing," Windes said.
Her dad and grandpa are a few of her biggest supporters and always encourage her to achieve her goals.
Windes wishes she could tell her younger self to "start flying sooner," noting: " I wish I would have flew more in high school when I had the time. It's crazy trying to find the time to fly while in college, playing soccer, working two jobs, going to church, etc. I wish I could've gotten a jump start when I was younger."