The 2023 Illinois March for Life occurred in Springfield, IL on March 21, 2023. Originally held in Chicago, the event drew pro-life supporters from across the nation to march around the state capital on a cloudy, 40-degree day.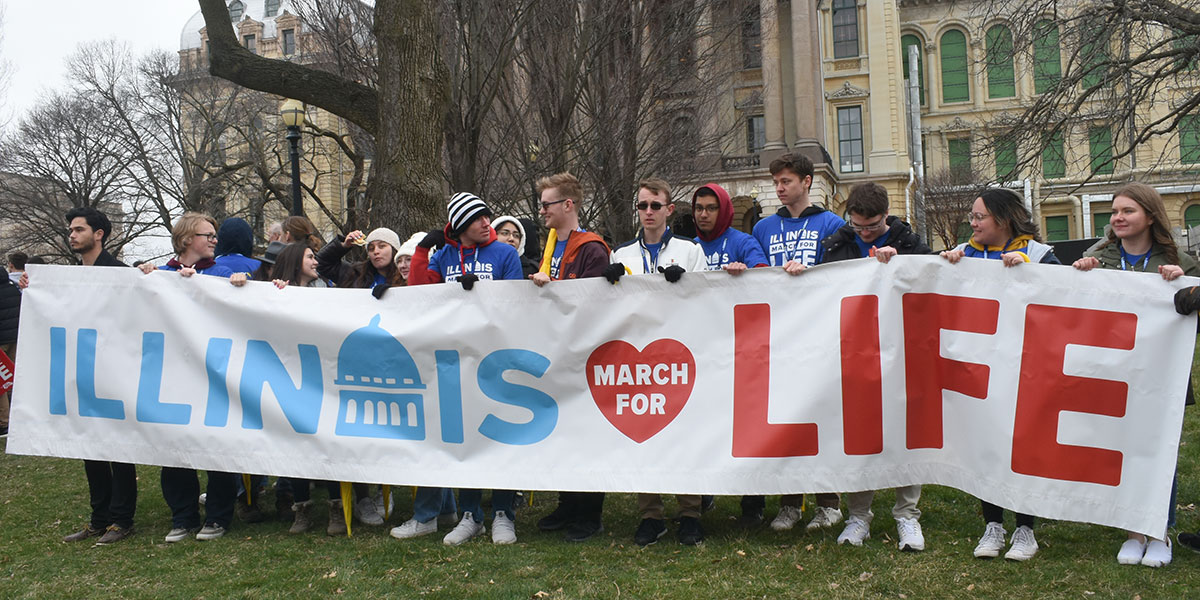 Volunteers for the Illinois March for Life held the banner in front of the Illinois state capitol building before stepping onto the street to lead the march around the capitol building. All photos by Isabel Rinkenberger

___________________________________________________
The electrifying atmosphere betrayed the cloudy sky.
Thousands of people gathered in front of the Abraham Lincoln statue, the guardian of the Illinois state capitol building, their voices mingling with the rushing wind.
Mothers cradling babies swaddled in multiple pastel blankets and fathers standing guard over strollers holding thumb-sucking, rosy-cheeked toddlers dotted the crowd.
Grade-school-aged children turned cartwheels in the nearby grass, their laughter mingling with the defiant shouts of protestors beginning to line the streets to oppose the March.
Men and women old enough to be the great-grandparents of those children stood by college pro-life clubs.
Homemade banners and colorful picket signs poked above heads, splashes of every color in the rainbow dotting the dark raincoat- and hoodie-clad crowd.
Yellow balloons, the signature color of the event, lined one side of the crowd while pro-choice supporters began setting up camp on the sidewalks lining the path of the March.
Every 30 seconds, the crowd would erupt in applause and cheers, equivalent to an artist finishing a song during a concert, in support of whoever was leading the pre-march rally at the time.
United by a common belief that all life matters, people of different backgrounds, ages, and denominations gathered in one place to take a stand.
The gallery below depicts just a few of the faces who turned out for the March.