Army Veteran. Professional Photographer. Competitive Archer. Bus Driver. Servant.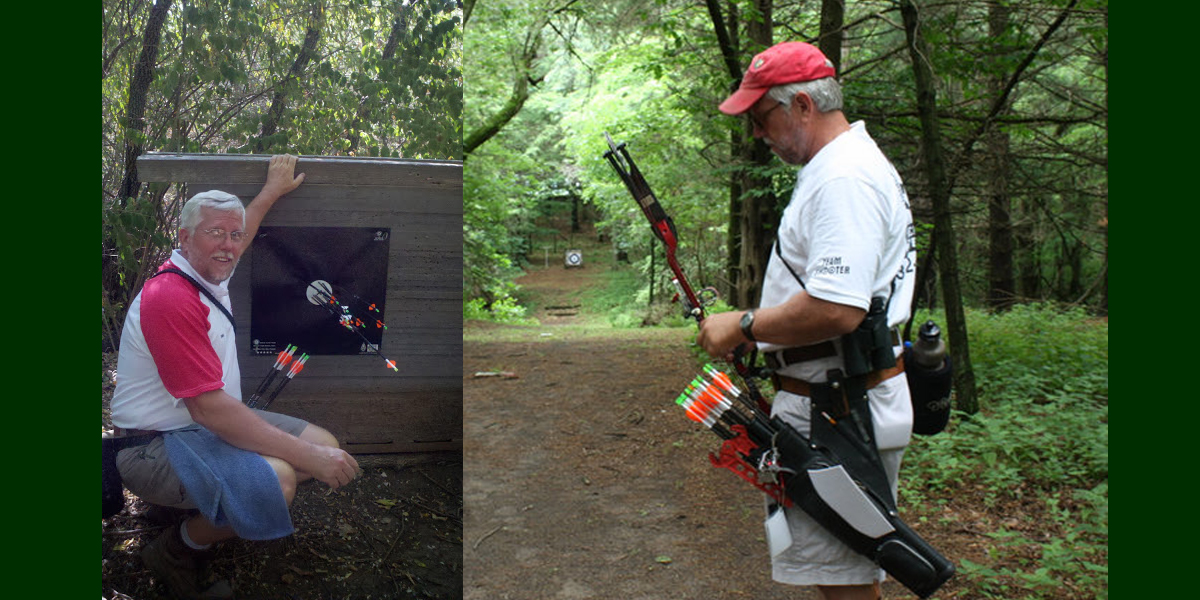 Photos by: Bill Myers
__________________________________________________
If you have ever had the pleasure of traveling with a Missouri Baptist University athletics team, odds are that you have been taken to some small town in the Midwest by Wild Bill.
Seemingly a legend on campus, Bill Myers is the man behind the wheel for many Spartan teams.
He received his nickname, Wild Bill, due to the heavy importance he places on punctuality; if punctuality means being there an hour early.
Though many have had the pleasure of meeting and traveling with Myers, few know his story.
Myers was born in Evansville, Ind., and quickly moved to Hoene Springs, Mo., when Chrysler moved its headquarters to St. Louis.
One of the first major events in his life was at the age of 17 when Myers was working in a machine shop making suspended grid systems for ceilings.
While cutting aluminum, Myers got ahead of himself and had about a third of his right index finger cut off by a punch press.
"Everybody freaked out that night except me," Myers said.
After being rushed to the hospital, doctors told him that the end of his finger couldn't be surgically repaired.
Myers was never phased.
He graduated from Northwest High School in Cedar Hill, Mo., in 1969, then enrolled in Jefferson College.
After three months at the community college, he decided he wanted something else in life.
"One day I just got up, went down, and enlisted in the United States Army," said Myers.
The day he enlisted, March 9, 1970, was a date he has never forgotten.
He first reported to basic training at Fort Leonard Wood in Central Missouri, then headed over to Fort Devens in Massachusetts for his advanced training.
Soon after, the United States shipped Myers overseas to a place that would change his life.
"They sent me to a really really nice duty station. I went to West Berlin, Germany," said Myers, "and was there for four years."
Myers worked for the National Security Agency at a Cold War listening post, which sat upon the largest man-made mountain in Berlin.
His job during this time was to listen to Russian and East German communications.
During his time listening to coded messages, Myers picked up two of his greatest loves in life.
He quickly discovered he had a passion for photography, and he also found his wife Bell, and he brought both back to the states.
Photo by: Bill Myers
A picture of the Berlin Wall showing "no man's land," taken by Myers during his time in Europe with the NSA.
Upon Myers' return to Fort Hood, Texas, he married Bell in 1975 and decided he was going to go to school for photography.
He enrolled in the Art Institute of Fort Lauderdale in 1978 and after earning his degree in photography, worked as a professional photographer for 10 years in the St. Louis area.
Once again, though, Myers felt called to serve in 1982 and enlisted in the Army Reserves, which is similar to working part-time for the military.
Most soldiers go through training every few weekends and take rotations of doing full-time duty.
It was also during this time that Myers went to work for a "defense contractor," he said.
"I worked in their Security Department, working on special programs for the government, and that's pretty much all I can tell you that I did there," Myers said with a short chuckle.
After serving in the Reserves and working on special defense programs for 15 years, Myers decided to retire from both in 1998, capping his military service at 21 total years.
Simply just driving around and looking for work, Myers saw a want-ad for bus drivers in the school district he graduated from back home.
He took the offer, went to training and began driving buses for his very own alma mater, Northwest High School.
Two years passed before Myers was approached by MBU to be a driver for the athletic programs.
After a quick interview with Stephen Heidke, MBU's director of public safety and transportation, Myers was hired as a driver for the university.
"During my time … I noticed, particularly when we're on the road, there's nobody taking photographs," said Myers. "So I decided, well, I hadn't really done a lot of photography, so I decided to pick it up again."
Myers now is the unofficial photographer for all Spartan road games that he attends.
All of his pictures get posted onto his own MBU Sports facebook page, which are free to the public.
Also, as if Myers was not interesting enough, he has also had a love for archery since 1978, when his brother-in-law suggested they pick it up to increase the time they can spend deer hunting.
Come to found out that while Myers was a professional photographer, his boss was a skilled archer, which allowed him to grow more in his love for the sport.
"I went out and bought a bow, and arrows, and the whole nine yards, and virtually fell in love with the sport," Myers said. "I started shooting locally and competitively in 1980."
He tries to practice about four to five times a week depending on his travel schedule with MBU, and he still competes locally and in state competitions to this day.
He has competed nationally, being a part of the National Senior Olympic games twice, and he keeps up with the Olympic Archery staff.
Aside from his hobbies, Myers has greatly enjoyed his time serving the student and coaches here at MBU.
"I really really enjoy taking these young adults and watching these games," said Myers. "I'm sometimes the only one in the stands. … It's a cool job."
Since his birth, Myers has been a servant.
From serving the government, to serving students, Myers has used his God-given ability to serve others willingly and daily.
So next time you come across the big smile of Wild Bill, be sure to shake his hand, and thank him for all he does.
Take a moment to listen to his stories or ask to see some of his favorite photos. Some of them may take you to a whole 'nother place and time.