The winter weather is a great time to get together with family and friends to pop in your favorite Christmas movie. With so many holiday movies to choose from, the Christmas classic "Elf" is a must-watch for sure. Additionally, there are many other Christmas movies that are at the top of the MBU community's favorites.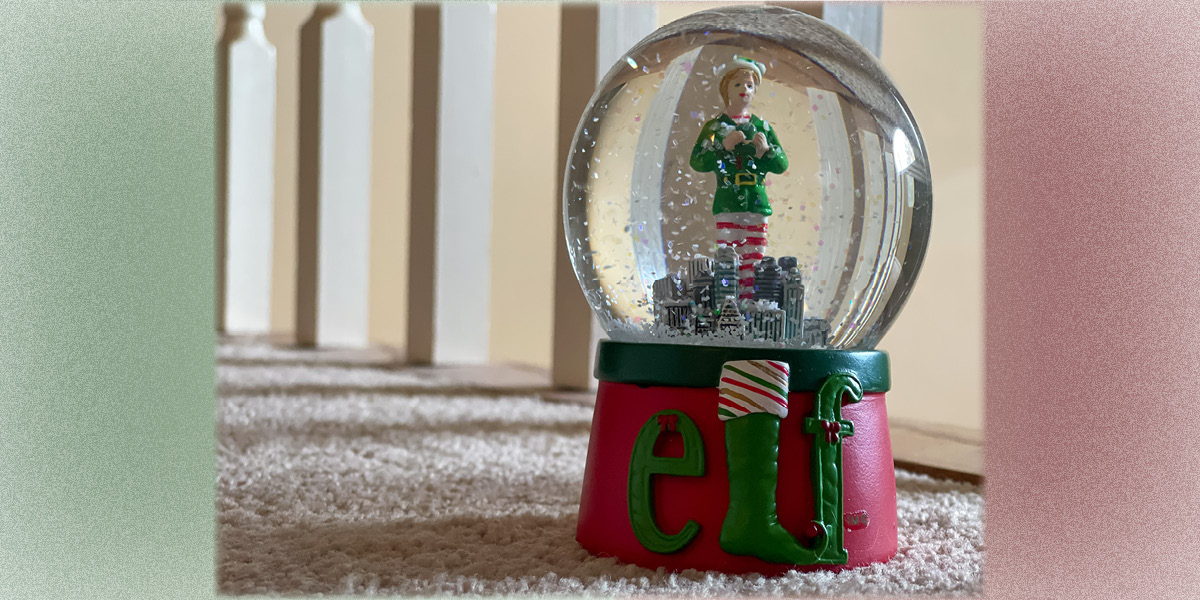 Watching Christmas movies is always a fun activity to do over the holidays. "Elf" is a great movie to consider this season if you are looking for a silly, comedic and heart-warming movie. The original 2003 motion picture "Elf" was created into a musical in 2010 by Thomas Meehan and Bob Martin. I acquired this "Elf" the musical snow globe after seeing the performance in December of 2017 with my dad. This snow globe is special to me because not only do I collect them but it is adorned in "Elf" my favorite Christmas movie of all time. Photo by Jessica Kunkel
__________________________________________________
With the Christmas season and the nipping winter weather quickly approaching, it's time to unfold the buffalo plaid patterned blankets, grab a steaming mug of hot chocolate, curl up on the coach and turn on your favorite Christmas movie.
With the variety of holiday movies to choose from, it can be difficult to settle on which one to view, whether you are watching them on your own or with friends and family.
For me, however, when it comes to picking that classic Christmas movie to view on Christmas Eve or Christmas Day, I undoubtedly always choose "Elf."
Making its debut on Nov. 7, 2003, and starring the talented actor and former SNL cast member Will Farrell, "Elf" is a classic holiday movie the whole family can enjoy.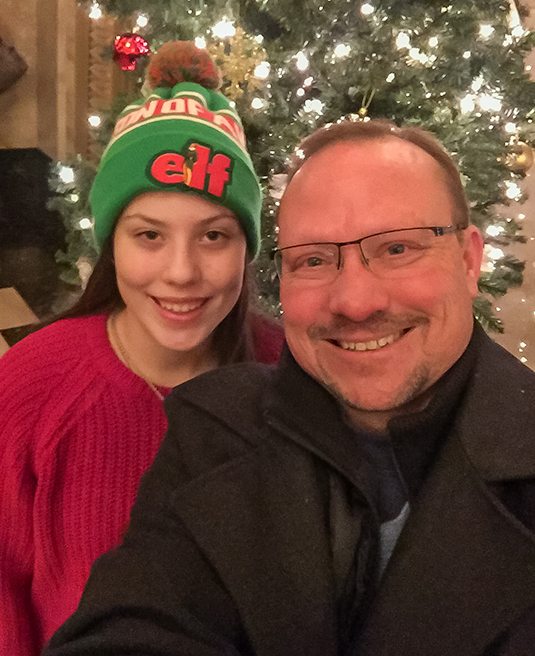 This movie caters to all ages and leaves viewers laughing, creating lasting winter weather memories.
Written by David Berenbaum, "Elf" tells the story of a human baby who grew up with Santa (played by Ed Asner) and his elves at the North Pole. It wasn't until he became an adult that he realized he wasn't a natural-born elf, his mother had passed away, and his father was remarried with another son living in New York City.
So, Buddy the Elf goes on a journey to find his biological dad. "He passed through the seven levels of the candy cane forest, through the sea of swirly-twirly gumdrops, and then he walked through the Lincoln Tunnel," finding himself in the Big Apple.
In New York, Buddy rekindles a relationship with his dad, finds true love, and makes life-long friends along the way.
The movie finishes with a happy ending for both kids and adults alike, with the lasting reminder "that the best way to spread Christmas cheer is singing loud for all to hear."
There isn't a part of "Elf" that I do not like. This film is not only my favorite Christmas movie, but it is also actually my second favorite movie of all time, behind only Walt Disney's 1992 "Aladdin"
The No.1 reason why I like "Elf" is because I have watched it so many times. I can now quote the majority of the lines.
The first quote I look forward to in this movie is by Mr. Narwhal, a whale voiced by Jon Favreau, who was also the director of the movie. The quote makes me laugh every time.
Just as Buddy is leaving the North Pole, Mr. Narwhal shoots out of some water and nonchalantly says, "Bye Buddy, I hope you find your dad."
This quote is simplistic and probably doesn't add any value to the movie as a whole, but Mr. Narwhal just comes across as such a goofy and wholesome character in "Elf," thus making him and his quotes my favorite in the movie.
Another great "Elf" quote occurs a couple of scenes earlier when Buddy is asked how many Etch A Sketches he's made by one of the elves. Buddy tells Ming Ming the Elf he has fallen short on the quota, only making 85, to which Ming Ming and the other elves look up at him, stunned.
Ming Ming responds, "85, that puts you 915 off the pace." Buddy then says his famous quote: "Why don't you just say it, I'm the worst toy maker in the world. I'm a cotton-headed-ninny-muggins."
This is hilarious because finishing 85 Etch A Sketches seems like it would be a lot to us humans, but by elf standards, this is absolutely terrible.
As a result of Buddy's inability to make toys at a fast pace compared to his elf friends, he starts to wonder why he can't keep up.
He then overhears two elves talking about him and how he failed at reaching the toy-making quota, and it is at this moment he overhears that he isn't a biological elf. This scene jumpstarts his quest to look for his dad in NYC.
There are many unique and quirky scenes interlaced in the movie as well. All Buddy knows is the life of being an elf, so sometimes his social cues in NYC don't come across as the most socially appropriate.
These occurrences that Buddy runs into or finds himself in are just a few of the comedic scenes that make "Elf" so enjoyable to watch.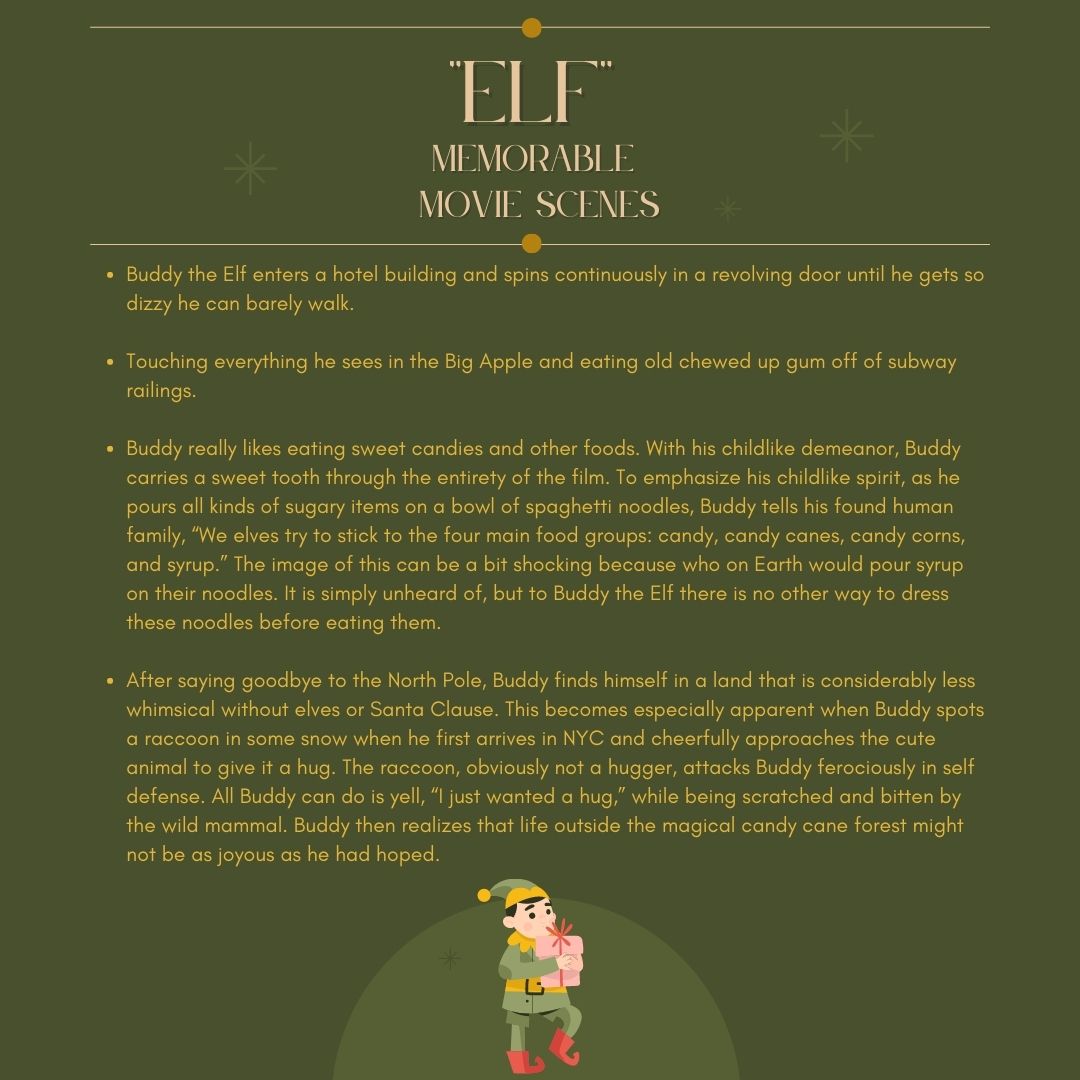 According to some of my friends and family, "Elf" is not commonly the first pick when it comes to classic Christmas movies because of its silliness and chaotic storyline.
They much prefer movies they consider to be Christmas classics, such as "It's a Wonderful Life," "How the Grinch Stole Christmas!" and "A Christmas Story."
But, for me, "Elf" is considered your typical must-watch Christmas movie, which is one of the main reasons I find this movie to be so entertaining and special. 
The holiday season just doesn't feel complete to me if I haven't watched "Elf."
So, as you watch the cold flakes of snow start to sway from the sky and you are cozied up in a blanket in front of your TV, you might be drinking a hot mug of "the world's best cup of coffee," but don't be a "cotton headed ninny muggins" this holiday season. Watch "Elf."
After all, the best way to spread Christmas cheer is by watching "Elf" for Christmas every year.
Zoom in on or click on and download graphic below as a PDF for a more detailed view. Graphic created by Jessica Kunkel