A unique menu and noteworthy mission statement make one St. Louis coffee shop stand out above the rest, and it's several miles west of downtown.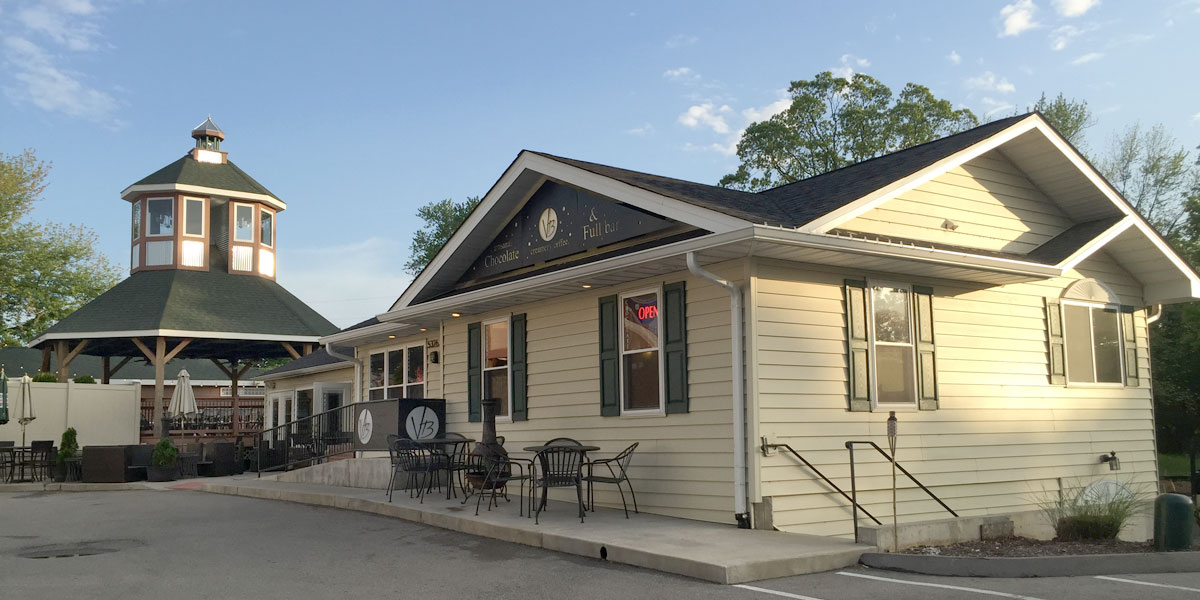 Photo by Chelsie Bartley
_________________________________________________
Tucked away in quiet Cottleville, Mo., is a coffee shop with a noteworthy mission and a unique coffee experience unlike anything else in the St. Louis area.
An unexpected surprise in such an unassuming part of St. Louis, the first thing you'll notice as you walk inside VB Chocolate Bar is its calm and simplistic design.
With cool greens and dark browns, VB has a welcoming touch, while mismatched chairs and tables furnish the restaurant in a nonspecific way that adds to its easygoing vibe.
At the entrance of the small coffeehouse, there is a large barnwood table, perfect for large gatherings or business meetings.
On the counter, small clipboards with the menu are available, along with a list of their homemade ice cream flavors and a sample of the day's pastries.
The very first thing you should know about this place is that it's not like any other coffeehouse you've been to.
Owners Conor and Stacey VanBuskirk started VB with the goal of only selling products made in-house.
This simply means that whatever you eat or drink inside VB was hand-crafted there for your enjoyment, with the exception of some of their coffee.
Providing everything from their own roasted coffee, which they only just started offering, to specially made chocolate, you will never be disappointed by the quality of your order.
When I ordered my iced brown sugar vanilla latte, it was served in a glass mason jar and it was absolutely perfect.
When I say the owners have thought of everything, I mean it.
The coffee was flavorful and you could tell the roasting was viewed as a craft, not a job.
"All of the coffees we offer are hand selected from award-winning roasters across the U.S.," the VanBuskirks' website says. "We then carefully determine the best method of hand-brewing the coffee to provide our customers with the greatest cup they could possibly encounter."
This is evident as they only order coffee from exceptional roasters from across the U.S. like Blueprint (St. Louis), Kuma Coffee (Seattle), Ruby Roasters (Wisconsin), and Sump Coffee (St. Louis).
Their website includes an in-depth look at what they're doing to give you the best experience possible.
"We strive to provide the best single origin, lightly roasted coffees as well as education and insight into the world of specialty coffee," the website says. "We grind and hand-brew all of our coffees to order to ensure quality and freshness."
In addition to coffee, VB also offers a selection of teas.
The delicate caffeine-free rooibos and strong, robust black tea are both included on the menu and can be ordered as a six-cup pot or single cup.
Last, but certainly not least, VB has without a doubt some of the most delicious hand-crafted chocolate I have ever had the privilege of eating.
Truffles are available for $2.50 each, with inventive flavors ranging from pear and goat cheese to ghost pepper strawberry caramel.
Wanting to get more for my money, I decided on a chocolate-covered s'more.
I could not have been prepared for how delicious it was.
Everything was pure perfection, from the crunch of the graham cracker, to the fluff of the marshmallow, to the sweetness of the chocolate covering.
The menu at VB seems endless and makes it extremely difficult to settle on one certain dessert.
Unfortunately, their prices are a little high and this college student will have to be choosey when it comes to their chocolate masterpieces.
Located south of St. Charles Community College, west of Mid Rivers Mall Drive and north of Highway 364 in Cottleville, VB Chocolate bar is a perfect place for a special night out or an afternoon meeting.
So do yourself a favor, go there, eat the chocolate-covered s'more and then cry little happy tears of satisfaction.
It's that good.