Attending a concert featuring a favorite artist is a rite of passage for many young people. For me, this rite of passage came in the form of a recent Twenty One Pilots concert. The thrill of seeing a band I have loved since I was a freshman in high school was enhanced by the group's stunning visual presentation, musical prowess and sincere performance.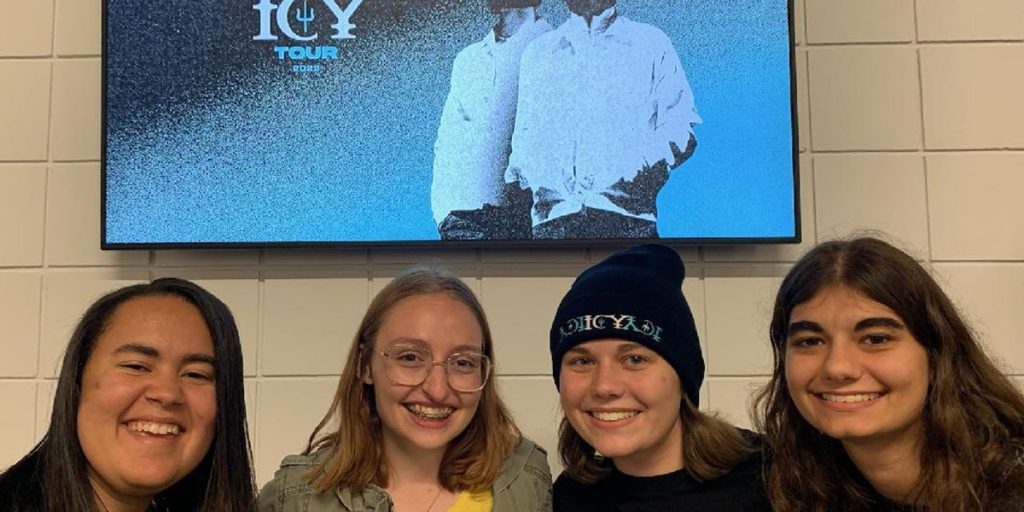 __________________________________________________
A hush falls over the sea of people crowded into the Enterprise Center as two men emerge from an electric blue door, shrouded in faux fog. Their faces are completely hidden by black ski masks, the round glass lenses covering their eyes lend them an alien, almost insectoid appearance. The effect is somewhat disconcerting, yet the crowd erupts into thunderous applause, cheering and screaming not out of fear, but out of joy.
That's because the masked men in question are Tyler Joseph and Josh Dun, lead singer and drummer, respectively, of renowned musical duo Twenty One Pilots, and they are about to wow the crowd with a concert that combines spectacle and musical skill.
The pair has been making music since the release of their debut album, "Twenty One Pilots," in 2009, but they first popped up on the mainstream radar (pun intended) in 2015 when songs "Stressed Out" and "Ride" from the "Blurryface" album became radio sensations. Most people's knowledge of the band starts here and ends with more recent hits "Level of Concern" and "Saturday," but my experience was a bit different.
I had first been exposed to Twenty One Pilots in early high school, when I was a frequent listener of local radio station Boost 101.9. Boost dedicates its airtime to Christian pop, rap and hip-hop, and because many of the songs Joseph writes are influenced by his Christian faith, they frequently played Twenty One Pilots even though their music did not necessarily fit within any of the aforementioned genres. Spotify generally categorizes it as "alternative rock," but the band frequently utilizes elements of rap, indie and electronic music, among other influences.
The best part was that when the band broke out in 2015, Boost didn't stop at just "Stressed Out" and "Ride." They played almost every song from "Blurryface," and several tracks from previous album "Vessel." And when Twenty One Pilots released "Trench" in 2018, the station played nearly every song from that album too.
I liked what I heard. Joseph and Dun's work hit a particular sweet spot. The music listener in me loved their catchy, fast-paced tunes. The literature nerd in me loved that they took their band name from the Arthur Miller play "All My Sons." And the angsty young Christian in me loved that they balanced the expression of genuine, complex emotions with acknowledgement of faith.
I carried my love of Twenty One Pilots with me into college and eventually discovered that a few of my new MBU friends were fellow fans (they're not hard to come by in the young Christian community). We eagerly listened to and loved their latest album, "Scaled and Icy," and as soon as we found out they would be stopping in St. Louis on the tour, we knew we had to see them.
We bought our tickets almost six months in advance, so I had plenty of time to build anticipation for the event, but I wasn't sure exactly what to expect. I had never been to a Twenty One Pilots concert, and I had only seen a few clips of their live performances, so while I was excited to see them, I didn't have a lot of expectations.
As it turned out, any expectations I did have were far exceeded within the first few minutes of Joseph and Dun being on stage. From the moment they stepped out of that blue door, I was impressed by their showmanship, and the masks and fog were only the beginning.
From the standpoint of visuals alone, the concert was spectacular. In addition to the fog, the performance utilized pyrotechnics, confetti cannons and artificial snow as accents without overshadowing the music itself. And instead of merely displaying larger images of the performers, the big screens on the stage showcased colorful animations referencing the characters and iconography of the band's concept albums.
The villainous nine bishops from "Trench" appeared to advance ominously toward Joseph during "No Chances," adorable gremlin-like critter Ned of "Chlorine" music video fame reprised his role for the live performance of that song and even Blurryface himself made a cameo in "Stressed Out."
The theatrics weren't limited to effects, though. Joseph, Dun and their backup musicians more than proved themselves as performers.
While he primarily serves as the band's lead singer, Joseph showed off his instrumental skill during the concert when he accompanied songs on the piano, the ukulele and the bass guitar. Even when he didn't have an instrument in hand, Joseph wasn't just singing. He was constantly moving, roaming around the stage and into the crowd, dancing, climbing on any available raised surface and politely bowing to the audience whenever they applauded.
Not willing to let his bandmate have all the fun, Dun also got in on the antics when he did a backflip off of Joseph's piano and later surprised the crowd with a trumpet solo. His drumming, though, was far from boring. One thing that my fellow concert goers particularly praised was how Dun managed to let his personality shine through his performance without uttering a single word.
Of course, the music itself was fantastic too. Twenty One Pilots delivered a setlist that was sure to please casual listeners and diehard fans alike. Joseph and Dun balanced more recognizable hits like "House of Gold," "Heathens" and "Morph" with beloved deep-cuts like "Addict with a Pen," "Message Man" and "Nico and the Niners."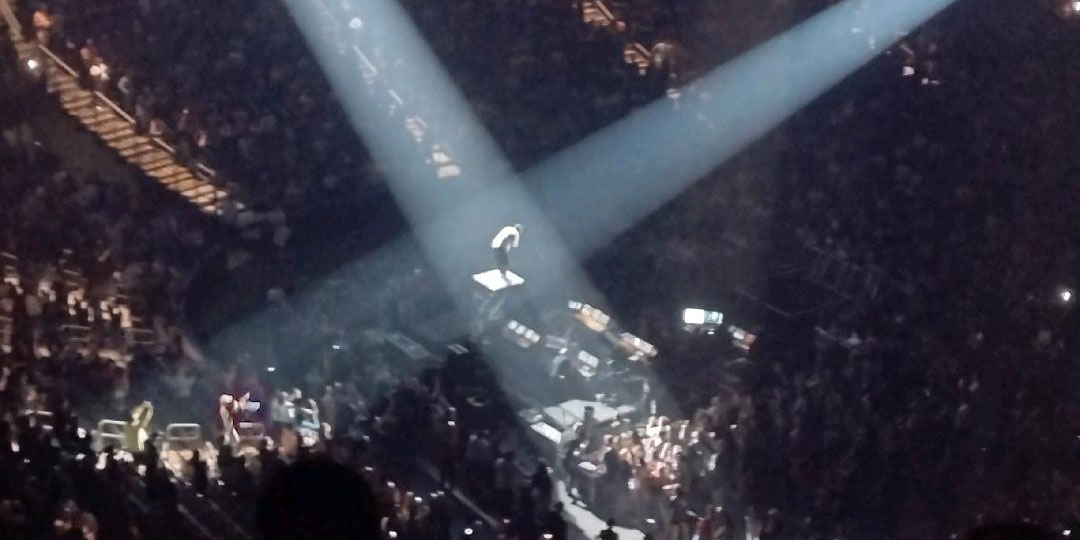 Two spotlights illuminate Twenty One Pilots' lead singer Tyler Joseph as he performs from atop a platform in the midst of an enthusiastic crowd. Photo by Elsa Linson
A particular highlight for longtime followers of the band came when Joseph played through one song from each of Twenty One Pilots' six records in consecutive order. I, however, got even more excited when just afterward he played "The Judge," which has been my favorite Twenty One Pilots song since my Boost-listening days. 
Getting to sing the lyrics that had tickled my imagination for the past seven years with the man who actually wrote them was like finally meeting face-to-face with an old friend I had only ever known through letters.
It was that element of heartfelt sincerity that truly made the concert hit home for me. In spite of the larger-than-life scale of their performance, Joseph and Dun maintained a genuine presence that caused them to come across as real people.
Two moments in particular made Joseph's sweet, down-to-earth demeanor abundantly clear to me. The first was when he began to tear up while gazing at the audience applauding him. He had to pause for a moment to collect himself, showing just how deeply his music is connected with emotion and how important it is for him to share this music with others.
The second moment was a bit more lighthearted. During the acoustic portion of the concert, the musicians sat around a prop campfire (with real flames). After joking about accidentally igniting the tails of his long coat, Joseph recalled a childhood memory: "When I was younger," he said, "we would make fires and I would jump over them."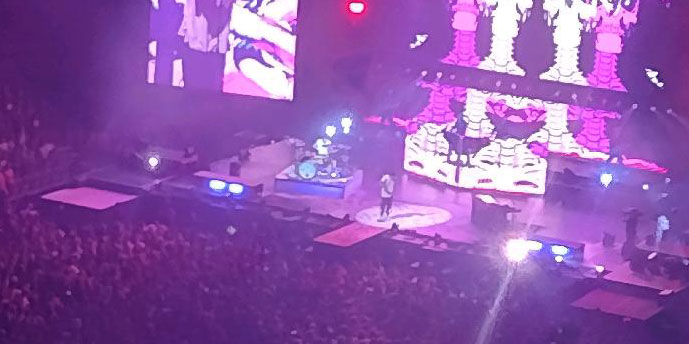 Then, as if on impulse, Joseph ran and leaped over the flames. Grinning like a madman and, fortunately, unsinged, he returned to his seat next to Dun as the audience erupted into a fresh round of applause brought on by admiration and relief. The whole escapade reminded me of my cousins, the Fischer boys, six equally reckless brothers who also happen to be Twenty One Pilots enthusiasts.
Joseph's glee was emblematic of the other element that really made the concert stand out for me: it was fun.
All the descriptions of elaborate visuals and standout musical performances can't quite convey the exhilaration I felt as I attempted to scream along to Joseph's lightning-fast rap with scores of fellow fans. The band's enthusiasm was utterly contagious, suffusing the atmosphere of the arena with giddiness.
That giddiness was certainly not lost on MBU student Grace Covington, who sat next to me during the concert. Any time we recognized a song or anything remotely exciting happened, we would clutch at each other, shaking violently and squealing with joy.
That joy stayed with me long after we trekked back to my car and journeyed back to North Hall to soothe our raw throats with piping hot tea. It stuck with us as we proudly paraded across campus the next Monday, eager to show off our concert merch and share stories, and I don't think it's a thrill we will be forgetting any time soon.