Weekly Christian fellowship groups give students a place to worship and grow in their faith.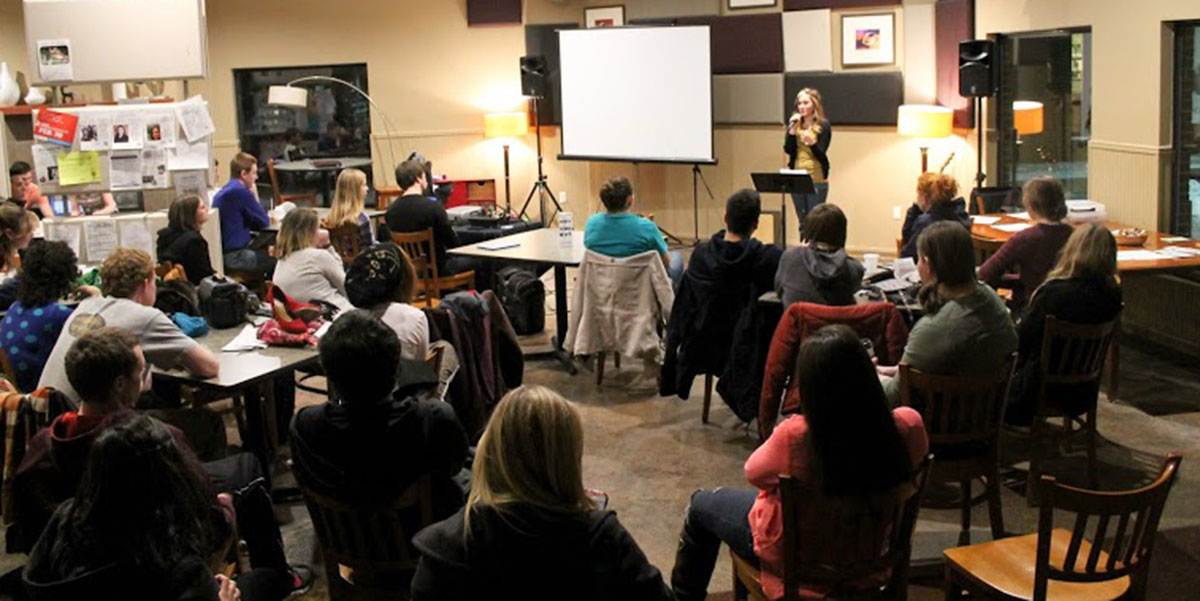 Photo by: Kayla Glyshaw
_________________________________________________
Thursday Night Live is now a weekly AMP-sponsored series on the Missouri Baptist University campus bringing students together at 7:30 p.m. every Thursday in the Perk.
"We wanted a strong sense of community on campus and a place where students could encourage each other with their testimonies," said Leah White, a sophomore ministry major.
White and her mother, Melissa White, introduced this campus fellowship night as a new way to have students build relationships.
AMP, which stands for A Mighty Passion, is an on-campus ministry that provides a place for students to gather, learn about God and develop their relationship with God in fellowship.
"Last year we had Reverb and we could never get the attendance up, so this year we decided to have Thursday Night Live to have it all be student-led," said Leah White.
Reverb was more of a Bible study format while Thursday Night Live is more topical and centers on fellowship, including a time of singing with worship.
"Attendance has been up and we always have new and more students coming and joining us on Thursday nights in the Perk," said Leah White.
Melissa and Leah White thought of the name, Thursday Night Live, for this event from the television sketch comedy series, "Saturday Night Live," and decided to use its play on words to their advantage in hopes that the name would intrigue students to come.
"It's been a good way to have the small groups that are meeting on campus to meet outside of Bible study time and have fellowship all together," said Leah White.
This year's change has resulted in more interest from students.
"With the combination of small groups and Thursday Night Live, attendance is up this year," said Melissa White.
"The students have opened up to the leaders more this year than they have in the past. They are really opening up and ready to talk about things that they are struggling with and not putting up a front about how their lives are perfect," Melissa White said. "They instead are seeking counseling."
In past years, the pattern has been that attendance would decrease with spring semester. However, that has not been the case this spring.
This semester, Thursday Night Live has seen little drop-off in attendance and the program continues to thrive.
"The plan is to continue. We have seen things die down after Spring Break so we will see how it goes after Spring Break, and hopefully right through the end of the school year," said Melissa White.
There has been a positive response from the students when referring to Thursday Night Live.
Victoria Byrd, a sophomore majoring in elementary education, said Thursday Night Live has been "ridiculously awesome. I love it. The worship is powerful and moving and there is always a variety each night. Not the same ol' stuff."
One of the most popular events took place on Feb. 13 when students performed "The Everything" skit.
Using the song "Everything" by Lifehouse, this skit is used as a way to depict the struggles that society gives Christians.
"'The Everything' skit was very moving and emotional, that sent a powerful message to the audience," said Byrd.
It shows how only through Jesus' love can we overcome the sinful ways of the world and live in peace.
"It was a great interpretation of how God will help us through any situation," said Emma Stokes, a junior at MBU majoring in human services.
For information on AMP, Thursday Night Live and small groups, please stop by the AMP office in the Student Development office or you can contact them on Facebook at https://www.facebook.com/groups/ampmbu/