The resident assistants of North Hall discuss the highs and lows of the job.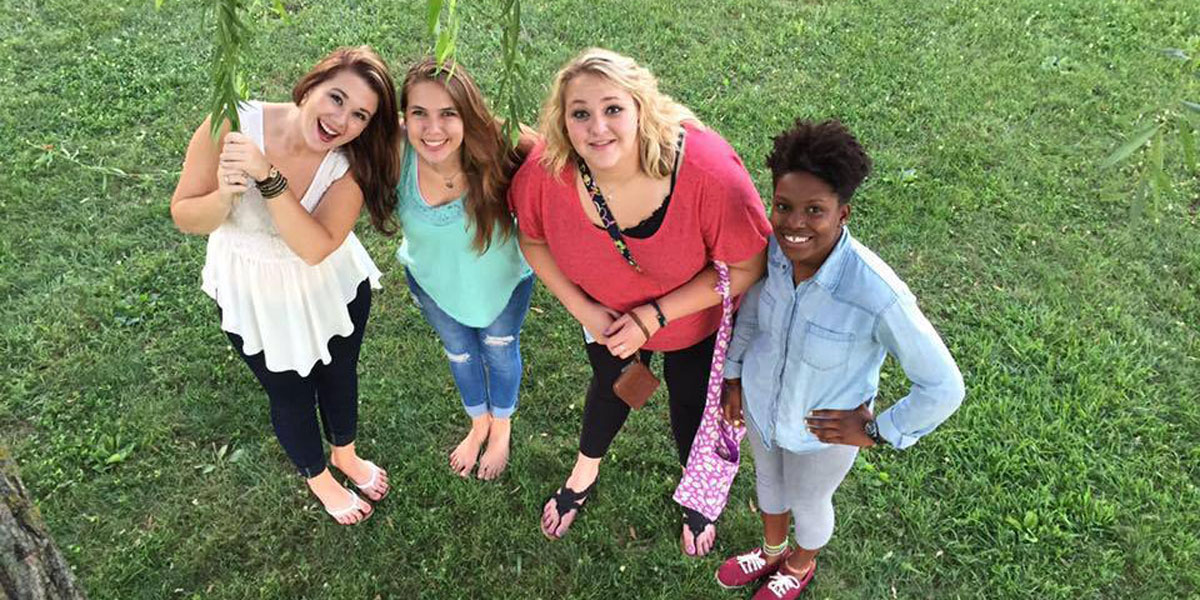 Photo by Kayla Knapp
Resident assistants of North Hall include, left to right, Chelsie Bartley, Tanya Drochner, Ashleigh Poteete and Valaree Logan.
__________________________________________________
On a recent Monday night at their weekly RA meeting, the women who serve as North Hall's resident assistants shared their experiences, triumphs and tribulations, along with many giggles, in the peaceful environment of resident director Kayla Knapp's dimly lit apartment.
This year's North Hall RAs, Chelsie Bartley, Tanya Drochner, Ashleigh Poteete and Valaree Logan, all had their own reasons for signing on as part of the res-life staff, but a common theme of the desire to serve others was readily apparent.
"I really like to help people, and for me that's just one of the ways I get excitement and enjoyment out of life," said Poteete, a junior psychology and human services major. "I wanted to make sure the freshmen coming in had a great RA, someone who was going to sit down and listen to them, plan fun events."
Drochner, a sophomore middle school education major, also noted her desire to serve and make a difference in the lives of residents.
"I became an RA because that's one of the best ways that you can impact people," Drochner said. "I just kind of felt that need to make sure that people were settling in OK, that they felt I guess comfortable coming to me with anything and so it would be an opportunity to help people."
Logan, a junior psychology major, saw becoming an RA as a way to broaden her horizons.
"I became an RA because I wanted to challenge myself to do something new and step outside of my comfort zone. I consider myself a friendly person and so I thought I'd try this. It's probably the best decision I've made in my entire life."
Being an RA has been a rewarding though challenging experience for all the women of North Hall, and the good and the bad go together hand-in-hand.
"Sometimes it feels like you're not very needed, and I've experienced that both years where I feel like my residents have been pretty independent and no matter how hard I try to annoy them with my friendship and love they just do their own thing," said Bartley, a junior journalism major. "But the best thing is that eventually you are needed and they do come to you for things and all that hard work that you feel like has gone to waste hasn't because you finally have gotten them to open up and be your friend and they want to hang out with you."
The desire to be a support system for their residents was a value shared by all of the RAs, as well as the difficulties getting residents to feel comfortable coming to the them with whatever problems they have.
"The hardest thing for me is when residents don't come to me, especially when I am pouring my heart and my soul into these relationships and do everything that I do," Drochner said. "When I know that they're going through a hard time because other people have told me, and I ask them about it and they're very like, 'No I don't want to talk to you.'"
But when residents do start trusting their RAs and relationships are solidified it makes it all worth it.
"I met up with a girl today who no longer lives in my hall. I had no obligation to meet her for coffee or any reason to reach out to her except that she's fantastic and we're friends," Drochner said. "So that's just really beautiful, and when they do come to you with things and you are able to help them, that's my favorite part."
Being a resident assistant also comes with its fair share of comical chaos, like locked-out residents and an unexpected number of toilet issues.
"It's a job that can involve you waking up at 3 a.m. because someone got locked out, or could involve you plunging someone's toilet," said Drochner.
Poteete added, "My first week there were like eight [clogged toilets] on my hall."

Bartley added with a laugh, "That's like the No. 1 thing in the job. If someone was like, 'Describe your job to me,' I'd be like, first of all I do a lot of plunging, second of all I help in the educational and spiritual growth of residents."