An inside scoop on shuttle bus driver, Ron Howdeshell, on who he is as a person and what his life is like outside of MBU.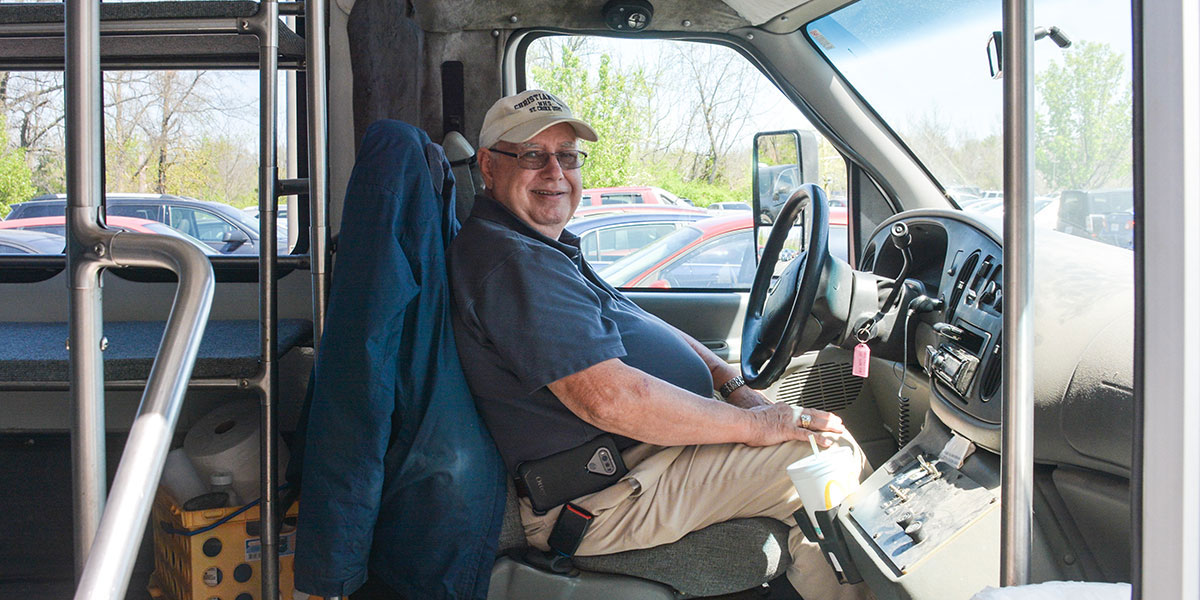 Photo by Elizabeth Harris
__________________________________________________
The short white box with four circular objects, which continues rolling throughout campus carrying students from C Lot to North Hall to classes to Chapel to Spartan Field has more than just rugged seats and a door that opens to students piling on.
It has a humble man, who has been one of Missouri Baptist University's shuttle bus drivers for the past three years, Ronald Kenneth Howdeshell.
Howdeshell's favorite part about being a shuttle bus driver for MBU is the "interaction with the students. I have a lot of fun with the students. I get to share my faith with them and learn about them. They are very interesting people."
As a fellow Christian, Howdeshell learns what values students possess.
"Being with students gives me a hope for the future, so many have excellent values and work so hard to get an education," said Howdeshell.
Howdeshell might see a little of himself in the aspiring students of MBU, as Howdeshell himself attended MBU as a student in 1966.
Howdeshell went to a trade school known as Basic Institute of Technology where he received a certificate in drafting, then later graduated from Lindenwood University in 1991 with a B.S. in marketing.
Not only has receiving a college degree shaped Howdeshell into the person he is today, but also marriage with his wife, Melinda, of 27 years.
"She is definitely a gift from God to me," said Howdeshell.
Marriage isn't always easy, however, as Howdeshell learned with his first wife, with whom he had three sons.
"She left and asked me to take the three boys to finish raising. All three are married now."
Having been left by his first wife to take care of their sons, this made Howdeshell a compassionate person who took on the role as Mr. Mom at a young age.
What is better than being a parent? A grandparent, Howdeshell has six grandkids.
"The best part of being a grandparent is all the love you receive from them, seeing them grow and the interests they develop. You get to spoil them and give them back to their parents," said Howdeshell.
Growing up in St. Louis, and moving every year until 12 years old, where Howdeshell then moved to a 1,300-acre farm in Defiance, Missouri, with a house that Daniel Boone's daughter and son-in-law built, created interests that would, later on, reflect in his adulthood.
"I worked at Lucent Technologies for 37 years and retired at 58 years old. I started there as a draftsman and when I left I was a technical manager in engineering," said Howdeshell.
Howdeshell had great strength in looking after not only his kids, but fellow employees and a whole lot of money.
"As a technical manager for Lucent Technologies, I had two levels of management below me and 50 engineers. I was responsible for delivering $55 million in revenue at over 80 percent gross profit," said Howdeshell.
Aside from working hard, spoiling his grandchildren and loving his wife, Howdeshell has some hobbies he enjoys when there is downtime.
"I enjoy art work, golf and bowling," said Howdeshell.
Many students may already know who Ron Howdeshell is because of his pleasant and outgoing personality that doesn't fail to put a smile on your face when you walk up those few, short steps onto the shuttle.
Some of you may not know him, well now you do. So don't be scared to say hi next time.